Don't miss it: 10 vintage furniture stores in Singapore (1/2)
Hock Siong & Co
Specialized in recycling items which once furnished hotels, retail and industrial furniture, Hock Siong & Co showcases all kinds of style and is all about luck and discovery. The store's stock simply depends on the latest arrivals, and can just as well be a piece of Art Deco hotel lobby or a modern sleek shop-fit. One thing to keep in mind, is that Hock Siong & Co has quite a fast turnover, as well as a zealous fan base who's regularly rummaging the shop to claim their treasures. So it's always a good thing to keep an eye on their FB page (they don't have a website yet) where every new item is photographed and to get ready to show up at a moment's notice!
Surprisingly, everything at Hock Siong & Co is reasonably priced (though prices now tend to go up…). But if you feel there is more of a bargain to be made and you're into the mood for a little bit of haggling, just help yourself!
Hock Siong & Co, 153 Kampong Ampat, Junjie Industrial Building #01-03, 386326
Opening hours: Monday – Sunday, 9:00 a.m. – 6:30 p.m.
facebook.com/hocksiongco
---
Like That One
Belle and Cheu, the founders of Like that One, not only have a keen eye for original pieces of furniture. They also know how to charismatically and sympathetically modernize them, whilst preserving their unique characteristics and originality. Their ever-changing collection of furniture and delightful decorative objects, include pieces ranging from art deco and mid-century designs, to modern industrial pieces. Each of them has a worn, reclaimed feel to it, and stand-out designs that has been injected with color or pattern.
Like that One, Skytech #01-02, 2, Bt Batok Street 24, 659480 (tel.: 6560 9168)
Opening hours: Wednesday – Friday 11:00 a.m. – 5:00 p.m.; weekends 11:00 a.m. – 7:00 p.m. Closed Mondays and Tuesdays.
flickr.com/photos/likethatone/
---
Junkie's Corner
This isn't vintage furniture shopping made easy for the mildly curious: this is an Indiana Jones-like adventure for the most intrepid (a little bit like when visiting Stef Antiek for those familiar with this crazy vintage furniture store located near rue Blaes, in Brussels). Seek out a little bit, and you will find a warehouse filled to the ceiling with really vintage pre-loved stuff…It may be worn, it may be dusty, but if you are looking for a bargain and you've got a bit of a vision, Junkie's Corner has furniture from all eras, to suit all tastes, and which just need a bit of love and wood polish.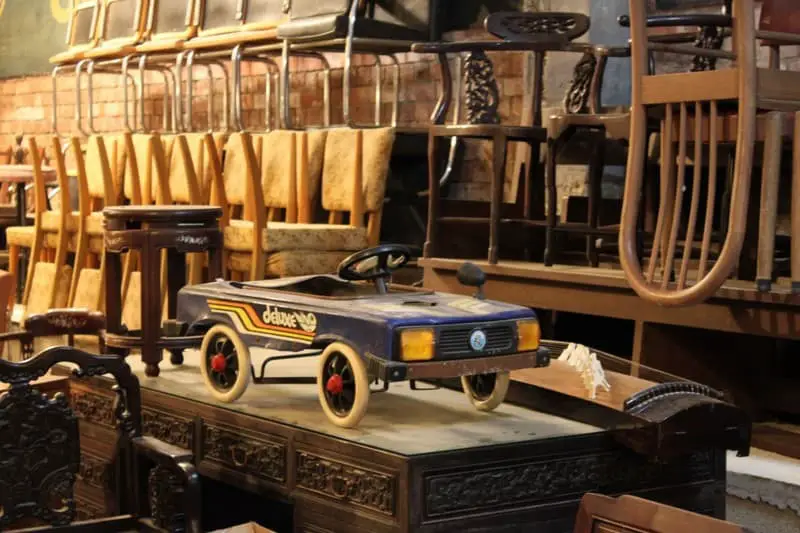 There is many a treasure to be found at Junkie's Corner, from weird bric-a-brac, knick knacks and furniture from all era's to suit all tastes. Whether you are looking for an impressive stand-out piece or just some cutesy little bits and bobs, you can be sure to find it here. And almost everything is absolutely beautiful and reasonably priced (Prices start at a couple of dollars for the smallest item and sensibly increase depending on quality of the piece and whether it's been restored). A must visit if you're looking for furniture with a bit of a soul.
Junkie's Corner, 2 Turf Club Road, 287988
Opening hours: unconfirmed, please call to check when they are open : 9791 2607 (Charlie/Joseph Teo).
---
Things your Mother throw
THINGS YOUR MOTHER THROW (TYMT) is a creative collaboration between Studio Shermano and Envelope Architects, an architectural practice specializing in bespoke designs for homes and apartments in Singapore. TYMT is a creative and research lab which pursues the endeavor to adapt and upcycle past designs and styles, to contemporary interiors.
The name THINGS YOUR MOTHER THROW (TYMT) was inspired to its founder as "an homage to all Mothers who throw things to keep the home in order and all Fathers who keep things so that we could play hide-and-seek in the house. And to the Singlish grammar, of course!"
"Taking the cue from the British and Dutch furniture designs during the colonial times in the Nusantara region and the influences from the indigenous and migrant communities in the Southeast Asian region, THINGS YOUR MOTHER THROW intends to distill through its furniture, a sense of what it was like to live during the sedately colonial times and the tumultuous post war mid-20th century in Southeast Asia. TYMT aims to find a bridge that link the past with the present through the humble restored vintage pieces used by the common folks who lived during those times."
Things your Mother Throw has a fab collection of salvaged vintage and antique furniture, colorful handmade ceramic tiles as well as bespoke services.
Things your Mother throw, 1092, #02-16, Lower Delta Road, 169203
. – 6:00 p.m.), Wednesday-Friday (by appointment), closed on Mondays & Tuesdays.
http://www.tymt.net/
facebook.com/VintageThingsYourMotherThrow
---
Noden Collective
Passionate about vintage furniture and Scandinavian design (it's actually their love for Danish design that set them on their journey of collecting), the Noden Collective's founders share a pretty complete range of beautifully crafted furniture, lighting, objects, and art pieces, they've carefully picked over time. And to tell the truth, their furniture are some of the finest I've seen so far in Singapore (but to be totally honest, I have a weakness for beautiful Scandinavian/Danish design…).
"Vintage items can have a way of holding you to the ground. When you think of how long (and how far) a vintage object has traveled to find its way to you, its presence seems all the more significant – its character alluringly full."
Noden also stocks wholesome new products designed by Scandinavian brands, and it is now so popular in Singapore, that they have relocated to a larger showroom (more room = more furniture, yay)!
Noden Collective showroom, 65, Ubi Road 1, Oxley Bizhub, #03-75, Singapore 408729.
Opening hours: Wednesday – Sunday: 11:00 a.m. – 6:00 p.m.
http://www.nodencollective.com/
facebook.com/nodenstore