While Paris, London, New York and Rome host some of the most interesting and renown flea markets in the world, other capital cities like Buenos Aires in Argentina, also have their own – though more modest – flea markets, antique fairs and bazaars.
In Buenos Aires there are two reputable flea markets: The first is the Feria de San Telmo flea market that takes place every Sunday morning at the heart of the San Telmo district, and which brings together more than 20,000 people. The other one is the Flea Market Dorrego, which in 2011 returned to its usual location after a lengthy renovation process, and which is open from Tuesday to Sunday.
Feria de San Telmo (San Telmo Flea Market)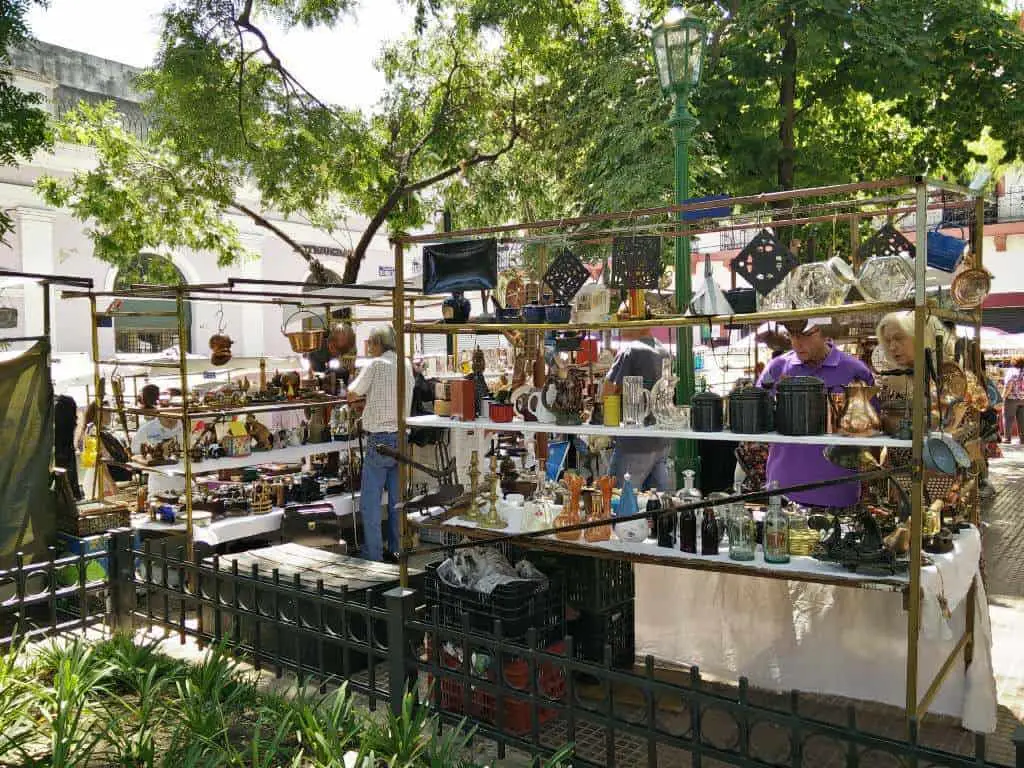 The Feria de San Telmo (or San Telmo Flea Market) is one of the places that all tourists traveling to Argentina's capital – regardless of whether they are flea market enthusiast or not – should mark on their itinerary. Every Sunday 20,000 people come to this flea market located in Buenos Aires's historic center, Plaza Dorrego, to do a tour of the Feria de las Antigüedades y las Cosas Viejas de San Pedro Telmo – its official name in Spanish. With such a name, it is not surprising that one of the prerequisite for any aspiring owner of one of the 270 flea market booths to enter the draw, is to sell items produced before 1970s.
The Feria de San Telmo has been held uninterruptedly since 1970, and among the antiques sold at this flea market you will surely find something of your liking: stamps and coins from any era and all parts of the world, antique books, old music instruments, glass, vintage jewelry & clothing, old furniture shawls … all of it surrounded by tango dancers – how could this be otherwise in Argentina's capital? And after a lengthy stroll between the 270 booths of the Feria, you might be tempted to take a sit (and a bite), and relax in one of the many bars and cafes located within the district, while enjoying from an unmatched view and atmosphere.
Where: Plaza Dorrego, Buenos Aires
When: every Sunday morning
Web: Feriadesantelmo.com
Dorrego Flea Market
Until 2006, the Dorrego Flea Market – also know as the "Mercado de las Pulgas" in Spanish – was (literally) a maze to get lost in, while looking through piles of relics and antiquities stored randomly by each vendor. But today, after a five years modernization process which was originally supposed to only last a few months, the Dorrego Flea Market lost a bit of its genuineness and originality: Gone are the days of searching and searching until you found something you could not have imagined finding there; the Dorrego Flea Market is now a relatively well organized market place.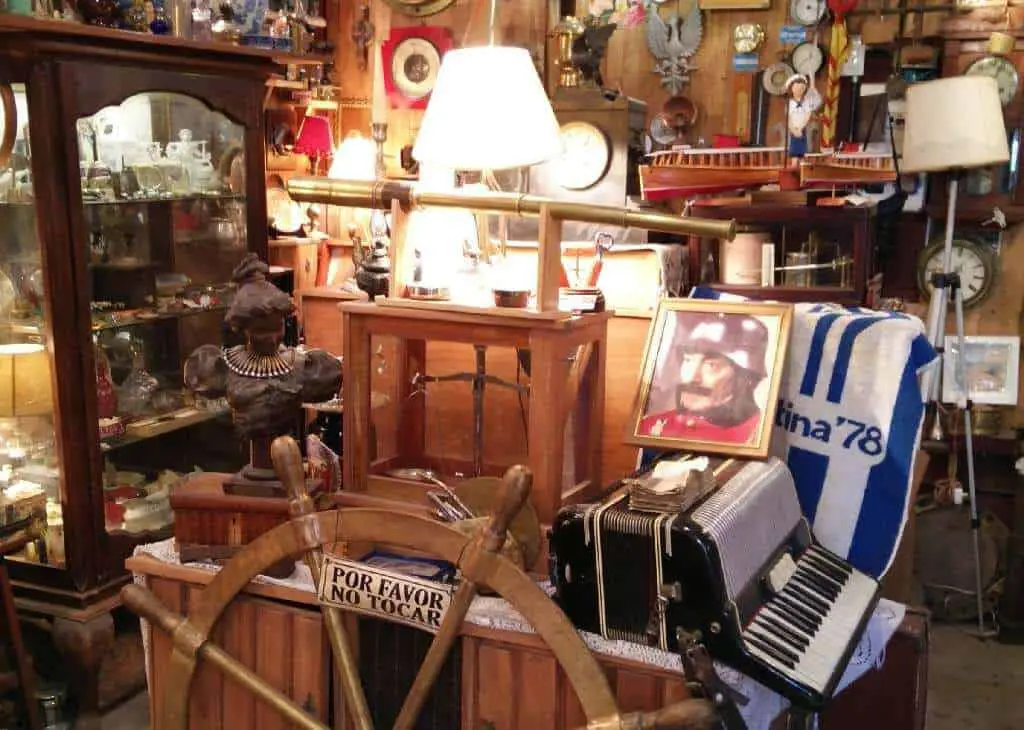 Since July 2011, the "renewed" Dorrego Flea Market, is back to its usual place; it features today 143 well organized booths over 13,400 square meters, which are specialized in  diverse products such as glassware, furniture, brass-ware, clothes and pictures. Even though today the Dorrego Flea Market has nothing to do with the previous "sweet chaos" it was made of, it has still much to offer to those who dare to visit it with a sharp eye and a bit of patience. While some businesses offer decorative replica of designer furniture, the quality of the original is usually superior, and worth finding.
Here are a few booths of the Dorrego Flea Market worth mentioning: Om Crystal (booth 86), devoted to twentieth century glassware: cups, pitchers, vases, cheese plates, candy bowls, etc; Suam (booth 98) which houses a vast collection of European, Asian and Argentinean crockery; Hector Diseño (booth 13), Scandinavian and North American furniture; Rincón Azul (booth 70), fittings, posters, bronze pieces; The Peruvian (booth 136), French chairs, mainly Louis XV.
The Dorrego Flea Market is located between the streets Dorrego y Niceto Vega, near the street Álvarez Thomas, Concepción Arenal and Martinez, on the border of the Coleraine district and Palermo district.
Where: Dorrego and Nicetas Vega
When: Every day from 10:00 to 20:00
Other Secondary Flea Markets in Buenos Aires
Salvation Army
Outside the traditional Buenos Aires tourist path, located in the neighborhood of the Pompeya District (or barrio in Spanish), the Salvation Army stands on a location as neat as its organization. The treasure is in the collection of used but spotless clothes. Where and when: 580 Av Saenz, tel .: 4911-7585 / 7561/0781.. From 9:00 to 12:00 and from 14:00 to 17:45. Do not miss: Waterproof Perramus ($ 70), blankets (from $ 60), dresses (from $ 40), vintage Silk Ties (from $ 20).
Cotolengo Don Orione
This place, also located in the Pompeya district, requires patience and effort, but guarantees results. Cologne Don Orione mainly features old or unrestored furniture, often with missing parts or just hiding under a film of dust. Where and when: Cachi 566 (Pompeya), tel .: 4911-9776 / 0803. Monday to Friday 8:00 – 17:00, Saturday from 8:00 to 12:00. Donations: 4911-0803 / 9776. Do not miss: carved wooden chairs (from $ 80 a pair), antique beds (from $ 150).
Feria del Anticuario de Acassuso
If you are an antiques enthusiast, you won't be disappointed by the Feria del Anticuario de Acassuso. The fair features many interesting vintage items like glassware, crockery, furniture, lamps, books and even old photo cameras at a good price, which makes it almost impossible to leave this place without something in hand. Where and when: Perú and el río. Acassuso train station (Tren de la Costa). Saturdays, Sundays and holidays from 10:00. Not suspended even in case of rain. Do not miss: antique brooches (from $ 45), rings (from $ 20), headgear from the 40s (from $ 40), colored glass bowls (from $ 10).
San Ramon Nonato Convent
A green oasis in the middle of downtown, the galleries of this convent have been transformed into small local antiques or crafts, restaurants and bars, are located right in the city. Where and when: in the galleries of the convent San Ramón Nonato, Reconquista 269. Monday to Friday from 8:00 – 17:00 (www.merced.org.ar). Do not miss: "los secretos del local Aranajuez" located last in the covered the gallery: old silk gloves (from $ 18), crystal lamps ($ 150 a pair) and old gowns (from $ 50).
Feria Plaza de Los Andes
After a walk in the Dorrego Market, it pays off to shop around this venue as you will find all kinds of used clothing at a great price. The Feria Plaza de los Andes occupies the entire square and Calle Concepción Arenal and there is a bit of everything, so you will need to go forward to stir and make your way into the booths that are worthwhile. When and Where: Plaza de los Andes, Dorrego and Corrientes, near the metro station Dorrego B. Saturdays, Sundays and holidays. Do not miss: "la señora de las carteras" on the calle Guzman.
---
Sources (in Spanish): dondeviajar.es and revistaohlala.com