Whether you're looking for a baroque prie-dieu or for a 70s Pucci's dress, something unique or simply antique, you must not miss Mercante in fiera!
Set in the exhibition center of Parma, in the north of Italy, Mercanteinfiera is the biggest antique tradeshow in the country, and one of the most important in Europe. Just to put things into perspective and numbers, the Mercanteinfiera is 2 exhibitions a year (usually on the first weekend of March and October), 3 dedicated pavilions, almost 60,000 visitors for every edition, 45,000 sqm (almost 500,000 sqft) of exhibition area, and more than 1,000 stalls. As an old song said, there you can find everything "to glorify your regal abode", from antiques and retro-modern furniture to vintage apparel.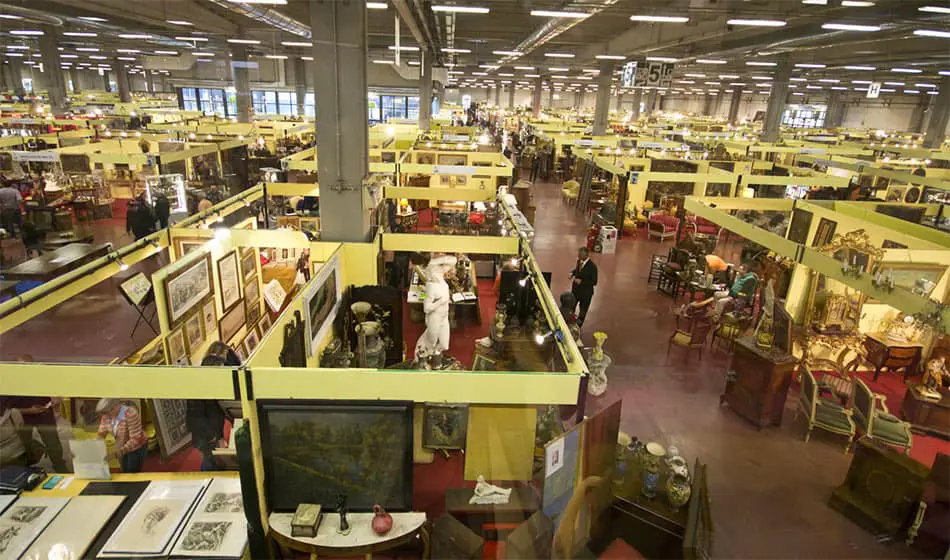 Advice to Visitors
I visited the 2015 spring edition of the Mercanteinfiera last Monday (2nd March). I have to admit that I prefer smaller fairs, maybe in more suggestive locations (Italy does have many of them, luckily!), but I never miss Mercanteinfiera.
To avoid long queues in the parking and ticket office, and save your feet from rude steps while being able at the same time to have a close look at the stalls without the pressure of the crowd, it is advisable to attend the event on a weekday. If this is not feasible because of your schedule, then make sure to buy your ticket in advance on the internet, arrive early in the morning, and load your batteries with all the patience in the world: you'll need it!
Since I had the chance to attend the fair on Monday, I did not have such problems and I could stroll the aisles without any hurry, just waiting for some special items to catch my eye. Ok, ok, I know that attending such a fair with no special need (just to "have a look"), is the best way to end up buying a lot of unnecessary things and to go home broke… or with a lot of broken dreams. So another good piece of advice I'd share is to only carry with you, the money you're willing and able to invest with no regrets!
Mercanteinfiera: Antiques and Retro Modern Furniture
Most of the fair is dedicated to antiques. Two pavilions are entirely filled with antiques and retro-modern or re-edited antiques: there's an incredible variety of furniture (even from the Middle Age!) and you can find really unique pieces with flair.
If you're in a bit of a hurry, having a look at the exhibitors' list before getting in, is a good way to save you time. But if you're an antique enthusiast, just take your time to wander in each pavilion: you'll feel like walking in a museum or in an old (and wealthy) private property from the 18th-19th century.
Anyway, I have always thought this area is more oriented to experts, collectors, and wealthy buyers than to average visitors.
Mercanteinfiera: Design Classics and Vintage Fashion
Antiques are, for many visitors, the highlight of the Mercanteinfiera. However, the pavilion my heart really beats for is the third one, which hosts 900 booths dedicated to design, jewelry, and vintage fashion. It is a smaller area and it can be visited in one morning if you walk at a good pace.
Mercanteinfiera is a high-level trade show, so do not expect to find "special bargains": the exhibitors know the value of their goods (they are collectors and dealers themselves), so they're the worst to haggle with if you want to get a good price. Anyway, most of them are willing to haggle, especially fashion exhibitors. The Design Classics and Vintage Fashion Pavillion does not have a large selection of items (there are more important fairs for that in Italy) but it is nonetheless a good one: no major dealer is ever missing the Mercanteinfiera.
Each stall offers the best of vintage apparel and accessories by Italian iconic designers such as Versace, Ferré, Armani. You can also find French designers too, like Chanel and Louis Vuitton for the most part, and other wonderful clothes from all over the world.
There are also huge booths entirely dedicated to sartorial masterpieces by old and unknown Italian tailors (men and women). Last but not least, my true love: accessories. Leather bags from Tuscany or true iconic pieces by Hermes, as well as wonderful designer shoes and hats from every decade and lots, lots of vintage sunglasses!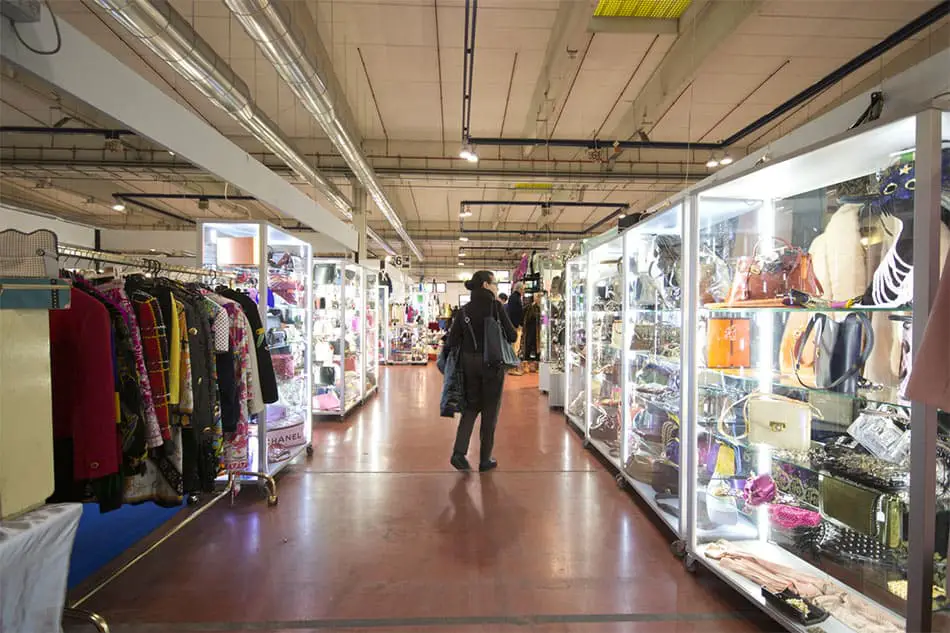 Accessories, if you know how to pick them, are a good way to make a bargain. Some are reasonably priced, thereby allowing everyone to leave the fair happy with at least a small purchase. Furthermore, accessories are the best way to give a vintage look to your outfit: even though you're wearing an H&M suit, a pair of vintage sunglasses or an eccentric bag will do the trick and draw attention!
Mercanteinfiera
International fair of modernism, antiques and collectible – Via delle Esposizioni, 393 – 43126 Parma
When: Twice a year usually from the 1st Saturday to 2d second Sunday in March and October (8 days)
Next dates: October 2nd – October 10th, 2021 / March 5th – March 13th, 2022 (to be confirmed): 10:00 – 19:00
Entry fee €10
Web: http://mercanteinfiera.it/en/ & https://www.facebook.com/mercantefiera