Pennsylvania is known for its charming Amish country, scenic views and historic monuments, but is also home to a great collection of antique markets. Whether you're on the hunt for a beloved childhood toy, a piece of Americana or some sports memorabilia, you can easily spend hours searching for that perfect item. In fact, you could spend up to a whole day at some of the best flea markets in Pennsylvania browsing through all of the wares on sale.
We narrowed down a list of the best flea markets in Pennsylvania for flea market enthusiasts and antique lovers to visit, all of them located within a 40 minutes drive from each another.
In selecting a contender, we followed the same rule as in our review of the Top 20 Flea Markets in the US, and made sure that the flea markets we picked featured a high amount of antiques, vintage, and collectibles, and discarded swap-meets and garage sales filled with knock-off products, as well as farmer's markets.
From Philadelphia to Lebanon, this is our review of the 6 best flea markets in Pennsylvania to add to your bucket list.
#1 Shupp's Grove Antique Market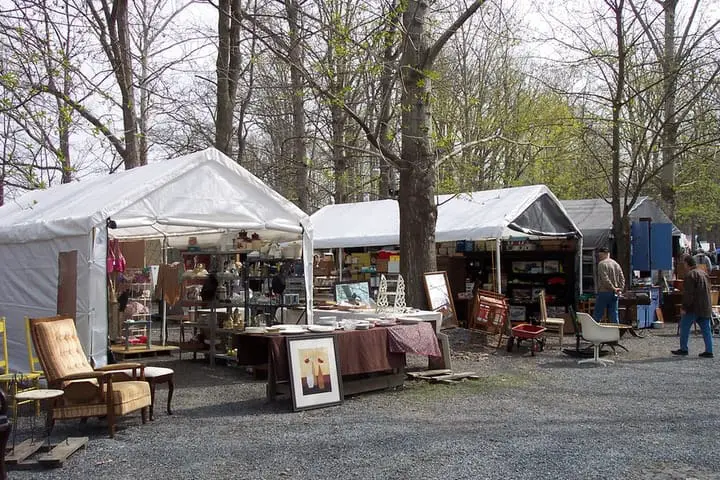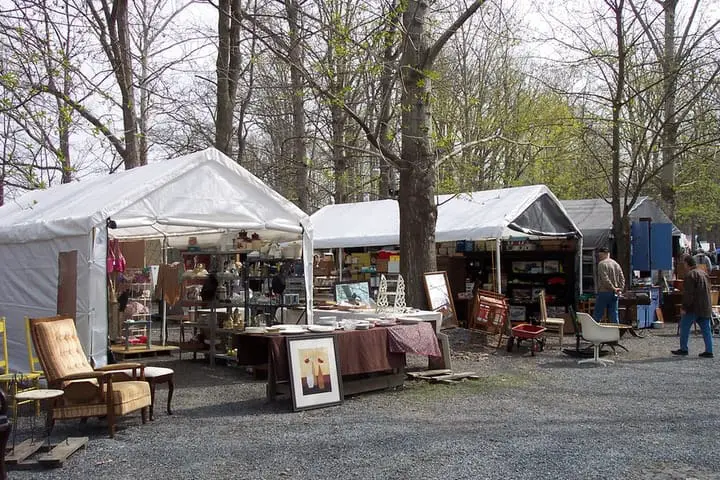 Shupp's Grove Antique Market started in 1962 and has emerged as one of the most popular flea markets in Pennsylvania. True to its name, the antique market is in a grove, where the wooded area provides nice shade on hot days. You'll find the market set up like a camping facility, complete with a bathroom, on-site deli, and even a real working fireplace for those chilly autumn days.
Shupp's Grove Antique Market is held weekly on Saturday and Sunday with a regular roster of dealers. The market's theme schedule makes it one of the best flea markets in Pennsylvania, with vendors offering a variety of collectibles related to the current theme. Past themes included animal memorabilia, bottles, Christmas in July, and retro agricultural. The themed merchandise is available alongside the other vendors, so you never know what you'll find.
Where: 607 Willow St. Reinholds, PA 17569
When: Weekends: 07:00 AM – 4:00 PM
Web: http://shuppsgrove.com
Facebook: https://www.facebook.com/Shuppsgrove
#2 The Stubborn Dutchman Flea Market and Antique Co-op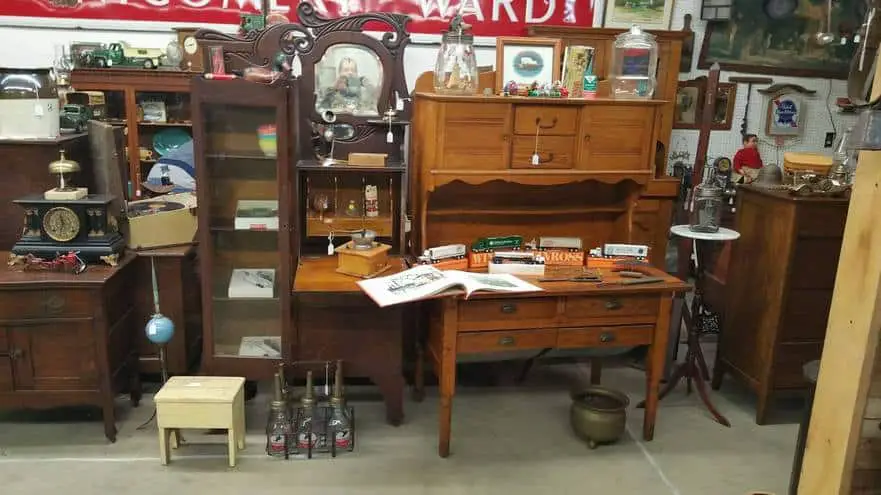 The Stubborn Dutchman Flea Market and Antique Co-op is a must-go for treasure seekers in Lebanon, Pennsylvania. You'll find vendor after vendor selling primitives, antiques and collectibles inside and outdoors with plenty of vendors to browse — up to 500 spaces are available, so the merchandise is diverse. The market is open weekly Thursday, Friday, Saturday, and Sunday.
A comfortable space with paneled walls and clean facilities makes it easy to shop for hours. Parking is ample and you'll need a bit of time to wander the space since The Stubborn Dutchman facility spans 10 acres.
Where: 1840 Route 72N, Lebanon, PA 17046
When: Thursday and Friday: 11:00 AM – 7:00 PM / Saturday and Sunday: 07:00 AM to 5:00 PM
Web: http://stubborndutchman.com
Facebook: https://www.facebook.com/TheStubbornDutchman
#3 Antiques Extravaganzas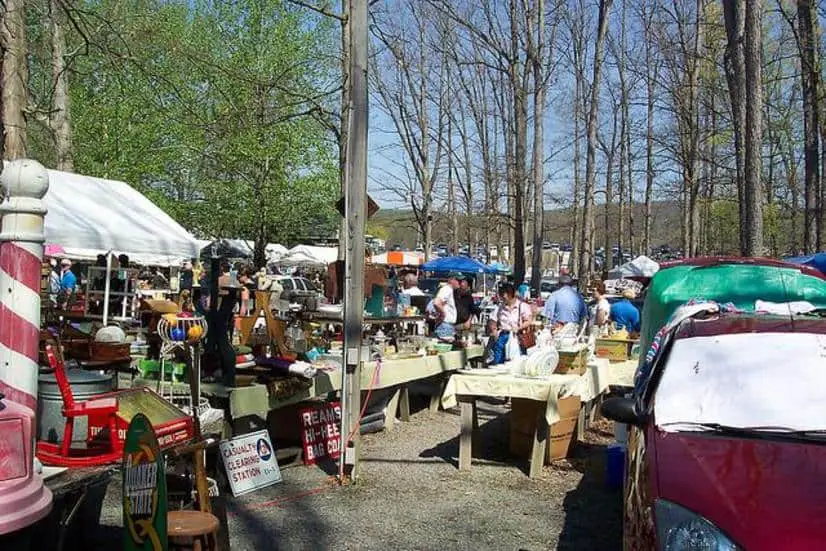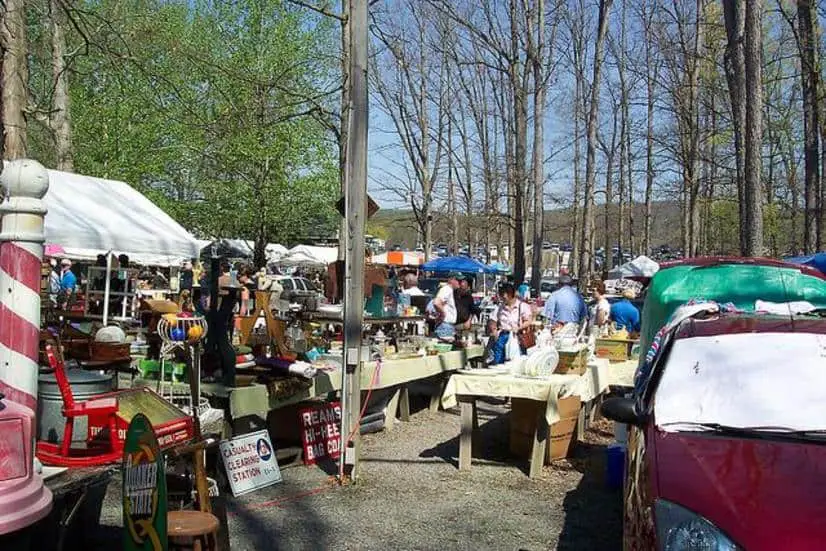 Adamstown, Pennsylvania is known as "The Antiques Capital of the USA," thanks to events like Antiques Extravaganza. Antiques Extravaganza is held in Lancaster County and takes place three times a year. Vendors from all over the country flock to each Extravaganza, which stretches along 7 miles of Route 272 in picturesque Amish Country, making it the largest flea markets in Pennsylvania. Along the way, you can browse thousands of dealers and stop in the city's antique shops, many of which open early.
You can spend a day or two at the Extravaganza and you still won't see the bulk of the items, as the area boasts more than 5,000 flea market dealers. The variety of collectibles and antiques on display varies, but expect to see antique bottles, postcards, comics, toys, advertising memorabilia, genuine primitive craft, artifacts, and more. As you go through the town, you can just feel the antiquing excitement in the air. Expect to see many fellow collectors at Adamstown lodging and restaurants.
Where: Off Exit 286 of the Pennsylvania Turnpike, Adamstown, Pennsylvania
When: Three times a year (April, June and September)
Web: http://antiquescapital.com
#4 Philly Flea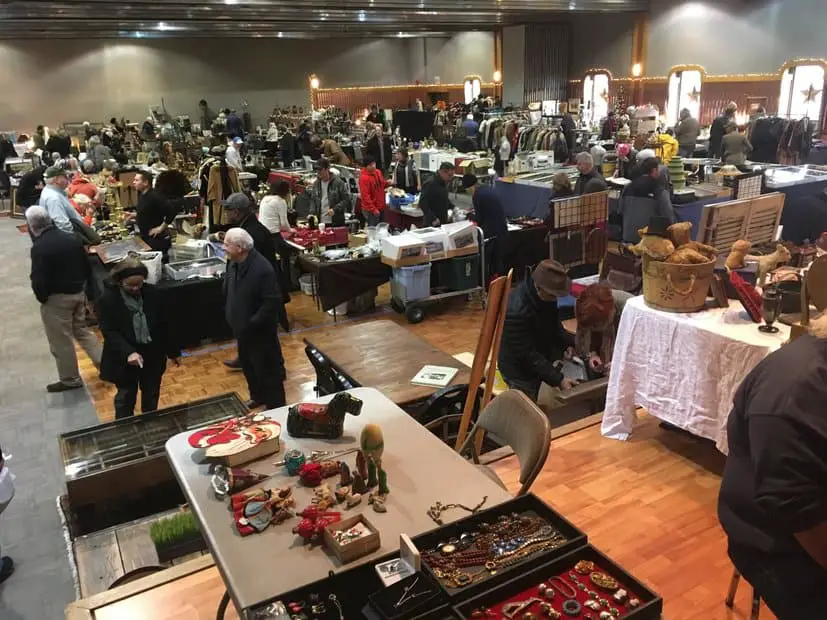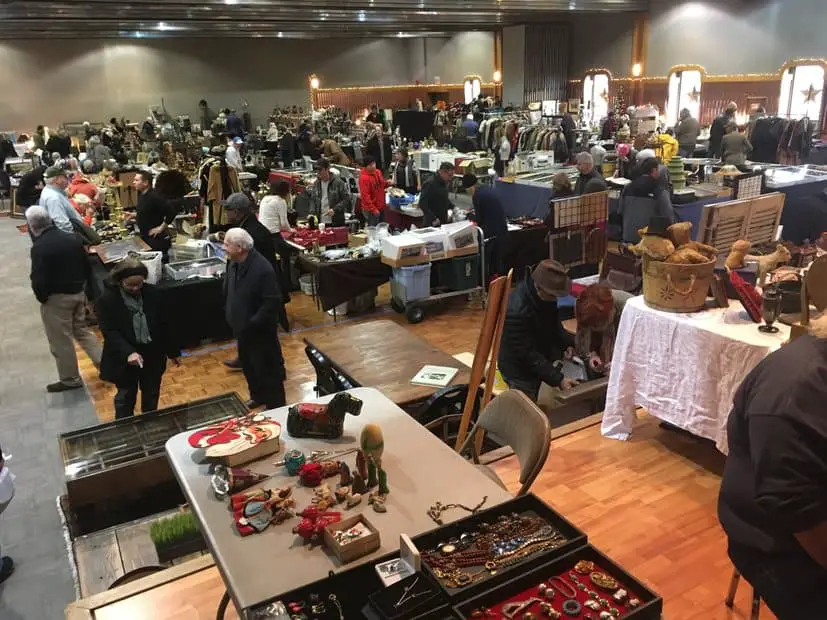 Philadelphia has a proud place in the nation's history but is also the epicenter of one of the best flea markets in Pennsylvania. Variety and location make it a top pick for antique seekers as the market moves to over 13 different locations throughout the city. Philly Flea runs all year on Saturdays and Sundays. The company holds it in indoor locations in the colder months, and outdoors in a number of neighborhoods during the warmer times of the year. Philly Flea also offers a rain date calendar for any outdoor dates that are unexpectedly canceled.
Mid-century modern furniture, primitives, costume jewelry, advertising collectibles, and vintage clothing are just a sample of what you may find at a Philly Flea stop. Because the location changes throughout the year, you can expect to see a number of different sellers make appearances at the latest spot. Food is often available on-site too, so you can keep browsing without missing a beat.
Where: Over 13 different location around Philadelphia
When:  Saturdays and Sundays all-year: 08:00 AM – 5:00 PM 
Web: http://www.philafleamarkets.org
Facebook: https://www.facebook.com/PhilaFleaMarkets
#5 Root's Old Mill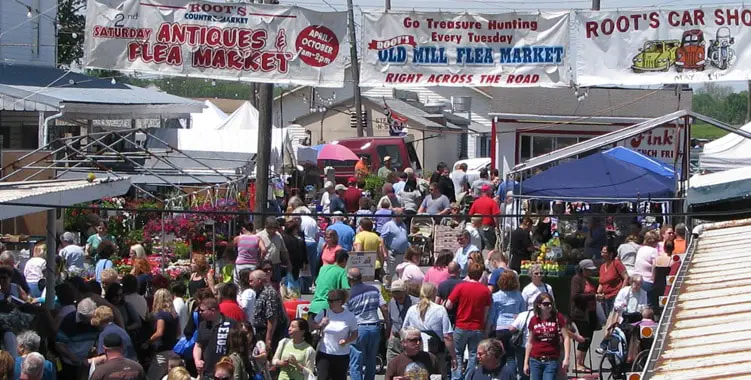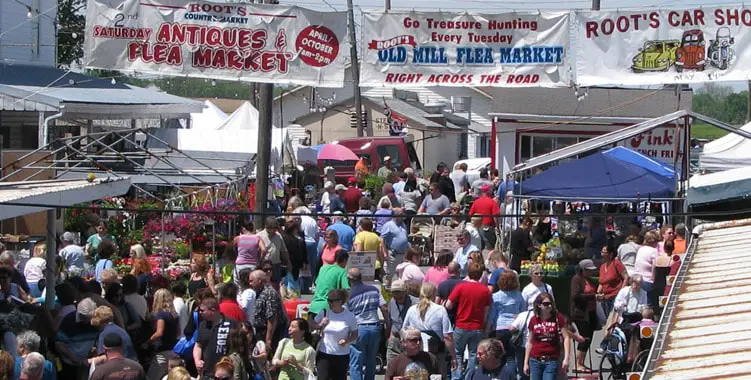 The century-old building of Root's Old Mill started as a feed mill and was a popular destination for Lancaster County farmers who formed a co-op. The mill was actively run or functioned as a business headquarters until 1983 when the flea market began. First known as "The Old Mill Flea Market," because of its location, the name changed to Root's Old Mill Flea Market in 2005 after being acquired by Root's Country Market & Auction Inc, a single family-run market that also dates back to 1925.
Root's Old Mill is a proud part of the local antique tradition, hosting over 175 vendors each week. Wares vary and include Civil War items, antiques, vinyl, and primitives crafts, to name a few. You'll find vendors both inside and outside, so be sure to have your walking shoes. The market operates weekly and is open year-round, with free parking. Food including french fries, soup, and other goodies keep the hunger pangs away while you're browsing.
Where: 720 Graystone Road, Manheim PA 17545
When:  Every Tuesday: 05:00 AM – 9:00 PM
Facebook: https://www.facebook.com/RootsOldMill
#6 Jake's Flea Market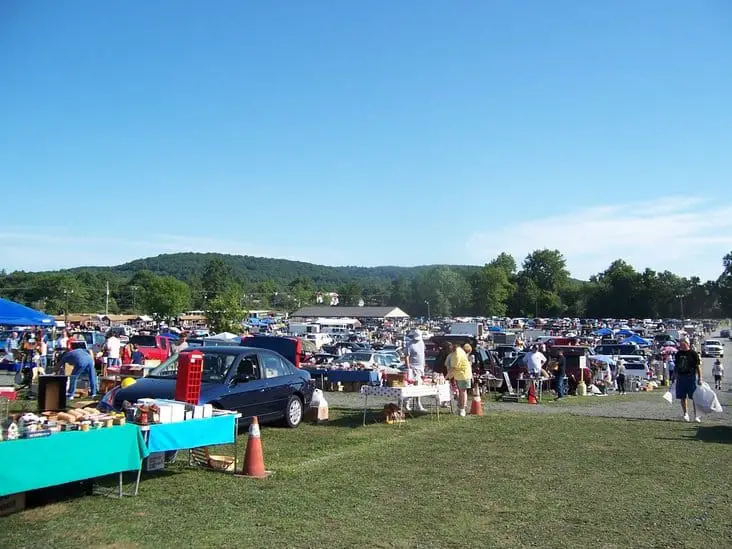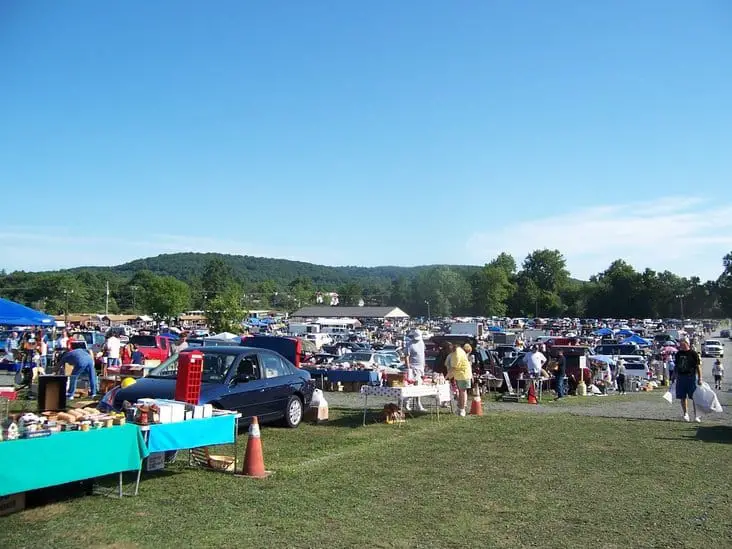 Jake Tredichler began his flea market in 1980 with a few vendors strung along Route 100 and drew in customers from around town. The event, guided by Jake's enthusiasm and warm nature grew to many vendors over the years. While Jake has sadly passed away, his legacy lives on in the form of one of the best flea markets in Pennsylvania to many.
The vendors and regular customers of Jake's Flea Market consider themselves a "family," and have cultivated a welcoming atmosphere for all. Every Saturday and Sunday, you can find an assortment of vintage and antiques from the vendors. The family of Jake has kept the flea market running, improving it each year with additions like a covered pavilion and proper bathroom facilities.
Where: 1380 PA-10o, Barto, PA 19504
When:  Weekly, Saturdays and Sundays
Web: http://jakesfleamarket.com
Facebook: https://www.facebook.com/JakesFleaMarket/
Bonus: US flea markets on a map!
You can now visualize the best flea markets and antique fairs in the US, on a map! Not only have we included all the above flea markets, but we've added to the mix some of the country's most acclaimed antique fairs. Just click on the image below to access our map feature for free.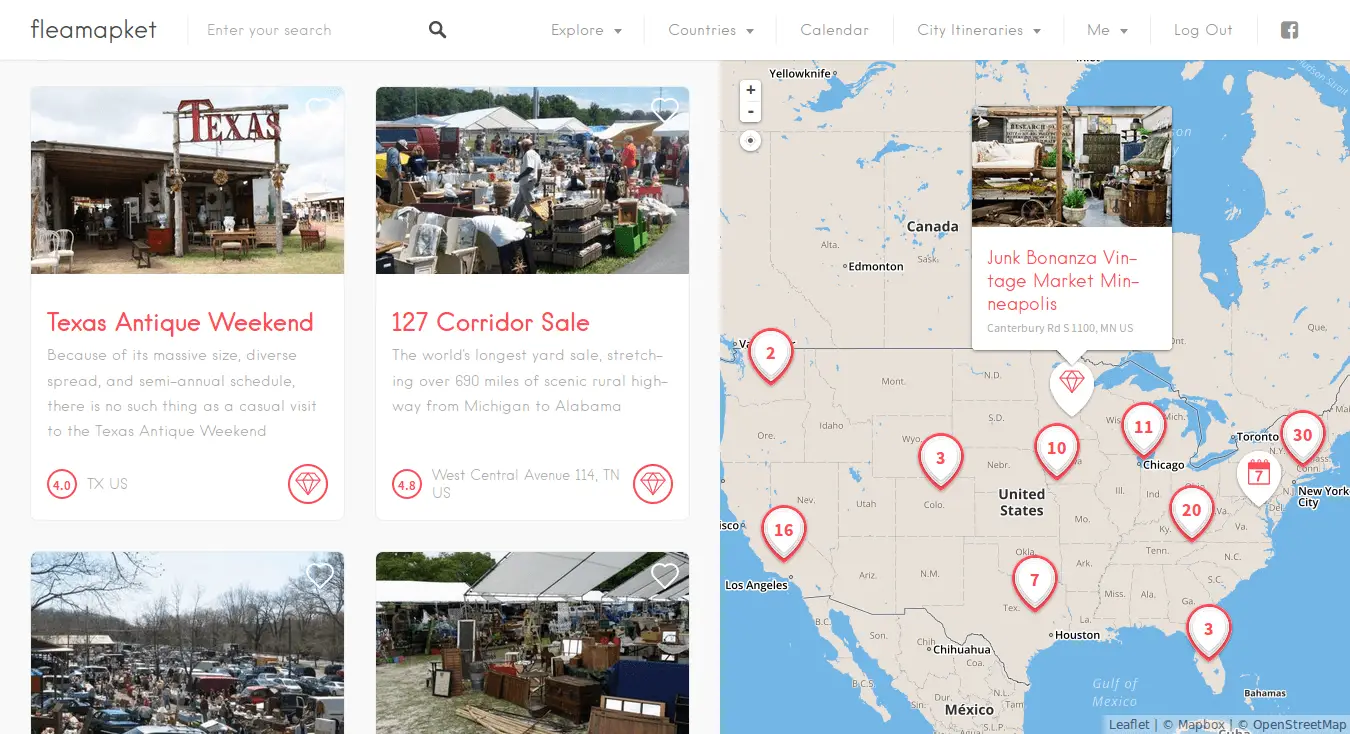 ---
A trip at the flea market is a journey in its own, a fantastic opportunity to meet new people and enthusiasts who share the same passion for rummaging and haggling. We hope this review inspired you to discover one (or all!) of these flea markets in Maine, and that you'll share the love around you. As always, if you think that a flea market is unrighteously missing from this list, just drop us a line in the comments section below.