Ecseri Flea Market (Ecseri Bolhapiac)
The "Ecseri" Flea Market is quite well-known among locals and tourists (you might be already familiar with it even without having visited Budapest yet, as many tourist sites recommend it). It is located a little bit outside of the city center and can be reached in approximately 40 minutes with public transportation from the Central Market Hall. But the visit is worth the ride! Like most large flea markets and antique fairs, you never know what you will find if you look. Sunday is less crowded than Saturday and many vendors are happy to talk with customers about where something came from, or even what it says.
Everyone speaks enough English to haggle (Haggling is kind of expected but it's all so much cheaper than you will get at home anyway so I wouldn't push it; if you get 10% off I'm sure both sides will be very happy). Even if you're not an early bird like many die-hard antique dealers who show up there at dawn, there is still enough time to see everything (the whole tour generally takes around 2 hours). The Ecseri market is a big Antique-market: there are boothes both outside and inside the place.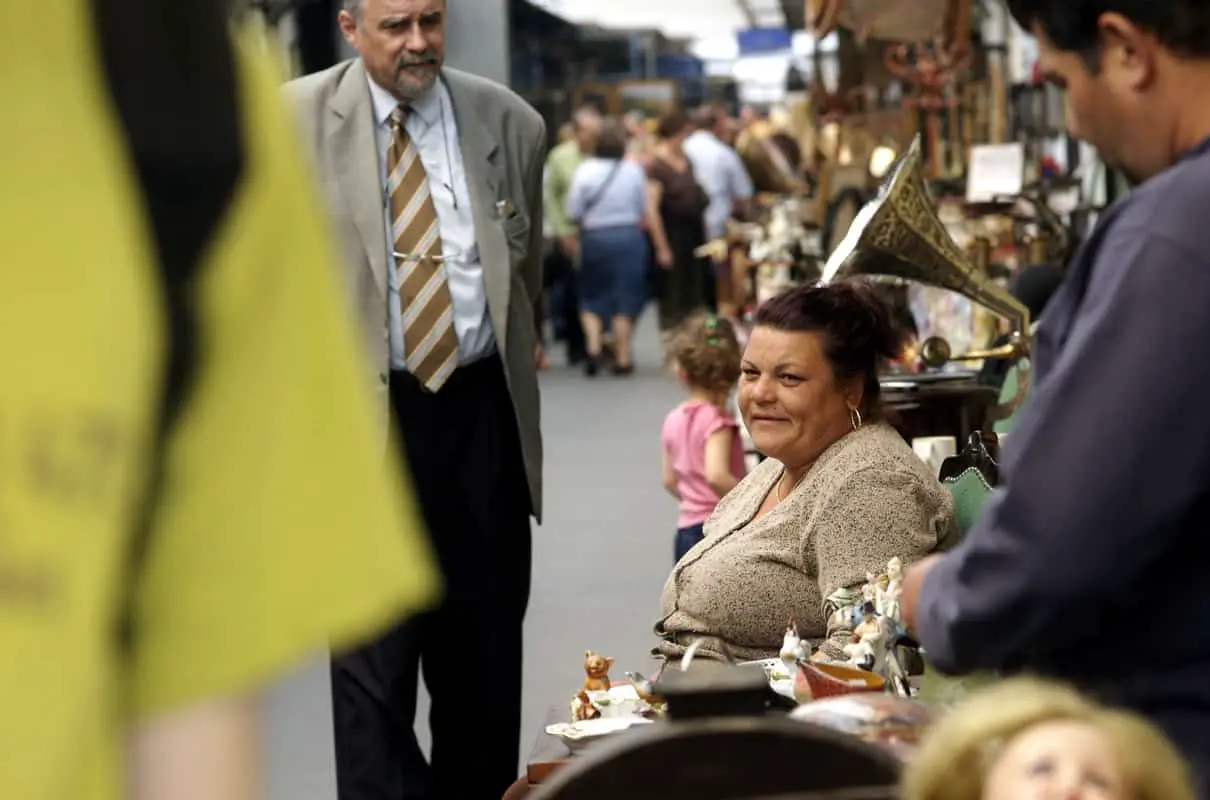 The Ecseri Flea Market has much to offer: paintings, furniture, porcelain figure, militaria, old photographs, cameras, vinyls, a lot of jewelery and plenty of things from the last century (too much to list). A real dream for every Vintage-fan.
""An eclectic collection of true antiques, vintage (and not so vintage) collectibles, and second-hand books, baubles, linens, and clothes. You need patience for this market: many of the stalls are piled high with boxes and junk, and it can be difficult to get to the good stuff, but there are gems, depending on what you looking for.
This is the place to find vintage traditional Hungarian embroidered linens (especially tablecloths, napkins, lacework, and the like) and blouses, as well as a wide assortment of the main Hungarian porcelain brands: Herend, Zsolnay, and Holloháza (among others).
There are many stalls offering (mainly Hungarian) books, postcards, stamps, and other ephemera, from maps to wallpaper. LOTS of jewelry, medals, pins, keys, and other small metal bits and bobs. LOTS of artwork – paintings, drawings, prints – framed and no, some of which is very good. Lots of old wooden frames to pick through as well.
A fair bit of war paraphernalia, from helmets, backpacks, and weapons to insignia and various uniform parts. Plenty of old wood furniture (chairs, armoires, sideboards, etc.), many needing work but showing lots of promise. Some great lighting fixtures (though condition of electrical workings may be unclear).
Because of the disorderliness of many of the stalls and the lack of any curation, it may be better and more productive/rewarding to go with either a sense of adventure or an idea of something to hunt for. You can easily get overwhelmed or frustrated if you try to look at everything.
Generally, I found the prices to be good, compared to Canadian flea markets. Most sellers spoke enough English to make a deal."
Celesa H – Pincher Creek, Canada
Where: Ecseri Market (Ecseri Bolhapiac), Nagykőrösi út 156 1194 Budapest
When: Weekdays: 08:00-16:00, Saturday: 08:00-15:00, Sunday: 08:00-13:00