Every Sunday morning, the residents around Chatsworth Road in East London are awoken to the homely aroma of freshly baked bread entwined with tongue-tingling jerk chicken and the sweet essence of French crepes. It can only mean one thing – time to shake off the hangover and visit Chatsworth Road Market.
The moment you arrive at Chatsworth Road you are enveloped in the community feel. Most of the 80 vendors selling at the Chatsworth Road Market are local businesses and the fresh food on offer ranges from an organic free-range butcher to an artisan cheese specialist. However, what really makes Chatsworth Road Market a collector's haven lies behind the vendors and in the selection of interesting and diverse shops that have opened along the street itself.
With its own vintage clothing stalls, specialist off-license with a tasting room, and a store offering handmade products ethically sourced from India, it is no surprise Chatsworth Road is becoming an increasingly popular location – both for tourists and residents looking for a new area to live.
Chatsworth Road Market Antiques
When you are in East London and looking for high-quality antiques, you could do a lot worse than what is available on Chatsworth Road. Two specialist antique shops look over each other offering a wide range of classic vintage furniture, dazzling jewelry, and a mixture of historical and classic camera equipment – perfect for the enthusiastic photographer.
Sanderson Sweeting Antiques specializes in beautiful 20th Century furniture, there are cupboards full to the brim of beautiful home decor and interesting works of art that add life to any home. Take a walk down into the basement to discover a collection of vinyl records that will take a full weekend to sift through. You could also come across the first edition of your favorite novel with its extensive assortment of literature.
As soon as you walk into the store you see trendy antique metal signs scattered around vintage record players nestled among magnificent Georgian cabinets.
Across the street, Furnish specializes in high-quality antique cabinets as well as general home-ware items with elegance and charm. Be sure to explore all the nooks and crannies inside to discover a fine selection of vintage jewelry.
Sarah Holt © Chatsworth Road Market
Chatsworth Road Festival
Once a year, the community around Chatsworth Road comes together for 'Chats Fest' – a fun-filled street party for all the family with the usual market plus live entertainment across two different stages. Chats Fest is the one time of the year the road is closed to traffic and people pour out onto the streets soaking up the electric atmosphere.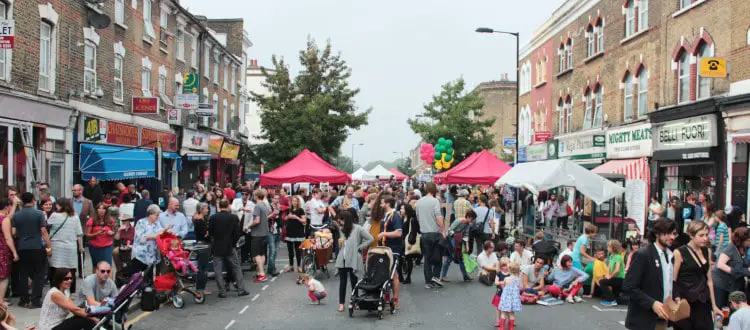 Vintage Fair
Just around the corner from Chatsworth Road Market is Clapton's beautifully ornate 'Round Chapel' and once a month this plays host to East London's Vintage Fair. A must-visit for anyone interested in buying an eclectic mix of trendsetting vintage clothing and extremely reasonable prices.
Where: Chatsworth Road, London, E5 0LH
When: Chatsworth Road Market runs every Sunday 11 am – 4 pm / Chats Fest Saturday 10th September / East London Vintage Fair runs over the second weekend of each month
Web: http://www.chatsworthroade5.co.uk/