Once a year on the opening weekend of the Munich "Frühjahrsfest" (the first Saturday of the Spring Festival of Munich, in April) there is a very large flea market on the Theresienwiese, the grounds where the famous Oktoberfest takes place some months later. It is locally known as Der Riesenflohmarkt auf der Theresienwiese (or Riesenflohmarkt München).
A truly GIGANTIC flea market
Back in 2010 we wrote for the first time about the Riesenflohmarkt München, which was held for the 46th time! This truly gigantic flea market, which brings together every year around 2,000 retailers and more than 80,000 visitors from all over Europe, for a one festive day of flea market sales in the Theresienwiese, constitutes an amazing opportunity for flea market and thrifting lovers, to find great second-hand goods at a very low price (if you follow at least some of the recommendations we shared in our post "The Art Of Flea Market Haggling"): clothe, design furniture, militaria, home appliances, electronic, antiques, etc. are at the reach of any budget! Have a look at our 2010 review of the flea market if you want to have a more in depth overview of this event. We also shared some pictures for the very pleasure of your eyes.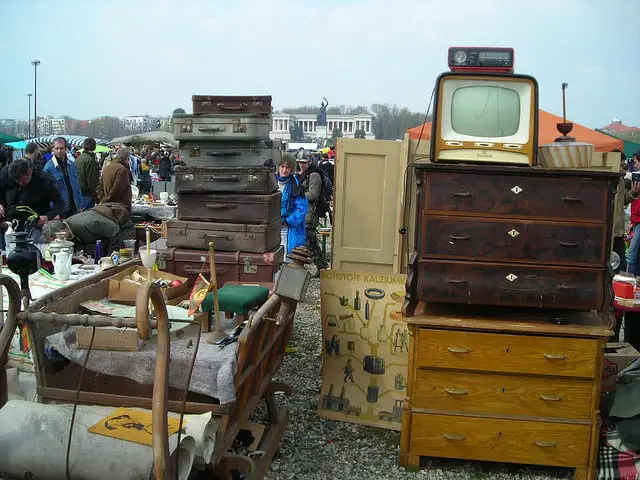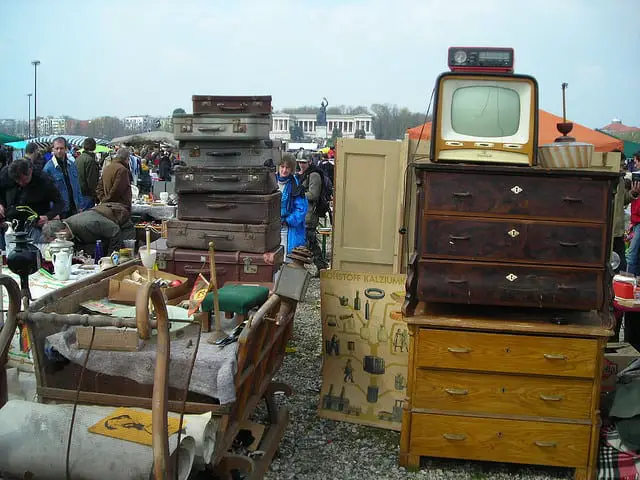 This year, unfortunately, we could not attend the event… however, to keep up with the tradition, we found an interesting footage/video of the event, as well as a link to a photo gallery picturing this amazing (and sunny) day. Enjoy the visit, and hopefully see you at the Riesenflohmarkt München next year!
What: Munich Giant Flea Market (Riesen-Flohmarkt Theresienwiese )
When: On the 1st Saturday of Munich's Spring Festival in April from 06:00 a.m. to 4:00 p.m.
Where: Theresienwiese (Matthias-Pschorr-Straße 1, 80336 München)
More information: https://www.brk-muenchen.de/angebote/flohmaerkte/flohmarkt-theresienwiese/ and 57. Münchner Frühlingsfest 2023 auf der Theresienwiese – Festzelt München (festhalle-bayernland.de)