The Coolest Newcomer: Brooklyn Flea, Brooklyn, NY
As the borough continues to rival and perhaps surpass Manhattan as a real estate hotbed and cultural epicenter, Brooklynites need a quality flea market of their own. After opening in 2008, the Brooklyn Flea has become the preeminent spot to score unique vintage furniture, vintage style clothing, décor, clothing, vintage products and handmade goods.
⚠ COVID-19: Amidst the coronavirus pandemic, show schedules might be subject to change. Please consult promoter's social media and website before heading out. COVID-19 live updates
Last winter, the flea market expanded to include two weekly events: one is outdoors flea market in the Fort Greene section of Brooklyn, the other is inside a former Brooklyn bank built in the 1920s.
The historic landmark, known as One Hanson, has limestone and marble interiors, intricate mosaics and is a marvel in itself.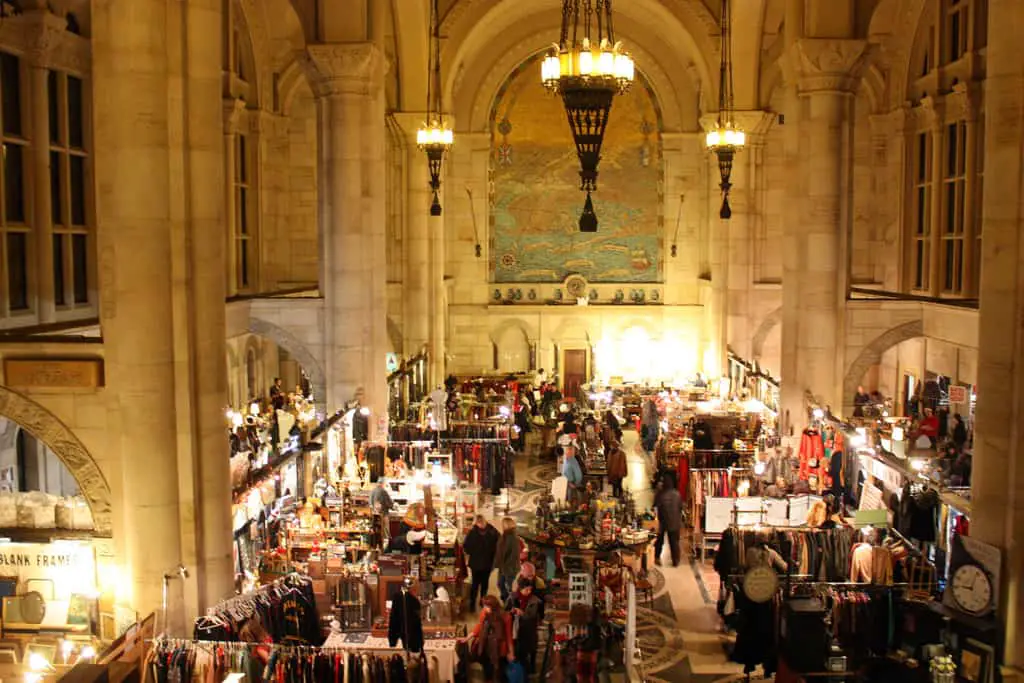 "This flea market has these beautiful, vast aisles you can get lost in. You might even forget where you are," says Brooklyn Flea's co-founder and organizer, Eric Demby. If you don't walk away with the perfect art deco vanity, vintage clothing or vintage furniture, you will leave with a full stomach.
Food is a major focal point of the Brooklyn Flea, and you'll find one of the best smattering of tacos, cupcakes, lobster rolls, cannoli and Asian-inspired hot dogs in the country.
---
Download now our New York City Flea Markets Travel Guide!
From museums and parks, to sightseeing tours and of course shopping, New York has a lot to offer. And whether you're a visitor or a local in the Big Apple, craving for vintage clothes, antique knick-knacks and other hip accoutrements – all while on a budget – be advised that New York City's flea markets are full of vintage and antique finds that would grace any home or wardrobe.
Our interactive travel guide features 20 pages of the best flea markets in Manhattan as well as more up-and-coming neighborhoods in Brooklyn and Williamsburg, to help you find everything from vintage furniture to nostalgic memorabilia, old books, accessories, clothing and retro decorative items. If you use a tablet (iOS/Android), you will enjoy from a more in-depth experience thanks to our integrated multimedia content.
[purchase_link id="8457″ style="button" color="blue" text="Download Now!"]