The epitome of fine wines, Bordeaux is one of France's most elegant and cosmopolitan cities. Strategically located at the center of a legendary wine-growing region, the vibrant and sophisticated city of Bordeaux is a top culture and gourmet destination. In fact, Bordeaux is the ideal base for exploring neighboring wineries as well as the châteaux of Médoc, St Emilion and Bordeaux.
Fringed by the largest pine forest in Europe, Bordeaux is located only 45 minutes away from Arcachon Bay (famous for its delicious seafood and the Grande Dune du Pilat – the tallest sand dune in Europe, towering at 110 meters above sea level) and its stunning beaches.
The city of Bordeaux's inscription as a UNESCO World Heritage Site in 2007 and its bold modernism have made it a key destination for everyone interested in French culture, wine, lifestyle, and flea markets!
From its weekly Puces de Saint Michel and quarterly "Grands Déballages", to its famous bi-annual Foire à la Brocante des Quinconces, Bordeaux has much to offer to antiques enthusiasts all year long.
Foire à la Brocante des Quinconces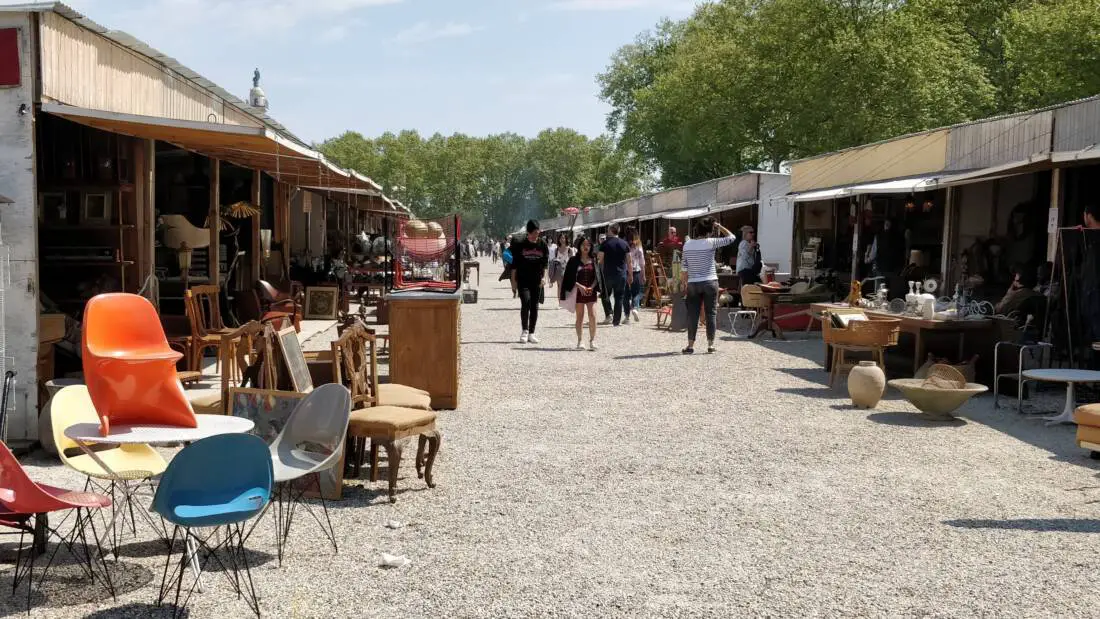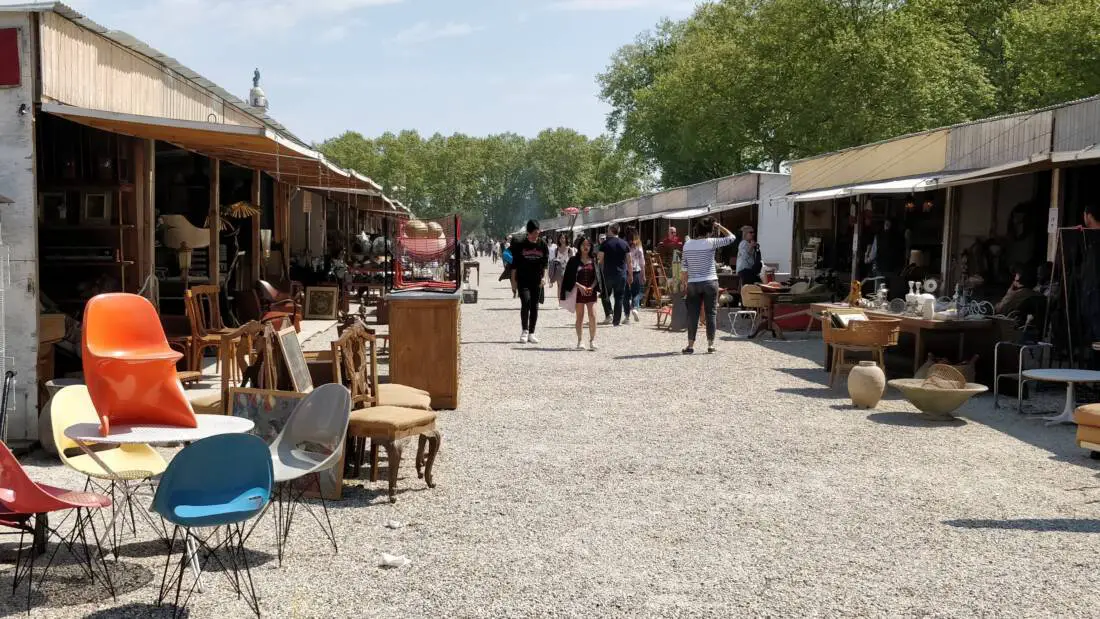 Twice a year, in Spring and Autumn, the Foire à la Brocante des Quinconces is THE appointment of all "bargain hunters" and antique enthusiasts who live in the region. Set on a huge square, this event – which is the oldest flea market & antique fair in Bordeaux and in the Aquitaine region – welcomes twice a year more than 200 exhibitors showcasing a considerable range of antique and vintage furniture and objects, from past centuries to more recent times, in order to appeal to the widest range of potential buyers.
A traditional appointment in Bordeaux, the Foire à la Brocante des Quinconces gathers over 180 000 flea market enthusiasts, seasoned collectors or just curious passersby from around the region, who try to find the gem or just want to enjoy from a day out with their family. And the Foire à la Brocante des Quinconces has so much to offer! From junk, antique, furniture and books to jewelry, china, silverware, crystal glassworks, and a wide selection of classic and unusual collectible, exhibitors at the Quinconces Flea Market truly have something for everyone.
And those who don't manage to quench their thirst for vintage & antiques will be able to get their revenge by having a gourmet break in one of the many restaurants and wine booth of the Traditional Wine and Ham Fair, held in a neighboring alley to the Quinconces Flea Market. Last but not least, the banks of the Garonne river provide an ideal place to enjoy the stunning scenery or a pleasant walk.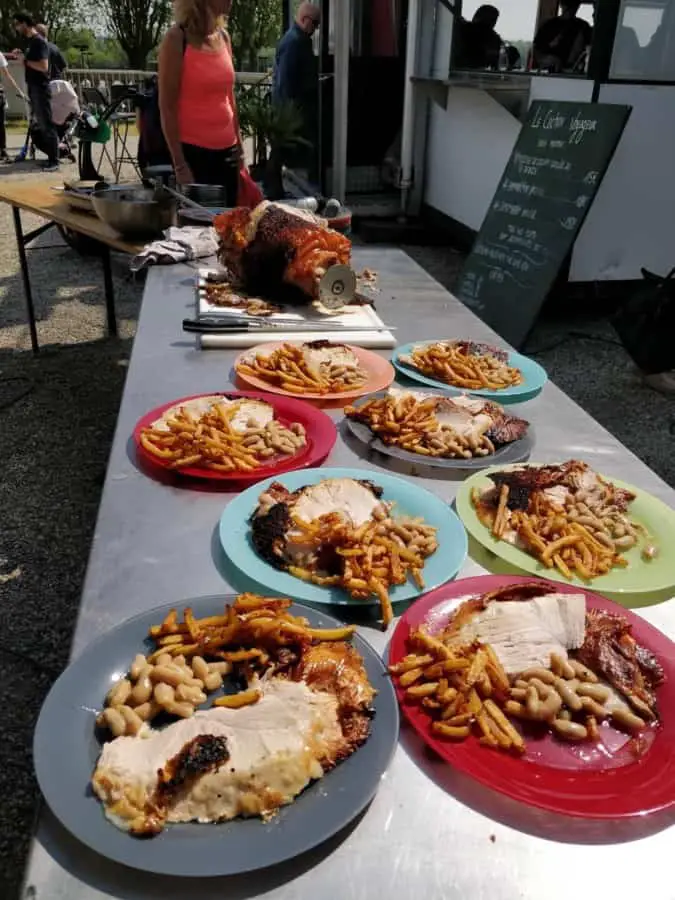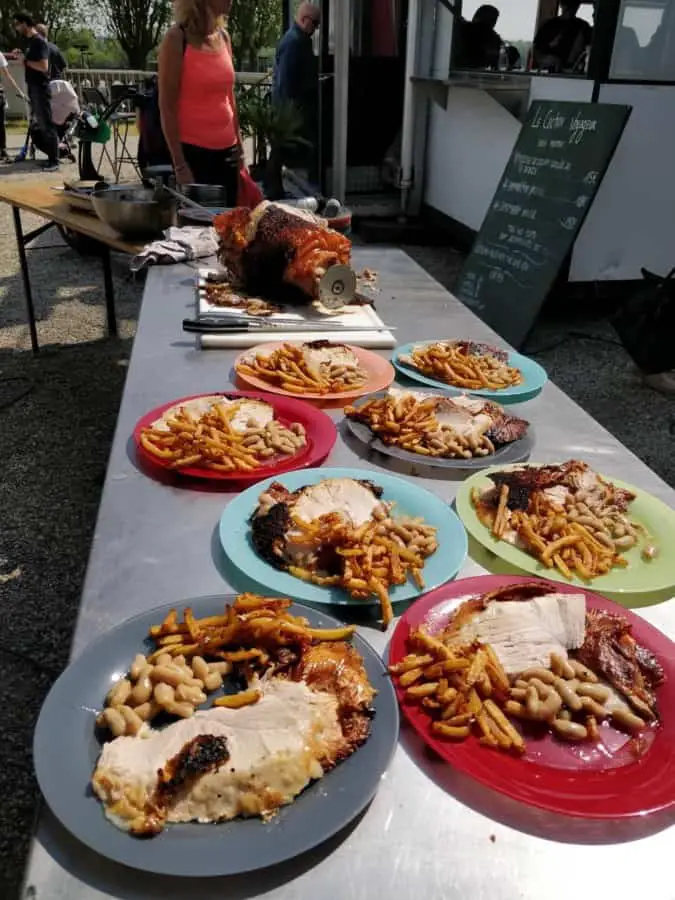 Open to all public and budgets, the Foire à la Brocante des Quinconces is a highly awaited event, and an invitation to a journey through time.
Where : Place des Quinconces 33000 Bordeaux
When: Twice a year (Spring & Fall).
Web: bordeauxquinconces.com
More: Full review on fleamapket
Did you know that?
The Quinconces, the main square of Bordeaux' city center, is named after the way the trees were planted: "de quinconce" stands for "staggered".
Les Puces de Saint Michel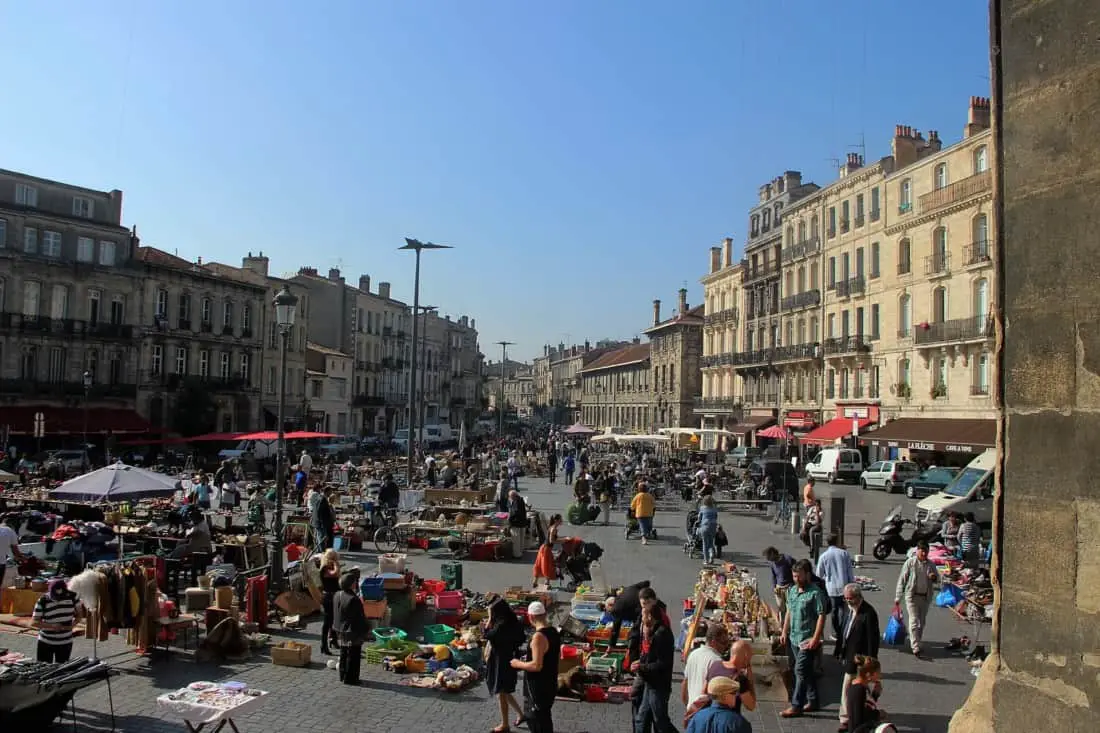 This famous little flea market gives visitors a chance to see another side to Bordeaux that perhaps the tourist brochures often overlook. This once-rundown corner of Bordeaux nowadays buzzes with dealers, collectors, and enthusiasts, leaving little room for passers-by. Between the unusual objects, the tapestries, and the vinyl, flea market enthusiasts will have their curiosity quickly satisfied at Les Puces de Saint Michel.
Where: Place Canteloup
When: Every day except Saturdays and Mondays from 6 am to 2 pm
More: Full review on fleamapket
Grand Déballage des Puces de Saint Michel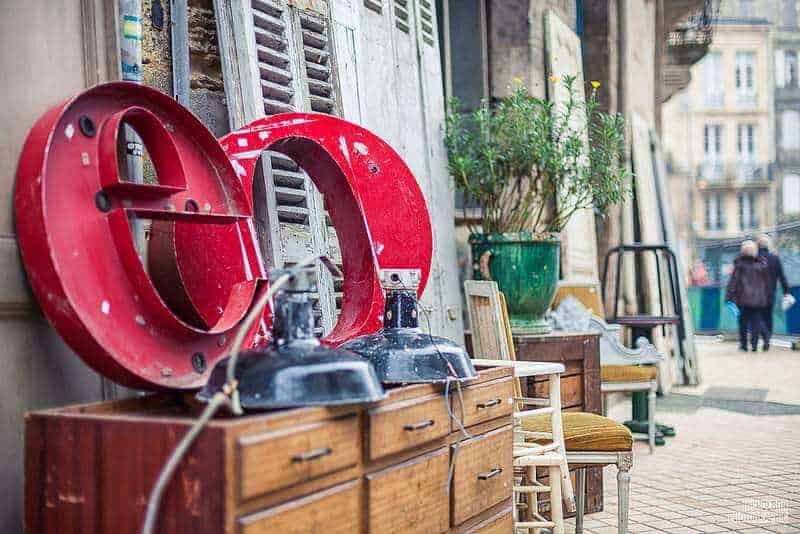 In addition to the weekly Puces de Saint Michel, the city of Bordeaux hosts four times a year a larger flea market fair. Dubbed the "Grand Déballage des Puces de Saint Michel", this flea market extravaganza gathers hundreds of professional and private antique vendors spreading their wares around the majestic 14th-century Saint-Michel basilica and its bell tower. Only vintage merchandise and antiques can be sold during the "Grand Déballage".
Where: Place Canteloup
When: Every second Sunday of March, June, and September from 6 am to 14 pm
More: Full review on fleamapket
Other interesting flea markets in Bordeaux
Booksellers Flea Market (Bouquinistes)
Where: Halle around the Place des Grands Hommes
When: Wednesday from 7 am to 7 pm
Booksellers Flea Market (Bouquinistes)
Where: Halle des Chartrons / Place du marché des Chartrons
When: 3rd Saturday of the month from 10 am to 6 pm