Vanves Flea Market - Paris, FRANCE
Whether you're a passionate collector or merely a lover of whimsical trinkets, a wander through one of Paris' brocantes (flea markets) will always seduce and enthrall. The Paris flea markets originated in the 18th-century when chiffoniers or rag-and-bone men resold goods and clothing found in aristocrats' rubbish bins, setting up just outside the gates of Paris to avoid fees and taxes incurred within city walls.
Consequently, the main flea markets sit on the rim of the city close to the Boulevard Peripherique (ring road).
Most visitors to the city make a beeline for Puces de St-Ouen (Clignancourt), the largest flea market in the capital. Yet the intricate labyrinth of 2500 stalls and 17 kilometers of alleyways spread over 6 hectares can be overwhelming, not to mention the task of navigating the 70,000 bargain hunters that visit every week.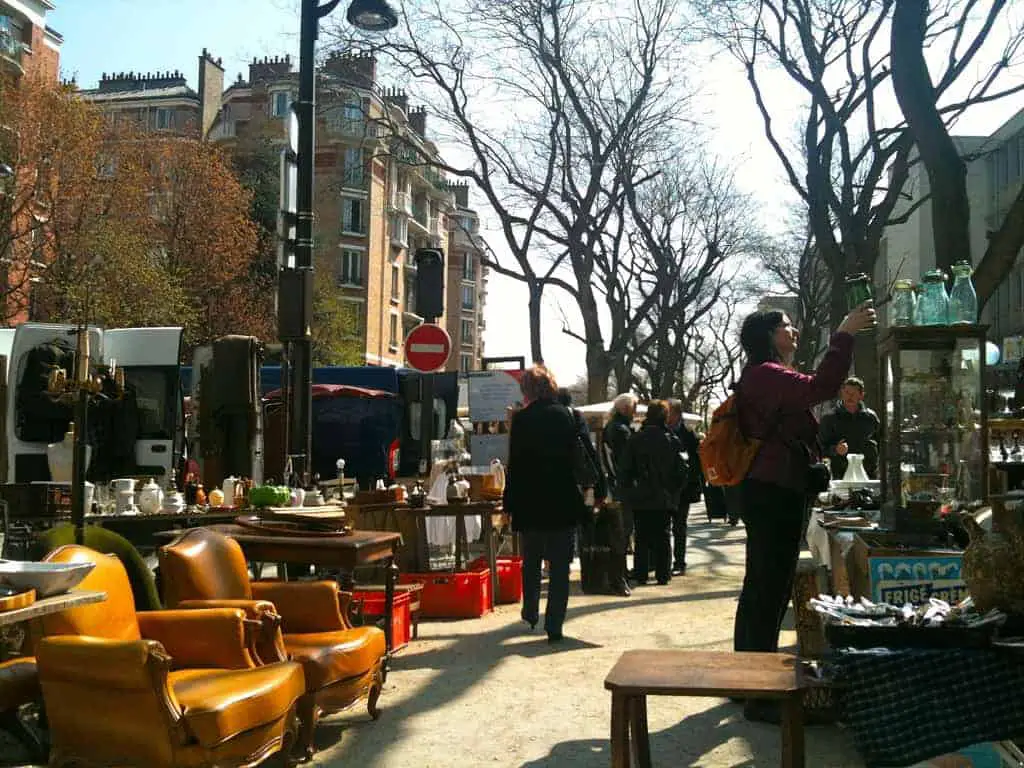 A more relaxing alternative is to head straight to Porte de Vanves, the smallest and friendliest of the flea markets. Tucked in an out-of-the-way corner of the city, this weekend marché aux puces—which dates from the 1920s—is easily accessible by metro and still largely the haunt of locals.
Prices are reasonable, the atmosphere intimate and its manageable size (there are around 200 traders) makes for a stimulating morning outing, leaving the rest of the day free. Another advantage for travelers is that most wares of this brocante are small and decorative, fitting deftly into a suitcase. You're more likely to find a fanciful figurine or delicate eau de cologne bottle than an 18th-century armoire and heavy Napoleon bust.
A trove of the unexpected, Vanves brocante is not a market for fine antiques but rather general collectibles, eccentric one-off pieces, and curiosities. Read our full review of the Vanves Flea Market >
Where: Ave Marc Sangnier & Ave Georges Lafenstre, 14th Paris (Metro Porte de Vanves)
When: Open Saturday & Sunday 7 am to 1 pm
Bonus tips: Accommodations in Paris
Paris has the world's widest choice of hotels with a full range of prices, offering something for everyone. Here you can find over 80,000 rooms in sumptuous sophistication, or cool and cozy spots. Expect a lovely experience in smaller, more personalized atmosphere hotels.
To keep you in the flea market & vintage spirit during your stay in Paris, how about spending a night or two in one of our favorite "retro design" hotels of the city? We have hand-picked for you, our favorite three vintage design hotels.
Fabric Hotel (Industrial Design): The

Fabric Hotel

in Paris draws decorative and ornamental inspiration from the industrial past of the Oberkampf district. The brick-built walls, plentiful space, unconcealed supporting structures, and the immense windows admitting plenty of natural light effectively illustrate this approach. Occupying 4 floors, the Fabric Hotel boasts 33 ultra-comfortable rooms in a resolutely contemporary setting. Where: 31 rue de la Folie Méricourt, 11th arr., 75011 Paris, France
Best Western Premier 61 Paris Nation ("Back to the 1960s"): Close to the Gare de Lyon, the Best Western Premier 61 Paris Nation Hotel is located next to Nation and Porte de Vincennes in the 12th arrondissement in Paris. This 4-star establishment is a contemporary reflection of 1960s Paris. Behind its pretty brick façade at number 61 rue de la Voute, the hotel's decoration and furniture evoke all the imagination of the early 1960s. Where: 61, rue de la Voute, 12th arr., 75012 Paris, France
Platine Hotel Paris ("The Madmen and the 1950s"): Vincent Bastié, the architect behind the design of the Platine Hotel, dug into the 1950s to create a decor which is both chic and recreational. The hotel's decidedly glamorous atmosphere invites guests on a journey, both through time, at the heart of Hollywood's golden era, as well as through space, with the discovery of the America of that decade with its diners, movie sets, and modern buildings. Highlight: The hotel is located 1.5 miles from the

Porte de Vanves flea market

. It can be reached by car within 10 minutes (25 minutes in subway via Metro Line 10 + Metro Line 13). Where: 20 rue de l'Ingénieur Robert Keller, 15th arr., 75015 Paris, France