6 great addresses for flea market shopping in Paris
There are flea markets in almost every district of Paris: most of these brocante vary in size and there are smaller flea markets and garage sales to be explored, which are as much an essential part of a Paris trip as the Louvre.
However, two of the most renowned Paris flea markets are the massive Puces de Saint-Ouen (St Ouen Clignancourt flea market) just outside Montmartre in the north of Paris, and the Marche aux Puces de la Porte de Vanves (Vanves Flea Market) near Montparnasse in the south of Paris.
Paris flea markets #1: Saint-Ouen flea market / Porte de Clignancourt flea market
The Puces de Saint-Ouen – Porte de Clignancourt is the biggest and most ancient antiques market and flea market in Paris (The St Ouen flea market was founded in the nineteenth century). The overall venue spreads over 15 km (10 miles), featuring more than 2,000 shops and a dozen independent flea markets with their own products, prices and different styles from high-end antiquity, to clothing and modern accessories.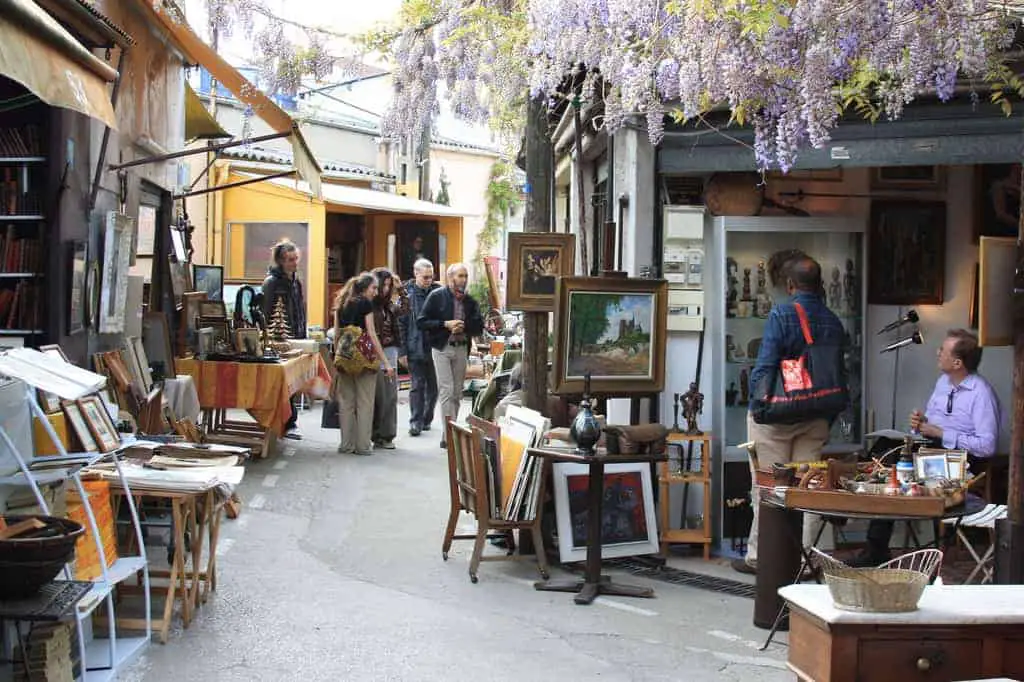 Yet, the Paris Saint-Ouen flea market is listed as French national heritage and this is now wonder why this huge flea market is visited each year by 11 million people. We recommend you to read this very detailed yet well structured review to help you get acquainted with the St Ouen flea market and navigate your way between the alleys.
Where: 138/140 Rue des Rosiers, 93400 Saint Ouen, France
When: Saturday, Sunday and Monday from 10 am to 5 pm  (Friday is for professionals only)
Get there by Bus: 85, 95, 50, 137, 56, 60, 166, 255
Get there by Metro: Line 4 Porte de Clignancourt / Line 13, Garibaldi
Paris flea markets #2: Porte de Vanves flea market
Most tourists make a beeline for Puces de St-Ouen (Clignancourt), the largest Paris flea market. Yet the intricate labyrinth of 2500 stalls and 17 kilometres of alleyways spread over 6 hectares can be overwhelming, not to mention the task of navigating the 70,000 bargain hunters that visit every week…
A more relaxing alternative is to head straight to Portes de Vanves, the smallest and friendliest Paris flea market (read our complete review of the Vanves Flea Market): A trove of the unexpected, Vanves flea market (known as "Les Puces de Vanves" among the Parisian community) is not a market for fine antiques but rather general collectables, eccentric one-off pieces and curiosities at a "yard sales price".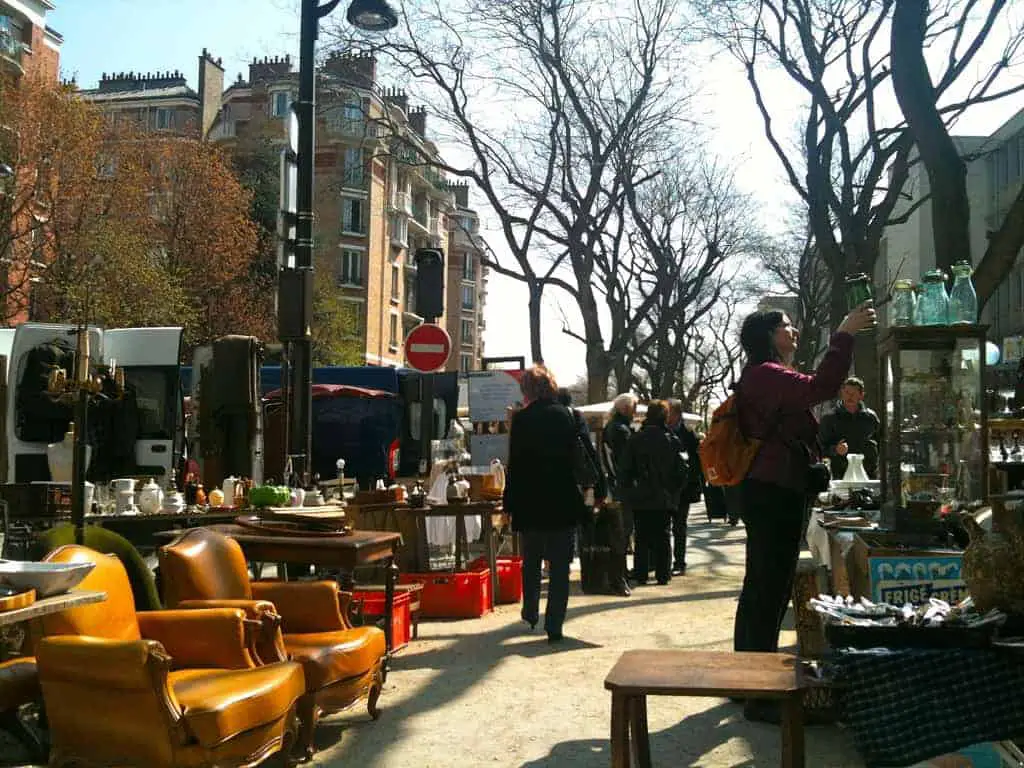 Example of items on sale at this typical Parisian flea market include old postcard and photographs, paintings, vintage scarves, old keys, plates, silverware, jewelry, glassware, books, frames, tins, clothes from hundreds of years ago, furniture. The Vanves flea market is held every Saturday and Sunday morning (from 7am to 1pm).
Where: Ave Marc Sangnier & Ave Georges Lafenestre, 14th Paris (Metro Porte de Vanves)
When: Open Saturday & Sunday 7 am to 1 pm
Emmaus: Do a good deed while flea market shopping
The Emmaus communities exist throughout France and in 38 countries, offering a range of charitable services to the poorest through the resale of second hand furniture & items. In Paris for instance, a flat known as the Emmaus appartement 104 has been transformed in a flea market that spans a relatively large space, organized according to the different rooms of the house.
Not a Parisian flea market per se, the Emma's appartement 104 contains nonethless, a few treasures: furniture, dishes, clothing, accessories, trinkets, at ridiculous prices. The place is especially nice because it is bright. Location: 5 rue Curial, 75019.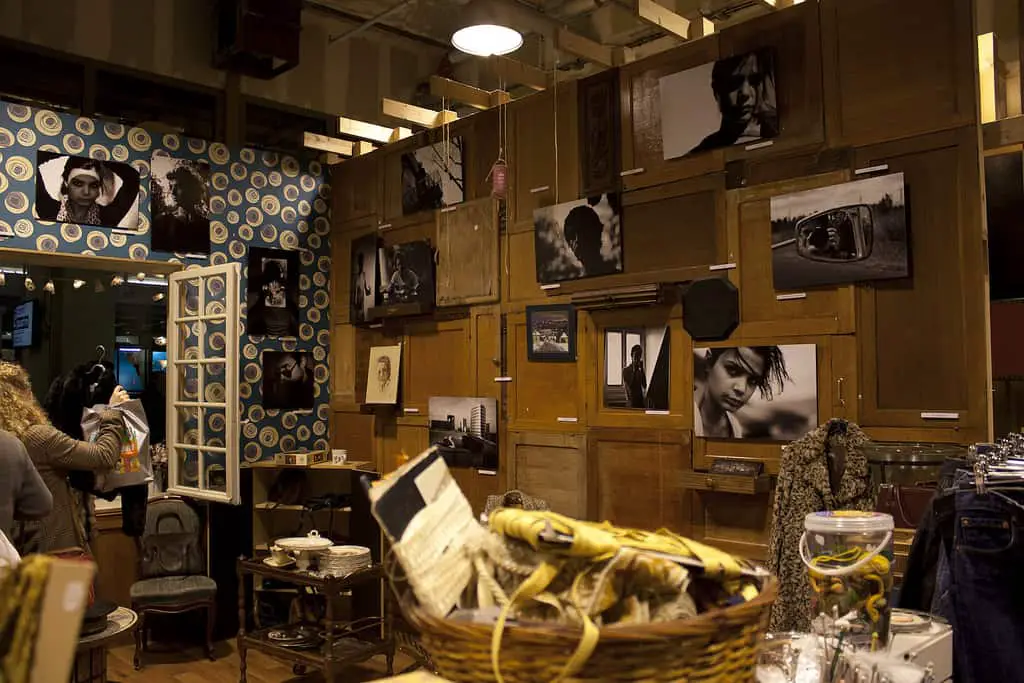 The Bric-a-brac Riquet, which opened in August 2012, is a beautiful retail space which spreads over 1200 m2. It is open to the public on Wednesday from 13h30 to 18h and Saturday from 10h to 18h. Location: 40, rue Riquet, 75019. List of all Emmaus venues in Paris.
Last but not least, the Emmaus communities come together once a year in Porte de Versailles, for a giant unpacking, and a multitude of very beautiful things to explore! A tip, go there at least an hour before the official opening, to be sure to be among the first to enter!
Tombées du Camion: Paris' craziest vintage shop
If besides strolling Paris flea market, you love bric-a-brac and try to avoid Paris' (sometime) expensive flea markets and (grumpy) antiques dealers, then you might want to drop by at Tombées du Camion. Filled with wooden crates overflowing with a multitude of objects from all eras and all usefulness (6 € doll heads, 15 € brushes for infants, 20 € padlock Pooh, 2 € vintage postcards, € 5 fake tattoos, 23 € toy cars, colorful beads or old glass eyes…), this place is a true Alibaba cavern for the flea lover.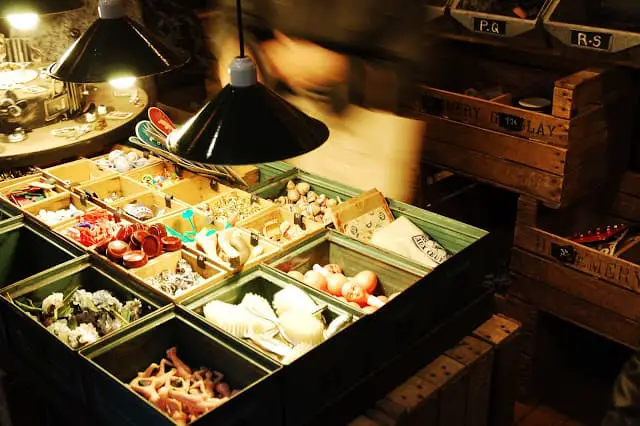 Fittingly located in Paris' districts like the gritty Marché aux Puces de Saint Ouen (Clignancourt) and the vibrant Montmartre, Tombées du Camion gives justice to the saying, "One man's trash is another man's treasure."
Flea markets and garage sales in Paris
Regularly organized all year long in all districts of Paris, flea markets and garage sales make professionals seller and private individuals meet, to sell & buy treasures. The opportunity to unearth ancient wooden crates advertising for less than 15 euros, crookery or old typewriter for 10 euros.
Les Bouquinistes (booksellers)
With their 900 "boxes" and more than 300 000 antique or contemporary books on sale, the booksellers offer Parisians & tourists, a 3 kilometers cultural hike on the banks of the Seine (the longest open-air library in the world). The booksellers are open several days a week, depending on weather conditions, from 11:30 am until sunset.