Flea Markets in Piedmont (Torino)
Balon Flea Market
Piazza della Repubblica, Porta Palazzo, Torino – Every Saturday
⚠ COVID-19: Amidst the coronavirus pandemic, show schedules might be subject to change. Please consult promoter's social media and website before heading out. COVID-19 live updates
On a typical Saturday in the city of Turin, 100,000 visitors flock to Porta Palazzo, Europe's largest open-air market, and one of the best flea markets in Italy. For over 150 years, this sprawling market has offered a cornucopia of footwear, clothes, housewares, toys, and food from across Italy and around the world. With over one thousand merchants and 700 street vendors, Porta Palazzo is a commercial hub whose opportunities have always attracted newcomers to the city.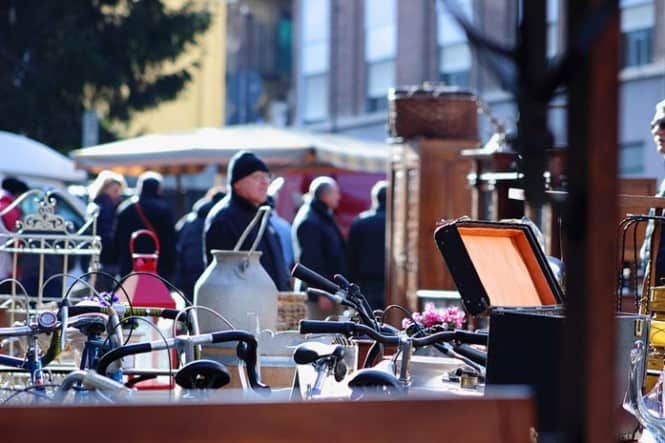 Unique to Porta Palazzo is the Balon flea market and its mix of registered, formal and informal vendors. Since 1935 irregular migrants have had the right to 'exchange' goods on the market by a special city statute. In the heart of the Balon, a hot air balloon rises 150 meters high every day, giving its passengers a breathtaking view over the city of the Savoy.
The attraction was inaugurated in 2012, as a tribute to one of the possible roots of the market's name, according to which 'balon' refers to an air balloon that took off from this neighbourhood in the 18th century. Although there is no historical evidence of that episode, the balloon has now become a symbol of this open-air emporium, the largest in Europe, which has been bustling with activity since the second half of the 19th century.
To this day, every Saturday morning the Balon attracts a crowd of visitors, collectors, and tourists who walk around the most diverse objects. The surrounding streets are packed with antique dealers' shops, which display the best they have to offer every second Sunday of the month for the Gran Balon, making a visit to this noisy and inspiring market even more interesting.
Source: citiesofmigration.ca / italianways.com
Photos: archimemoro.org / aliceofm (flickr) / uLtRaSoNiCo (flickr) / donalduck59 (flickr) / dynisse (flickr)
Other flea markets in Piedmont:
Alessandria flea market, Piazza Garibaldi, Piazza Marconi and Via San Lorenzo (Tel. +39 0131 325344). First Sunday of the month (except August): collectables, furniture and books
Asti flea market, Piazza San Secondo (Tel. +39 0141 355861). Fourth Sunday of the month: collectables and furniture
Casale Monferrato (AL) flea market, Via XX Settembre (Tel. +39 0142 454757). Second weekend of the month: furniture – antique and modern
Torino flea market, Piazza della Repubblica, Porta Palazzo (Tel. +39 011 4369741). Second Sunday of the month: antiques.
Cagliari flea market, Bastioni di San Remy (Tel. +39 070 664923). Every Sunday: collectables and objects
Olbia flea market, Piazza Matteotti (Tel. +39 070 810504) Third Saturday of the month: antiques and collectables.
Agrigento flea market, Historic Centre (Tel. +39 0922 401566). Fourth Sunday of the month: antiques and objects
Catania flea market, Historic Centre (Tel. +39 095 7306211). Every Sunday: antiques and objects
Palermo flea market, Piazza Unità d' Italia (Tel. +39 091 308287). First weekend of the month: furniture, objects and collectables.