Campo de' Fiori Flea Market (FOOD MARKET)
Right in the heart of the old city (in the centro storico), Rome's most picturesque street market is also one of the oldest still operating markets in Rome: the Campo dei Fiori Market has served the city since 1869! It has been called the "market of markets" and its name literally translates to "field of flowers". Although some criticize that the products sold there target primarily the taste of tourists, it is still a beautiful food market to visit and definitely a heaven for foodies!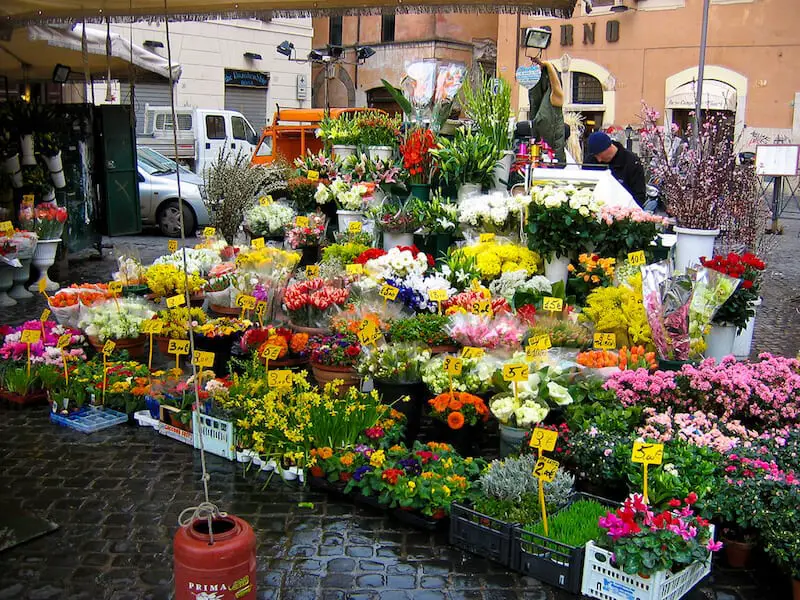 Every morning, except Sunday, the piazza is transformed by an array of stalls selling colorful fruit and vegetables, meat, poultry, fish as well as vintage kitchen utensils, tablecloths and toys. One or two stalls specialize in pulses, rice, dried fruit and nuts and there are also flower stalls situated near the fountain.
⚠ COVID-19: Amidst the coronavirus pandemic, show schedules might be subject to change. Please consult promoter's social media and website before heading out. COVID-19 live updates
But the huge open baskets of ready-stripped broccoli and spinach, chopped vegetables for minestrone and freshly prepared green salad mixes are the main attraction for visitors. They provide a real visual display as well as an edible feast.
Where: Piazza Campo de' Fiori – Rome, Italy
When: Monday to Saturday, 7 a.m. – 1.30 p.m.
Go back to our list of Rome's best flea markets and antique markets!