Flea Markets in Zagreb, CROATIA
The impressions of many foreigners who live in Zagreb, business people and tourists can be summed up in a single sentence : a large city which managed to stay romantic and safe.
There are two open air flea markets in Zagreb, which both take place on the weekend: the Britanski trg Flea Market and the Hrelić (Jakuševac) flea market.
Britanski trg Flea Market
Britanski trg (British Square), Sunday 8am – 2pm
The Saturday/Sunday morning fancy flea market on Britanski trg (British Square) is a five-minute walk from the centre, where smart looking people show off their knowledge and interest for antiquities. Here you can rummage through socialist stamps and coins, books and bibelots. It's as if Balkan history has been given a good shake and this is what fell out.
Then put some fresh air in your lungs with a walk up the hill to Rokov Perivoj park behind the square. Zagreb's biggest flea market, though, is a bus ride away on the 295 to Hrelic/Jakusevac, where you'll be swamped by clothes, bikes, cars and curiosities, superintended by hardcore flea marketeers.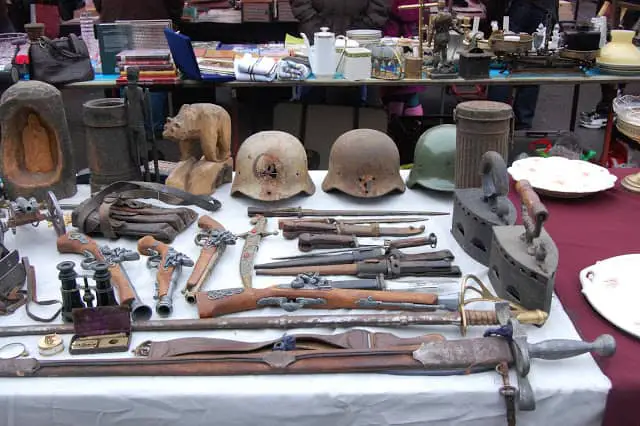 Hrelić (Jakuševac) flea market
Sajmišna cesta 8, Jakuševac, every Wednesday and Sunday of the year
The Hrelić on Sajmišna cesta Flea Market (alongside Sava river) is an exibition of the Croatian reality: Everybody sells everything and it is the place where unbelievable bargains and findings can be made. Located on the outskirts of the city every wednesday and Sunday of the year (Sunday market is much larger then the Wednesday market), the Hrelić flea market is jam packed with goodies from cars, motor-cycles, clothes, to thousands of other handy items.
Prices are really low – you can get quite an interesting object for 5kn (55p) or 10 kn (1.10 pounds), and bargaining will be fun. And do take the time to relish some of the authentic local food and meat dishes on offer! Try and get early at the Hrelić flea market as merchants leave by noon. The quickest way to get to the Fair is to catch the bus number 295 at the Glavni kolodvor Station.