Before you further go through this post, I'd like you to have a detailed look at the image gallery below. I mean, really take the time to review this collection of pictures of this gorgeous and amazing vintage industrial interior by Alketas Pazis. Take a moment to dive into every photo in details, and let your eyes catch the shape, the color, the position of every object perfectly organized in this fine composition.
Now you might be thinking "wow, this interior is just amazing… But how am I supposed to EVER manage to lay my hand on even one of the most insignificant objects or vintage industrial furniture showcased on these pictures?"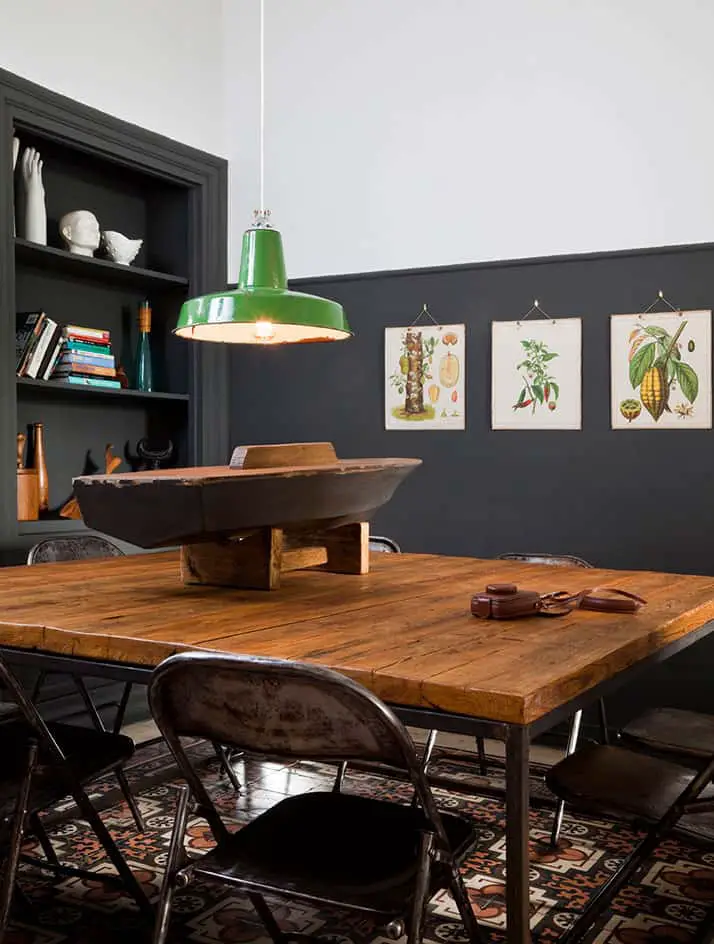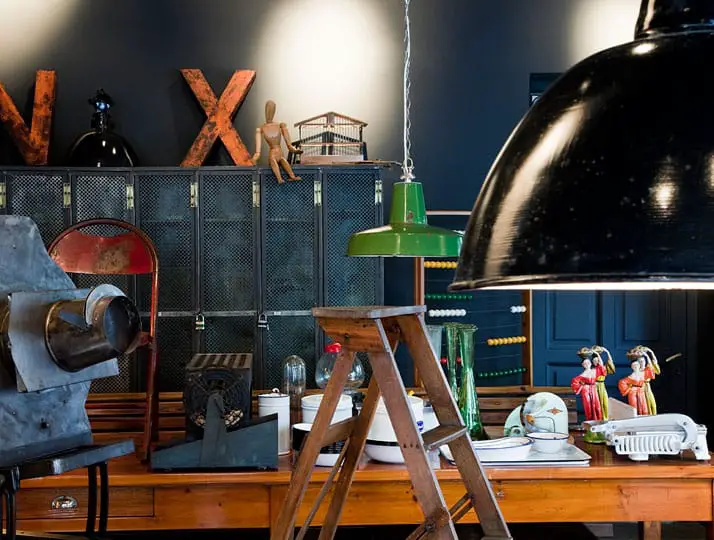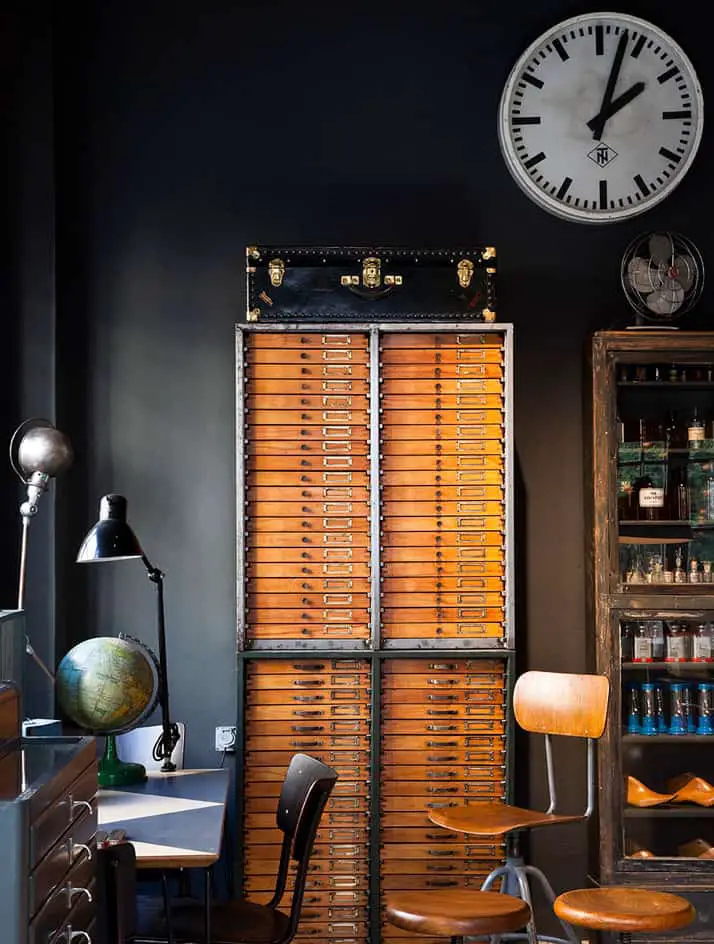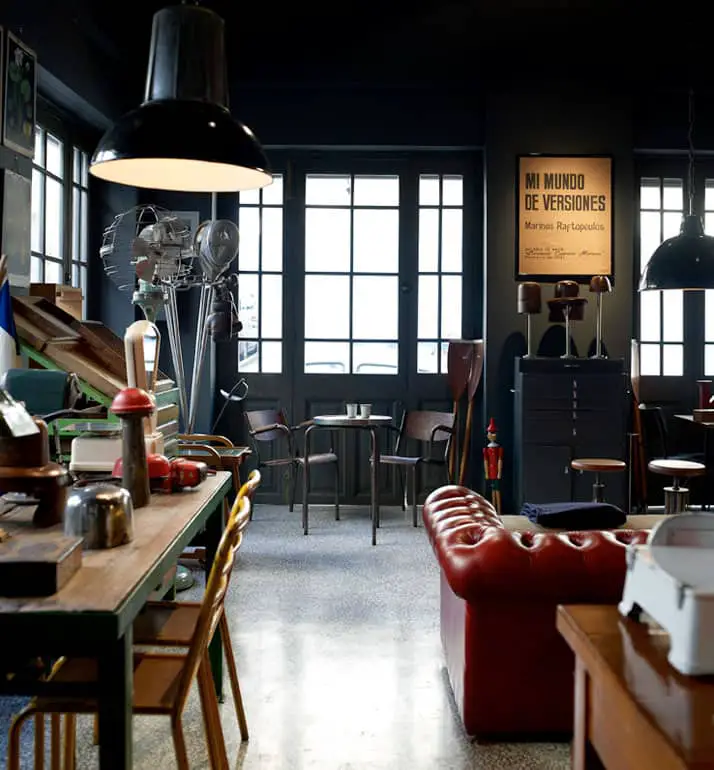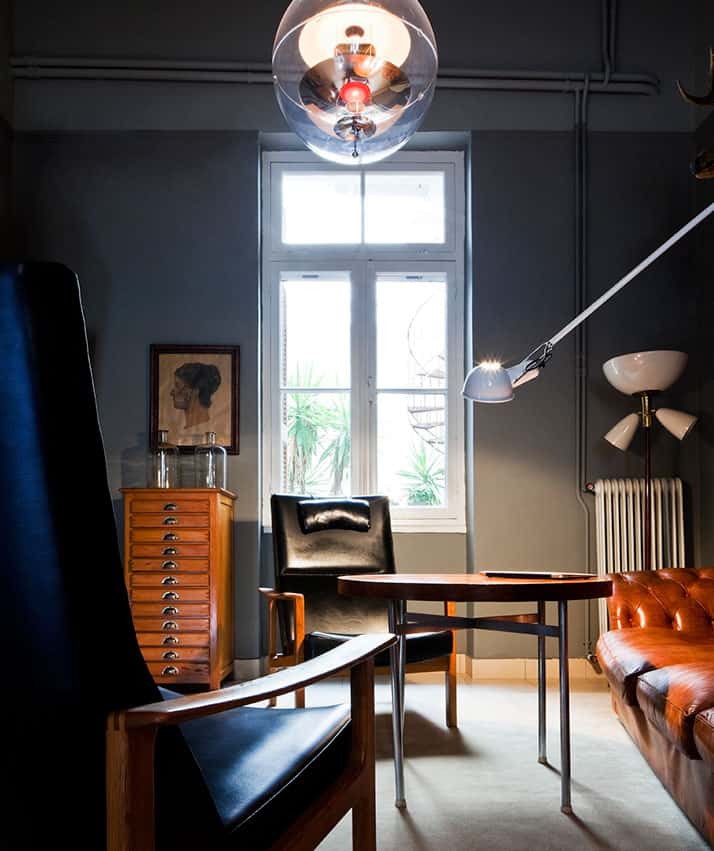 Well, "you wonder"? I'm telling you now: "that is actually MUCH easier than you think to acquire your own selection of vintage industrial furniture."
In fact – and you will probably think I'm nuts – give me a few days shopping around here in Vienna (but it can also be Berlin, Paris, London, Milan or any other major city with a little bit of history, a decent flea market and some major antique chops) and I'll manage to lay my hand on 80% of the vintage industrial furniture – or equivalent – featured on these pictures, and without going broke.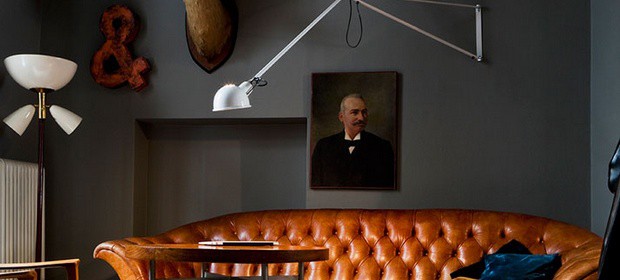 How is that possible?
Well, lucky for us there is one important word in "vintage industrial furniture": industrial.
This implies that most furniture was produced industrially or better said, in a high number of copies. Cabinets, lamps, home appliances, decorative objects, prints… actually give yourself a few days wandering in antique shops and flea markets around where you live, with the pictures of the above objects in your hand, and tick that vintage industrial furniture as you find them. You probably won't believe how easy it can be to spot vintage industrial furniture. And if you have a minimum interest in collecting antique stuff, you will probably already have seen many of these objects somewhere before.
Once you step into this hobby of collecting vintage industrial furniture and antiques, you will never get rid of it; and the more you do it, the more knowledgeable you become, and the greater the stuff you find.
The interior of Alketas Paziz is indeed impressive, but absolutely not "unique", as uniqueness applies to a piece of work that has been produced in one single copy.
His rooms are instead elegantly organized spaces mixing "Danish Design" furniture, recycled equipment from factories (mainly roof & deck lamps, vintage wall clocks, long tables, and metal chairs), old color prints used in classrooms as teaching material for students, apothecary wooden furniture/metal furniture, university/high school wood & metal chairs, and miscellaneous curiosities and decorative objects collected from various flea markets.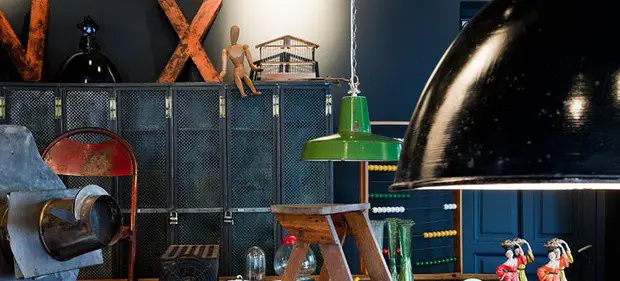 That's right: you too can have a dream house like Pazis'. Having an apartment or house furnished with vintage industrial furniture is not the exclusive privilege of the wealthy or home designers and architects. Get inspired by magazines, vintage design websites, or just follow your own taste!
Once you step into this hobby of collecting vintage industrial furniture & antiques, you will never get rid of it; and the more you do it, the more knowledgeable you become, and the greater the stuff you find (and almost always at a very, very interesting price – Don't know how? Have a look at some of our recommendations on how to bargain at the flea market).
And if you are more like a "digital native" or an "exec" who is more concerned about getting all that decorative stuff right here, right now, or if you are simply living in a city that does not have that much choice when it comes to vintage industrial furniture, flea markets or antique/design shops, you can always search eBay; and if you at least have a look once every two days at eBay's sales, chances are you can – quite often actually – find great deals. It's just a question of patience and constancy.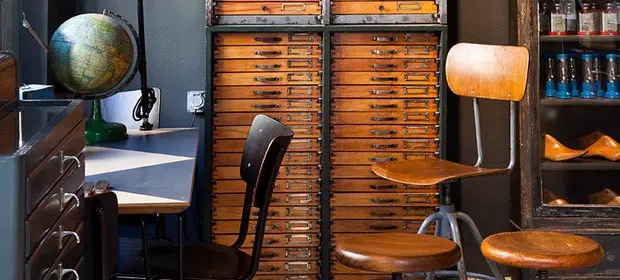 To somehow illustrate my theory of "vintage industrial furniture can be found everywhere", I've made a few searches on eBay. It took me approximately 5 minutes to find a huge share of the equivalent of Pazis' interior. Click on the hyperlinks or simply review the summary image below:
>> eBay search for "Danish Design"
>> eBay search for "Vintage Industrial Lamp"
>> eBay search for "Vintage Anatomical Print"
>> eBay search for "Vintage lithograph print"
>> eBay search for "Apothecary Furniture"
>> eBay search for "Vintage Metal Cabinet"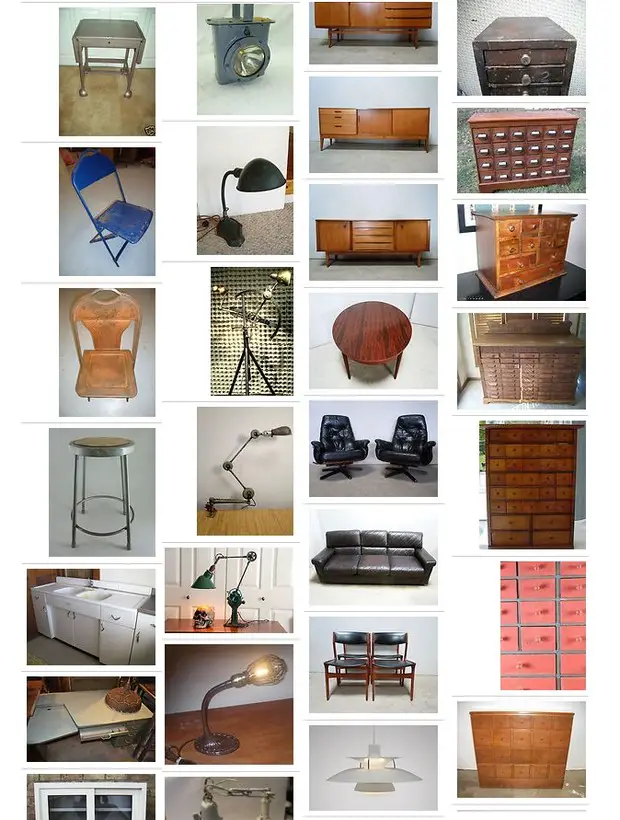 Another online shopping alternative that takes the best of eBay and online stores to find vintage industrial furniture is VintageLab: This e-commerce website focuses on mid-century modern interior design & vintage industrial furniture and sells a limited number of unique objects which have been carefully hand-picked on eBay by their team of design experts & moderators to ensure they're consistent with their quality standards and offer a safe antiquing experience.
Besides iconic designers like Eames, Saarinen, Bertoia, Arne Jacobsen, George Nelson, and likes, VintageLab showcases plenty of Scandinavian design, which is characterized by simplicity, democratic design, and natural shapes. The Vase, Jar & Pottery section, as well as the Lighting category, both harbor fantastic treasures at a very affordable price considering their quality.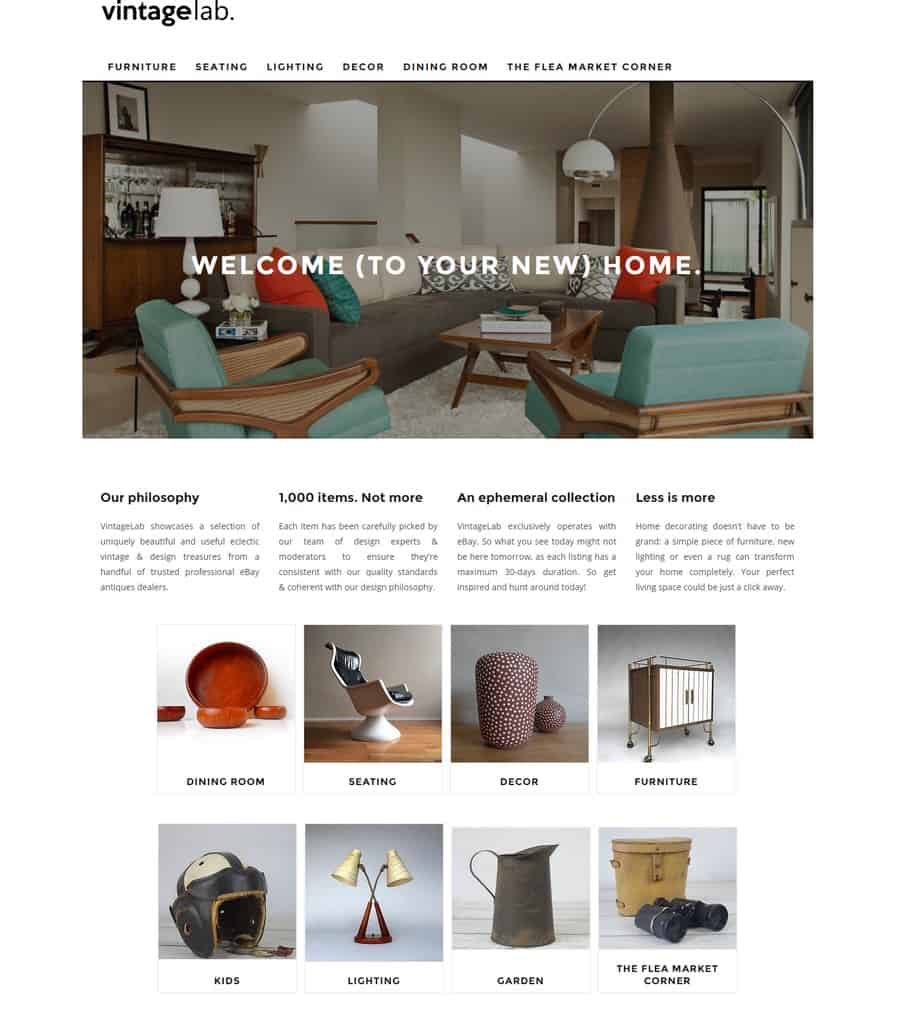 If you have some extra tips or places/website which sell vintage industrial furniture, please don't hesitate to share them in the "comments" section below! And always remember:  the flea-market experience is about finding hidden treasures. The most valuable items are not those that you think will be valuable for resale. The really priceless things are the objects you personally love.