Best Flea Markets in Hamburg (HAMBURG)
Summer, warmth, sunshine: These are of course the ideal flea market weather conditions in northern Germany. However flea markets take no winter break! And in Hamburg, like anywhere else, they run all year long!
From spring to winter, they welcome dealers and misers, nerds and barker, originals and average citizens and caboodle, who come all the way to the big Hamburger flea markets to showcase the useful and useless, valuable and cheesy, old or original.
So, which are the largest flea markets in Hamburg?
Flohschanze Flea market in Schanzenviertel
The Flohschanze flea and antique market is located in the heart of the popular Schanzenviertels in Hamburg. Every Saturday, visitors can rummage, haggle and buy between the decommissioned cattle slaughter halls located in the Neuer Kamp 1 Straße.
The flea market was established in the spring of 2000 and therefore looks back on a 15 years tradition. One great thing about this flea market is that its organizers always make sure that only antiques, art and vintage flea market junk are showcased (new products are prohibited).
Due to the proximity to the Schanzenviertel, there are always quite a lot of tourists strolling the flea market halls. This explains why the Flohschanze flea and antique market is not only well known in Hamburg, but also in other German cities.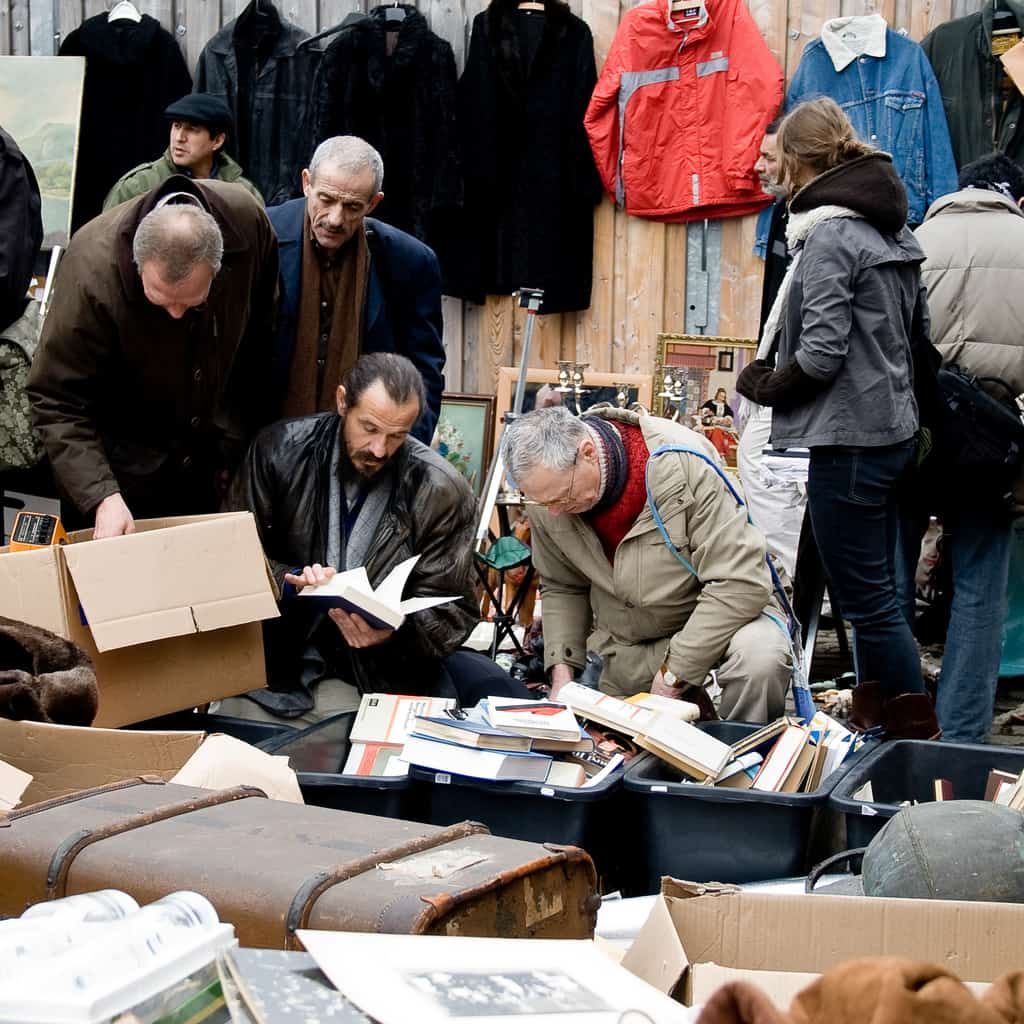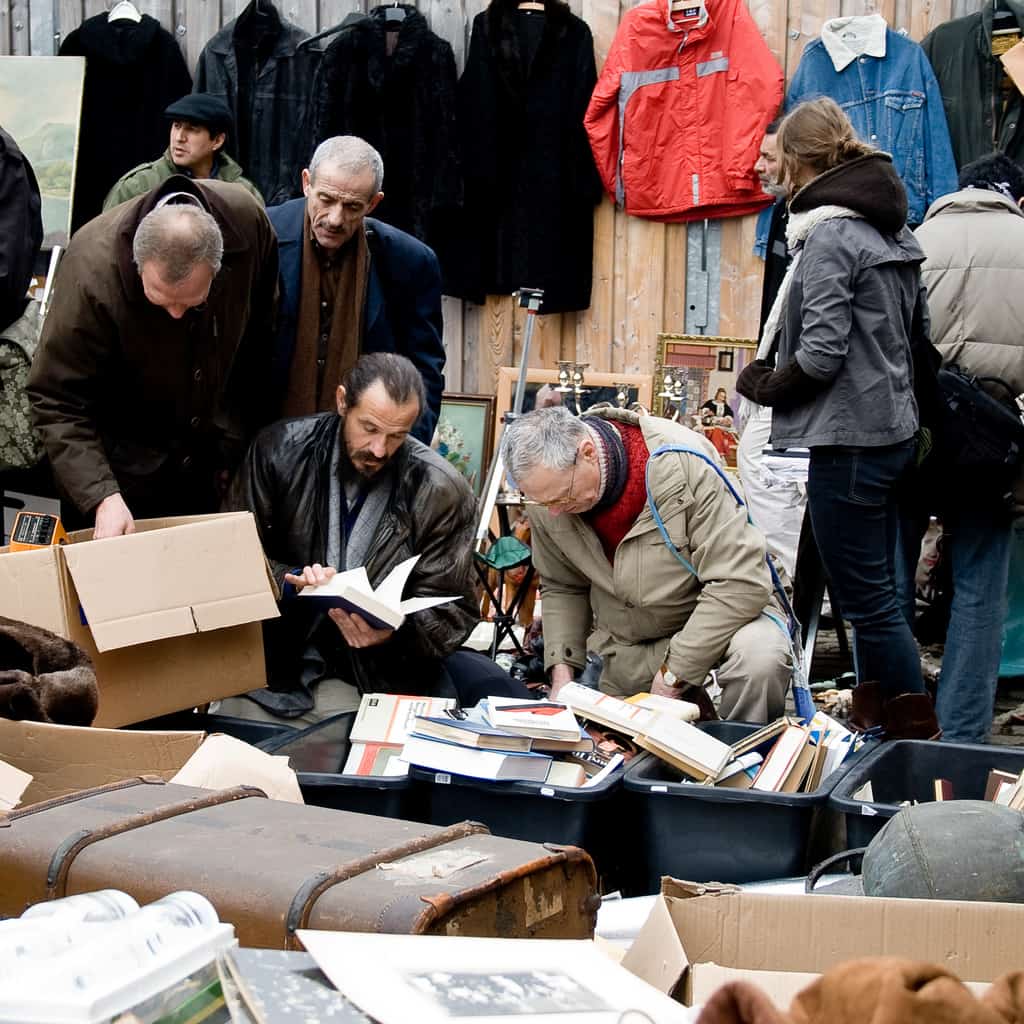 Interesting facts about the Flohschanze flea and antique market
The Flohschanze flea and antique market is open every Saturday from 08:00 a.m. to 4:00 p.m., which gives more than enough time to explore everything in a relaxed atmosphere.
The flea market is used by many private sellers as a way to recycle old treasures which are no longer needed, after a successful spring cleaning. And if space is an issue on certain flea markets, it isn't at the Flohschanze flea and antique market: Sellers can enjoy from a 1200 square meters surface to sell their goods, which is more than enough considering the number of booths.
Although reservations are recommended, it is also possible to find a slot available directly on Saturday morning.
A colorful mix
Visitors to the Flohschanze flea and antique market can expect to find an eclectic mix of crockery, bicycles, antiques, furniture, jewelry and clothing. Since the flea market always attracts a wide audience, it gets harder and harder as the day goes by, to make a real bargain. This is why early birds are often rewarded by the discovery of a treasure of some kinds.
Merchants like to haggle in general, but they also have some precise price expectations. So when it comes to haggling, visitors should be aware that they might run sometimes into a long discussion with a seller. However in general, vendors and customers keep a very relaxed tone.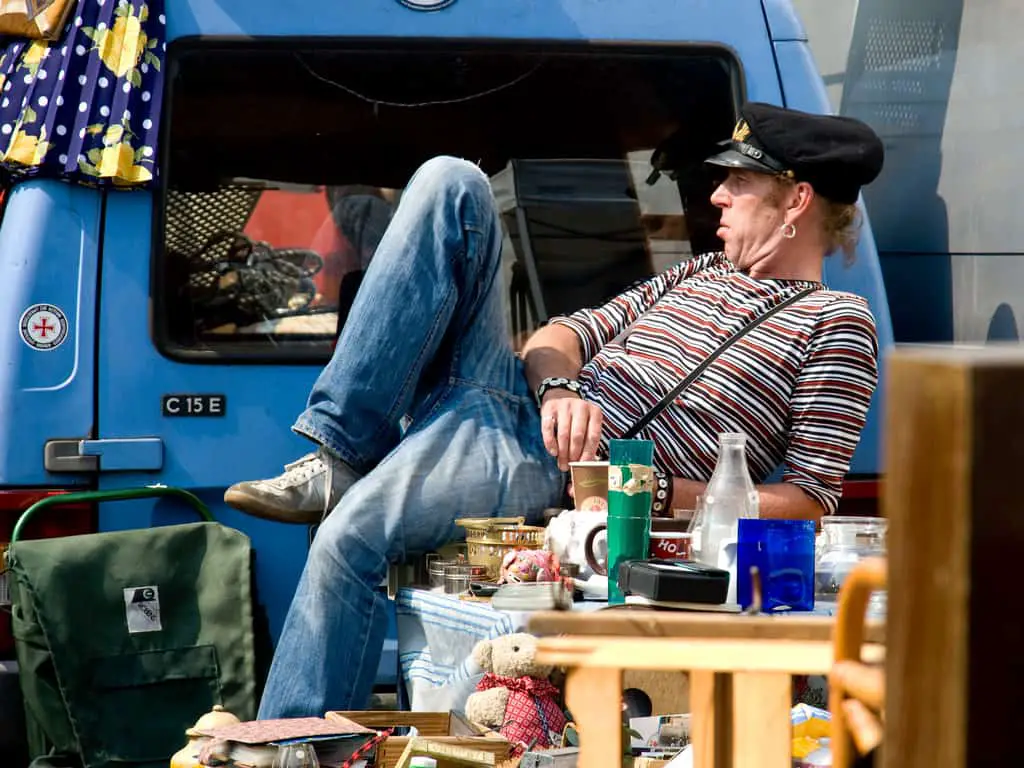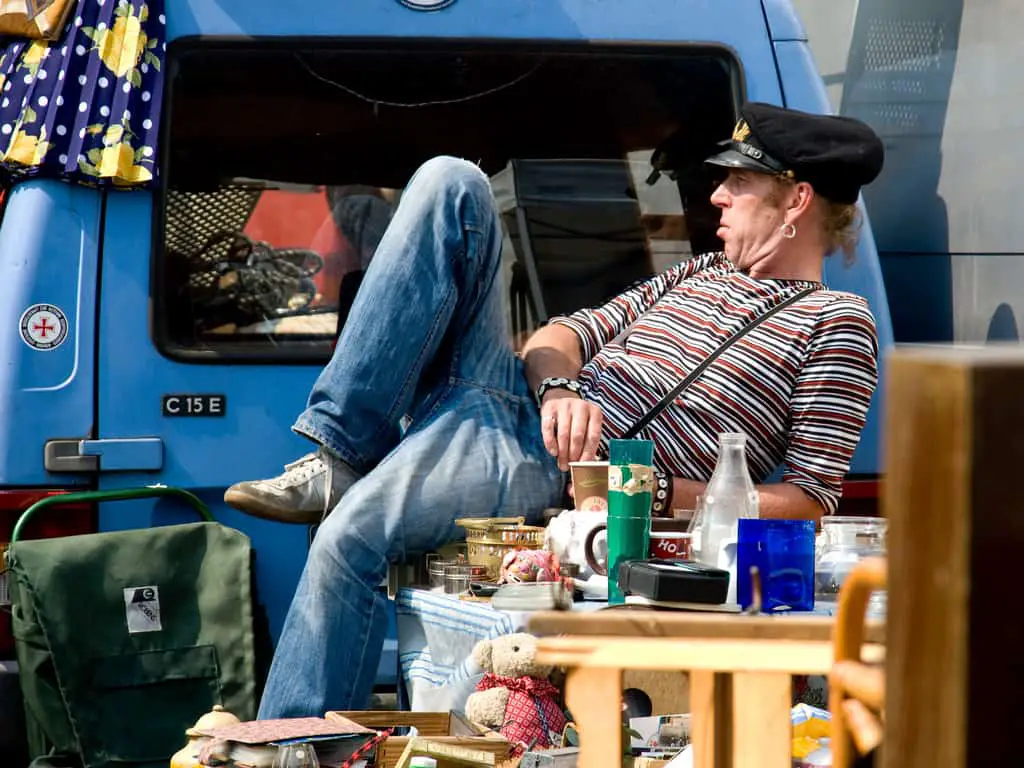 Another thing about the Flohschanze flea and antique market, is that it attracts absolutely all age groups. Many customers may not even plan to go to the flea market per se, but merely want to enjoy from a nice walk through the adjacent Schanze neighborhood.
Residents of the Schanzenviertel itself are always made aware of the flea market, which adds to its already high reputation. This explains why professional merchants always book their booth space on an early basis, as the policy "first-come, first-served" applies. A booth with a favorable location means more visits and potentially bigger sales.
The early bird gets the worm
The location of the Flohschanze flea and antique market clearly enjoys from its proximity to the busy Schanzenviertel and its pleasant and relaxing atmosphere. Thereby it is strongly advised to get up early in order to be able to find the most sought after items.
And when the flea market is too crowded (this tends to happen a few times in spring and early summer) it is then almost impossible to make a bargain. But after all, making a bargain is not paramount to every visit to the flea market; it is also an enjoyable place to spontaneously show up after breakfast, to let the mind wander, take a few photos or make new interesting contacts.
After all, this is where lies the spirit of the flea market. And Hamburg is not exception.
Antique and flea market Flohschanze
Opening times: 08:00 a.m. – 4:00 p.m.
Address: New Kamp 1, 20359 Hamburg
http://www.hamburg.de/flohmarkt/4245446/flohschanze/
And since you are in Hamburg…
Bahrenfelder Trabrennbahn Flea market: This flea market takes place every Saturday from 05:00 a.m. until 3:00 p.m. at Hamburg's harness racing track. As a matter of facts the motto "The early bird gets the worm" specifically applies here. And early risers won't even necessarily need their weatherproof outfit on rainy days, since this market is partially covered by the tight roofs of the Racetrack stage. Opening times: Wednesdays and Saturdays 09:00 a.m. – 5:00 p.m.
Flohdom an der Horner Rennbahn Flea market: The Flohdom is the local name given to the Horner racecourse flea market. The Horner Rennbahn, is a is a major horse racing venue located in Horn, Hamburg. Because of its location, this covered flea market has an unbeatable low stall fee. It is primarily visited by people living in the nearby districts of Billbrook, Billstedt Wandsbek and Barmbek.  Opening times: Saturdays 07:00 a.m. – 3:00 p.m. More: http://www.hamburg.de/flohmarkt/4245530/flohdom-horner-rennbahn/
Spielbudenplatz Flea Market: Hippies and students love this flea market located near the Spielbudenplatz. However it is unfortunately only open in June and in September. The Reeperbahn is next door. Opening times: Every Sundays in June and September 09:00 a.m. – 4:00 p.m. More: http://spielbudenplatz.eu/erleben/events/flohmarkt
Gänsemarkt Antique Market: Held monthly on the Gänsemarkt (Goose Market), in the heart of the City of Hamburg, the Gänsemarkt Antikmarkt is a treasure trove for antiques lovers. Young and old meet once a month at the Gänsemarkt, where dealers and private sellers present the treasures they've salvaged from dusty attics. The choice is broad, ranging from old jewelry, antiques and accessories made of precious metals to craft and furniture of all kind. More: http://gaensemarkt.org/veranstaltungen/
Langenhorner Flea Market: This afternoon flea market is particularly well suited for people who like to oversleep on the weekend, while still being able to enjoy from a stroll at the flea market later on. Opening times: Saturday 4:30 p.m. – 8:00 p.m.
Immenhof Flea Market: Rated by many as Hamburg's most beautiful flea market, the Immenhof Flohmarkt only runs 4 times a year. The merchants at this flea market are only allowed to sell antiques, vintage and used items. A must do for those who are in Hamburg in April, May, August or September. Opening times: Sunday 19.04.2015, Sunday 31.05.2015, Sunday 09.08.2015, Sunday 20.09.2015 from 09:00 a.m. to 4:00 p.m.