Best Flea Markets in Bremen (BREMEN)
Some people maintain the hope of finding a hidden gem or making a great bargain. Others are simply looking for a specific LP or a particular book which is no longer available in store. For many, however, shopping at the flea market is simply a cherished habit.
A visit to one of Bremen's flea market is an absolute must do for anyone looking for a bargain, who enjoys browsing for oddities & antiques, or simply wants to spend a relaxed Sunday morning, strolling a little through the market.
For flea market lovers who happen to be visiting or living in Bremen, there are two special, large flea markets which are held every weekend: the Bürgerweide flea market (Flohmarkt Bürgerweide) and the Flea and Antique Market on the Banks of the Weser (Antikmarkt am WeseruferAntikmarkt am Weserufer).
Bürgerweide Flea market
The Sunday Bürgerweide flea market is one of the largest and most prominent flea markets in Germany. Many visitors from Bremen and the surrounding regions have been meeting here every Sunday, for the past 20 years.
And whether you're looking for antique or modern, useful or bizarre, there is a lot of everything at this flea market. The strategic location of the Bürgerweide flea market (Bremen Central Station), right in the heart of the Hanseatic city, makes it easy to reach, particularly for the foreign flea market enthusiast.
Depending on weather conditions, the organizers decide whether the flea market will be held under the open sky of the Bürgerheide (shinny days) or in the covered space of the Hansa Carré (rain and snow).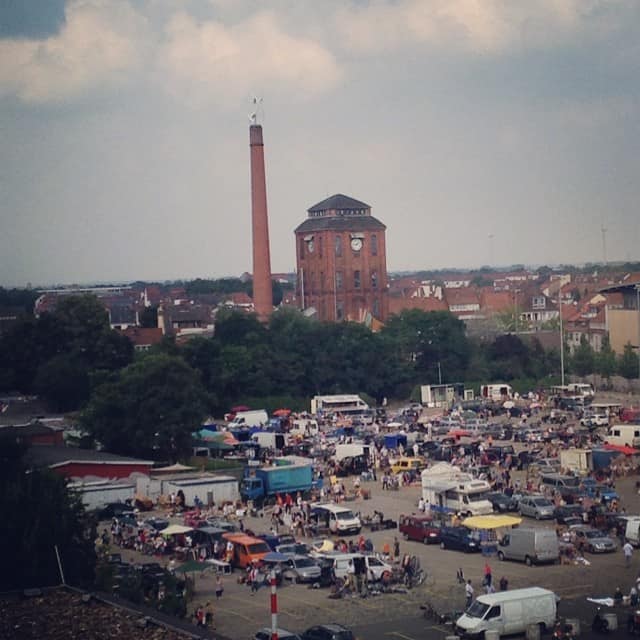 This flexible approach has paid off: On peak days, up to 600 flea market vendors and more than 20,000 visitors flock at the Bürgerweide flea market.
It is so popular that even merchants from the neighboring regions of the Ruhr and Schleswig-Holstein, and even from the Netherland, are not afraid to drive the whole way to Bremen.
The appeal and flair of the Bürgerweide flea market mainly comes from the fact that this flea market provides a successful mix of private and professional merchants, who showcase long-forgotten family treasures uncovered from the dusty attics and basement of old family estates.
One particularly great thing about the Bürgerweide flea market, is that the organizers always make sure that no industrial products, large electrical household appliances or miscellaneous car accessories affect the atmosphere of the flea market.
This is a pretty nice guarantee that almost only high quality merchandises are sold here.
Bürgerheide Flea market
Opening times: Sunday 07:00 a.m. – 2:00 p.m.
Address: Pfalzburger Straße 41, 28207 Bremen
http://www.breminale.de/Flohmarkt/_4
Antik- und Trödelmarkt am Weserufer
The Antik- und Trödelmarkt am Weserufer (Antique and Flea Market on the Banks of the Weser) is also a flea market with a long tradition in Bremen. Bargain hunters can generally find here various things ranging from the music and fashion field, to household and kitchen items.
The flea market is open every Saturday (except during holidays) between 8:00 a.m. until 2:00 p.m., rain or shine. It is generally very busy as it brings together visitors of all age, eager to chat, browse and buy.
Due to its attractive location near the historic center of Bremen, many people enjoy from their regular Saturday shopping day, to follow up with a little stroll through the flea market.
And as it is the case with most flea markets, every single article found here while browsing, has its own little story. So you can of course (you should!) ask the dealer to tell you the story behind that book, vase or old radio you've laid your eyes upon.
Besides making him proud of the interest you're demonstrating for his stall, that could, who knows, even lead to getting you a small extra discount on the final price you'll pay…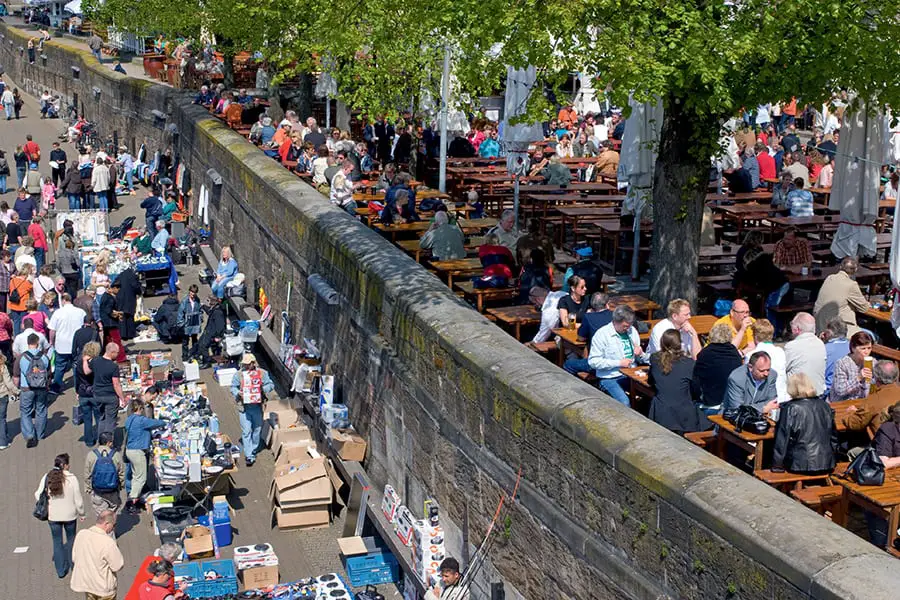 The Antique and Flea Market on the Banks of the Weser can be easily reached by tram or bus. Flea market vendors can even access the venue with their car, via the "Tiefer" or "Erste Schlachtpforte" roads. This flea market does not require pre-registration from sellers.
Antique and Flea Market on the Banks of the Weser
Opening times: Saturday 08:00 a.m. – 2:00 p.m.
Address: Weserufer 28197 Bremen
http://www.grossmarkt-bremen.de/