Best Flea Markets in Munich (BAVARIA)
For now many years, popular flea markets in Munich have been gathering thousands of people. The love for searching and haggling as well as experiencing the unbeatable feeling of having found something special, gathers seller and potential buyers on week-ends and public holidays.
Some flea markets have particularly established themselves in recent years, like for instance Der Münchner Flohmarkt auf der Theresienwiese or Der Flohmarkt Dagfling in München.
Münchner Flohmarkt auf der Theresienwiese
The largest and most famous of all flea markets in Munich is without a doubt the flea market at the Theresienwiese. It is also the largest flea market in Germany. Always held once a year on the first Saturday of Munich's Spring Festival (in April), the Münchner Flohmarkt auf der Theresienwiese brings together around 2,000 merchants and more than 80,000 visitors from all over Europe, for one festive day of haggling. Read our complete review here.
Munich Giant Flea Market (Münchner Flohmarkt auf der Theresienwiese)
Opening times: 06:00 a.m. – 4:00 p.m. (next edition: 22 April 2017)
Adress: Theresienwiese (Matthias-Pschorr-Straße 1, 80336 München)
https://www.fleamarketinsiders.com/munichs-giant-flea-market-2012
https://www.fleamarketinsiders.com/eighteen-hours-at-the-munich-giant-flea-market-2010
Trabrennbahn Daglfing flea market: a colorful treasure trove for the whole family
"Colorful, large and charming": This should definitely be the motto of the Trabrennbahn Daglfing flea market in Munich (Flohmarkt München Daglfing). A family flea market by essence, the Trabrennbahn Daglfing flea market is mainly built on a huge outside space, but also has a covered area that keeps the whole venue operational even during rainy days. The Daglfing flea market operates every Friday and Saturday of the year (except on public holidays), from morning to afternoon.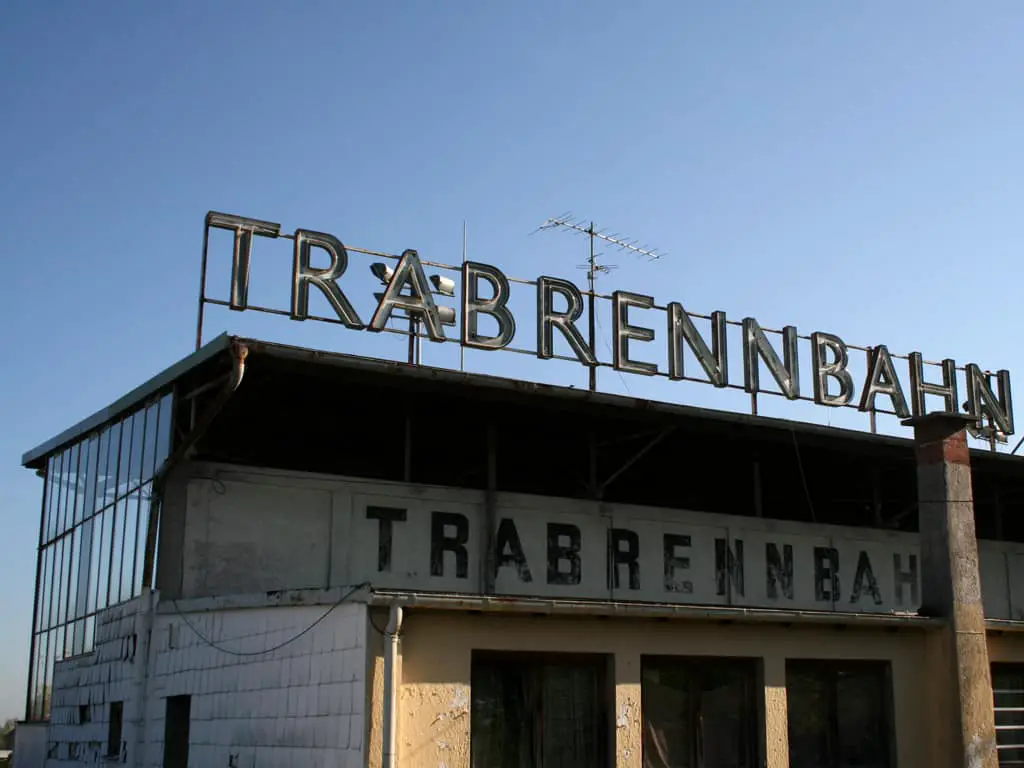 A dual flea market with charm
The Daglfing flea market is an old school family flea market: From baby prams to clothes and toys for toddlers, games for the whole family, children books, music, and even everyday objects for the garden and the house, there is something interesting here for everyone.
At the Daglfing flea market it is possible to suddenly find your dream bike, get hold of an old but still well-functioning turntable and find a unique lamp with a vintage design, all on the same stall. In addition to this traditional flea market on the outdoor area, there are two covered areas hosting an antique and vintage market.
This is where the savvy collector and antiques lover will find those venerable objects whose appearance harbors fascinating stories. Whether it's an old piece of furniture, a noble crystal chandelier or a valuable porcelain from an old family heritage, the antique market guarantees high-quality workmanship and the unique charm of half-a-century old household items.
How about some Bavarian delicacies as lunch break?
After half a day strolling down the alleys of the Daglfing flea market, it is more than time to take a break and rest the soar feet: the flea market has its own restaurant providing all kinds of typical Bavarian delicacies, drinks and snacks. And when the weather allows it, the owners of the local Beergarten (beer garden) operate their barbecue outside.
To summarize: Fun and shopping for everyone
Flea market enthusiasts who are always on the hunt for special treasures and unusual objects, will get their value for money. The Daglfing flea market is actually something for everyone: from the child looking to expand his Lego collection, to the old gentleman who wants to increase his railway model landscape.
To summarize it, this flea market provides a fantastic family outing. And even if you do not plan to necessarily buy something, a visit to this flea market is always worthwhile. The ensemble of objects of all types and stripes as well as the colorful maze of stalls, literally provides a visual feast to the eyes.
Flea market Munich Daglfing
Opening times: Friday: 08:00 a.m. – 15:00 p.m., Saturday: 06:00 a.m. – 16:00 p.m.
Address: Rennbahnstraße 35, 81929 Munich
http://flohmarkt-daglfing.de/
Kavalleriemarkt: a flea market for the whole family
In Munich, not only the Olympiaturm (Olympic Tower) or the Olympiapark and its stadium are worth a visit. Not too far from these two landmarks, there's another attraction sometimes overlooked: the Kavalleriemarkt (Cavalry Flea Market).
This flea market is held twice a week, every Friday between 10:00 a.m. and 8:00 p.m. and every Saturday from 8:00 a.m. to 8:00 p.m., on the Schwere-Reiter-Straße 15 (between Ackermann and Dachauerstraße). And "diversity" is especially one of its feature.
Although it is located just outside of the center of Munich, the Kavalleriemarkt is easily accessible by car or public transport, and several nearby restaurants and attractions add to the value of this flea market.
Antiques and recycled Curios
Antiques generally make the top of the list of the items sold at the Kavalleriemarkt: art from earlier eras, antique silverware, sculptures, porcelain, crockery, paintings or other collectibles, are pretty well represented there. There are also new merchandises, but those are rather less common.
Another major feature of the Kavalleriemarkt, is the recycling art that contributes significantly to the charm of the market and makes it somehow unique. On every corner of the flea market, true marvels are to be discovered, like for instance pennants made of colorful vintage fabric scraps, giant paper lanterns, bikes converted into hanging decoration.
Monthly Night Flea Market
Once a month, a Night Flea Market is held at the the Kavalleriemarkt. It's business as usual (same site, same attractions, same fun), except that all flea market related activities and entertaining events run at dusk/night from 5:00 p.m. until 10:30 p.m.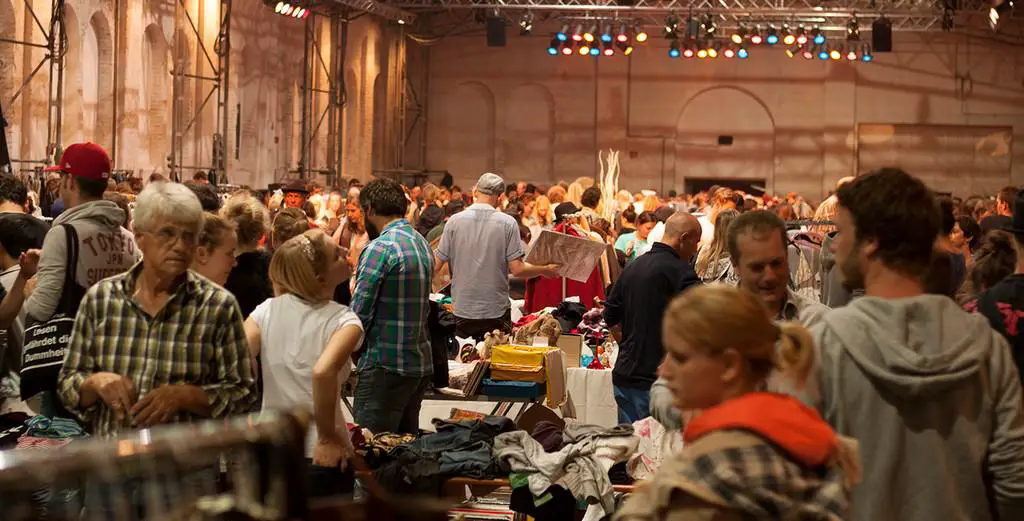 Haggling + fun = Kavalleriemarkt
Besides the flea market itself, the Kavalleriemarkt provides a full entertainment program, and is set among a beautifully landscaped playground for younger visitors. That way, children can also have fun while their parents enjoy from a relax stroll through this 13,000 square-meter garage sale.
Furthermore, street performers put their skills on display and entertain visitors with their show. There is a large colorful big top and stalls are adorned with many colors. Last but not least, delicacies from all over the world are sold on site to satisfy the most demanding appetites.
Kavalleriemarkt
Opening times: Friday: 10: 00-20: 00, Saturday: 08: 00-20: 00
Address: Schwere Reiter Straße 15, 80797 Munich
http://www.flohmarktmuenchen.com/flohmaerkte/flohmarkt-am-kavalleriemarkt/
Bargain hunting at the Münchner Olympiapark flea market
In addition to its busy shopping streets, Munich also provides wonderful opportunities for browsing and shopping outside of its city center. Like for instance at the flea market held on the beautiful Münchner Olympiapark (Olympic Park Munich).
The unique setting of this venue located on the outskirts of Munich, makes for a great atmosphere.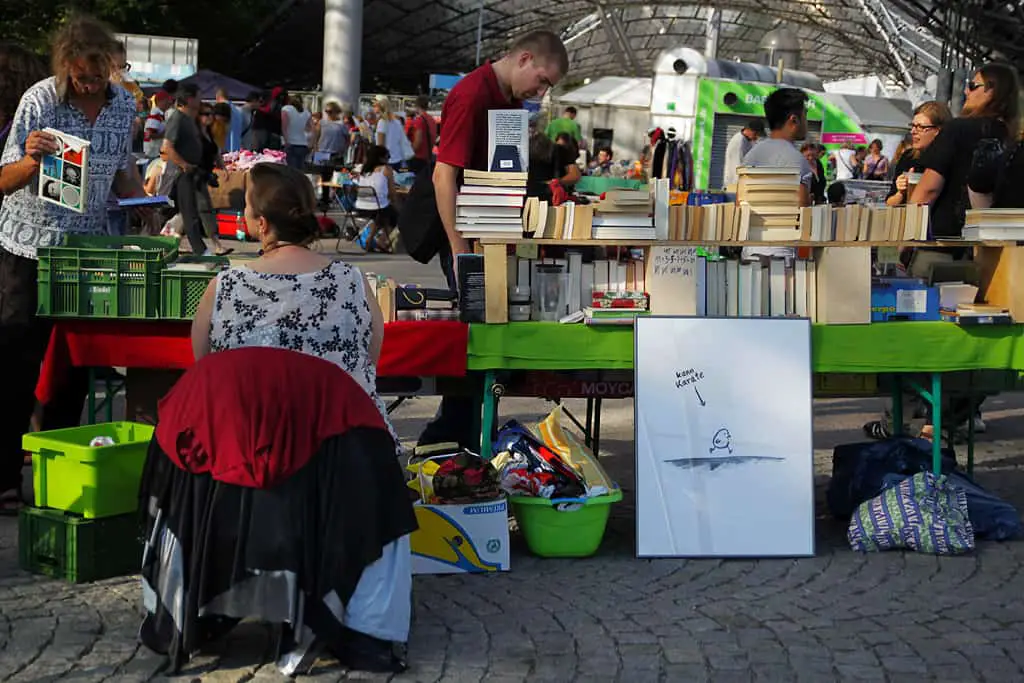 The Münchner Olympiapark Flea Market is held every Friday and Saturday from 07:00 a.m. to 4:00 p.m., on the Parkharfe located between the Allianz Arena and the Werner-von-Linde Hall. The 35,000 square meters of the premises provide enough space for about 460 exhibitors to showcase their merchandises, under the supervision of the Bavarian Red Cross who's in charge of the event.
The accessibility of the site by public transport also ensures a pleasant journey without the unnecessary stress of having to find a parking space at an exorbitant fee.
Last but not least, a visit to the Münchner Olympiapark flea market can also be combined with a shopping day at the nearby Olympia Shopping Centre.
Münchner Olympiapark Flea Market
Opening times: Friday and Saturday, from 07:00 a.m. to 4:00 p.m.
Address: Spiridon-Luis-ring 21, 80809 Munich
http://www.brk-muenchen.de/aktuelles/aktionen-veranstaltungen/rotkreuz-flohmaerkte/flohmarkt-olympiapark
München-Riem flea market
Almost every Saturday of the year from 06:00 a.m. until 4:00 p.m., takes place on the grounds of the Messe München-Riem what is considered by many to be the largest open air flea market in Bavaria, and one of the largest garage sale in Germany.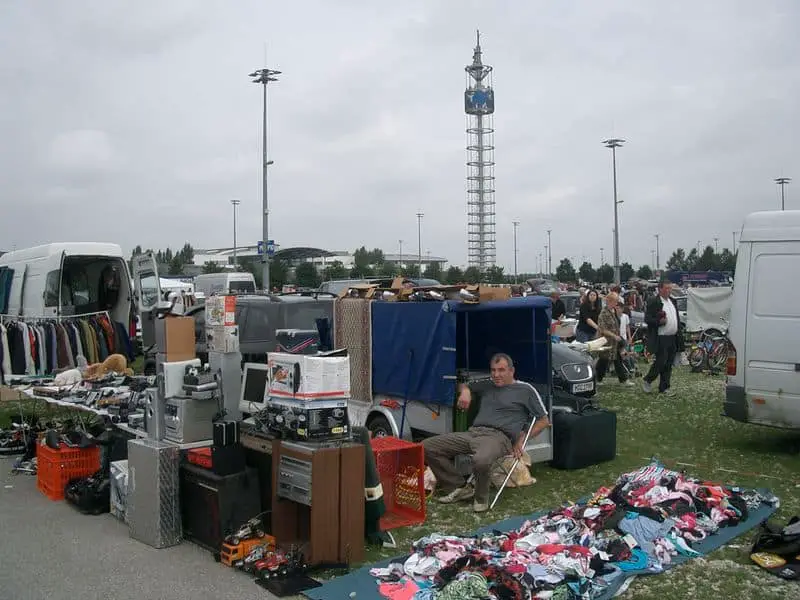 This flea market is organized by the "Flohmarkt München-Riem" association, in collaboration with the Paritätischen Wohlfahrtsverband Bayern (Joint Welfare Association Bayern, District Association Oberbayern).
It enables both private and professional sellers to exhibit and sell antiques, vintage, kitsch, junk and commercial products. This explains why this flea market regularly attracts several thousand people on nice flea market days.
Free and easy to access by public transport
The premise of the München-Riem flea market is easily accessible by car (parking fee = 3 euros) and public transport (15 minutes ride with subway U 2 from Munich's city center to München-Riem station "Messestadt-Ost"). The visitors' entrance to the München-Riem flea market is located at the exhibition tower (free of charge access).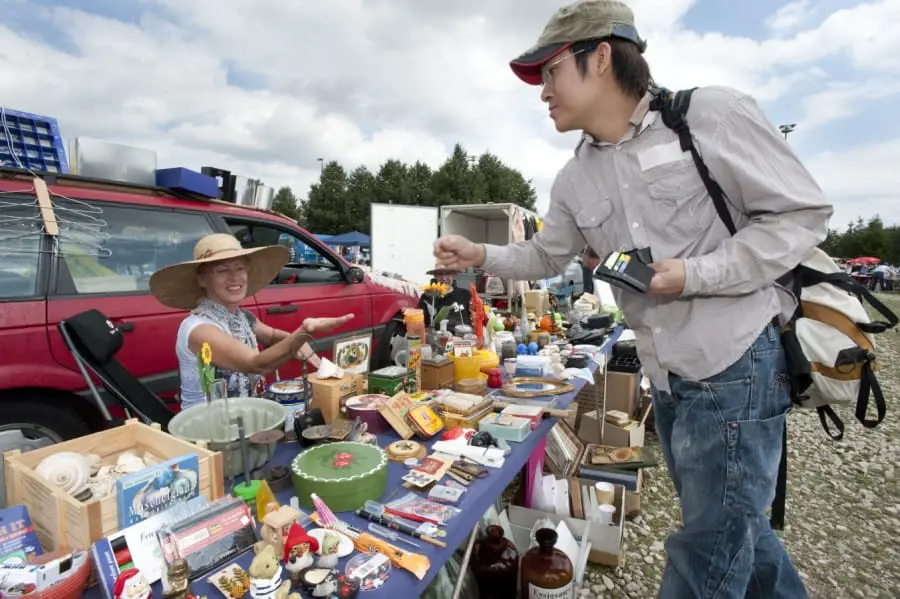 Stroll, haggle and eat
Besides its size, the attractiveness of the München-Riem flea market also lays in the wide range of beverages, snacks and culinary delights of all kinds offered on site. Schweinebraten and Leberkäse are all time favourites, particularly among tourists looking forward to trying some local Bavarian delicacies, while fish lovers will get satisfaction from deep-fried fish dishes.
A rich selection of softdrinks, beers, coffees and teas, as well as various sweet desserts, complete this gastronomic offer. A visit to the München-Riem flea market therefore leaves nothing to be desired.
München-Riem Flea market
Opening times: 06:00 a.m. – 4:00 p.m.
Address: Am Messefreigelände, 81829 Munich
http://www.flohmarkt-riem.com/