Best Flea Markets in Dortmund (NORTH RHINE-WESTPHALIA)
The choice of flea markets in Dortmund is quite large. But there are three or four of them out there, held on a weekly basis, which deserve a special mention.
The popular Trödelmarkt Dortmund-Dorstfeld Universität (University of Dortmund flea market), is held every Saturday from 7:00 a.m. to 2:00 p.m. on the grounds of the University of Dortmund.
The City Trödelmarkt Hildastraße (Hildastraße city flea market) is held every Wednesday and Saturday from 6:00 a.m. to 2:00 p.m. But of all flea markets in Dortmund, the Mehrzweckplatz Flea Market is probably the most recommended.
Mehrzweckplatz Flea Market
The Mehrzweckplatz Flea Market in Dortmund, also known as the große Trödelmarkt in Dortmund, takes place every Tuesday from 07:00 a.m. to 2:00 p.m. on the Mehrzweckplatz, near the Wambeler Hellweg (Wambel district).
This flea market truly has a little bit of everything for everyone: from the dyed in the wool bargain hunter, to the occasional flea market and antiques enthusiast.
And between the mix of used & new items on sale (where real bargains can be made, like for instance kitchen appliances sold for a third of the price of a regular department store) it's also possible to find oddities, collector's items, arts and antiques, old books and vintage toys.
This is the reason why this flea market is so popular in Dortmund, and in nearby cities.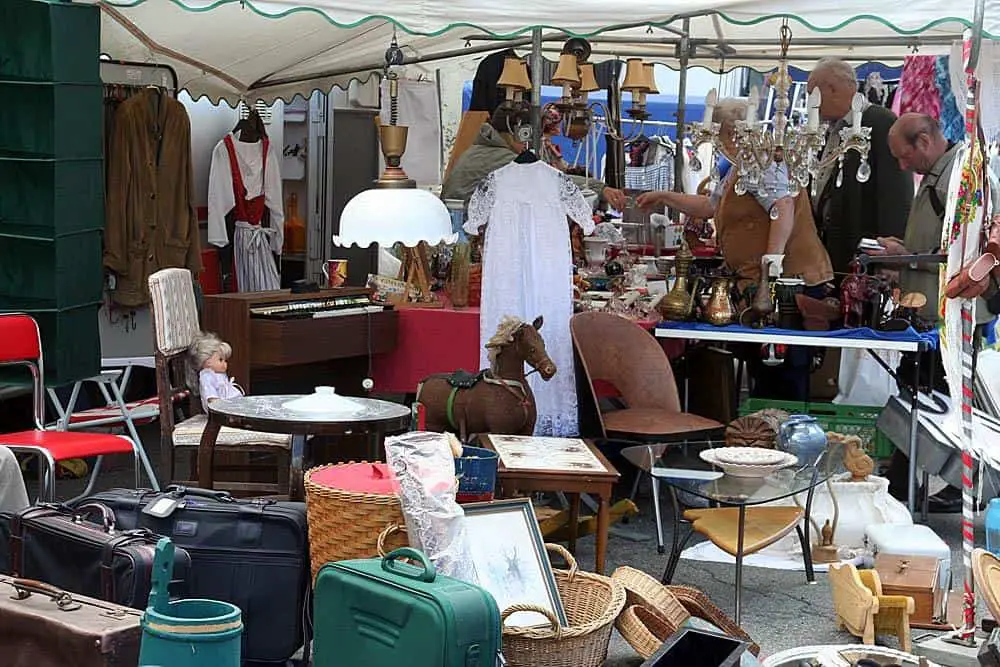 Conveniently located in Dortmund
Although it is not located near the city center (Wambel is only 30 minutes away from downtown Dortmund by public transport – metro station Rüschebrinkstraße), this flea market is one of the big flea markets in Dortmund.
Its convenient location and pleasant suburban atmosphere make it a popular venue among bargain hunters of all kinds. The small park near the Mehrzweckplatz and shops located all around the venue, add to the relax atmosphere, which is ideal for spending a morning & early afternoon strolling and browsing between the stalls.
The broad range of new and used items ensures that not only the residents of Wambel regularly attend this flea market, but also locals from other residential areas & downtown Dortmund, as well as a few tourists.
Because the Mehrzweckplatz Flea Market is an open air market, the amount of exhibitors and visitors varies according to the weather conditions. It is thereby not surprising that this flea market features more stalls and is more visited in good weather than in bad weather.
Food and drinks are available on the flea market premises and in nearby shops located along the Wambeler Hellweg.
Flea market Dortmund multipurpose court
Opening times: 06:00 a.m. – 2:00 p.m.
Address: Wambeler Hellweg, 44143 Dortmund
And since you are in Dortmund: Occasional Flea Markets (few times a year)
The Flohrian is one of the largest flea markets in Dortmund and in the Ruhr region, and one of the most beautiful. Hundred of stalls spread all through the Westfalenpark where it is held only four Sundays a year from 09:00 a.m. to 5:00 p.m., between April and October. Because of its rarity, the market is almost always fully booked.
Even though it is not as big as the Flohrian flohmarkt, the flea market in Fredenbaum-Park is nonetheless pretty nice. It is held five times a year from 07:00 a.m. to 4:00 p.m. (Saturday or Sunday) around the lake.
For those who thought that flea markets were only early-birds friendly, here's one for you: Four times a year in Dortmund, a Nacht-Flohmarkt (Night Flea Market) is held at the Kulturzentrum Depot (north of the city).
As a matter of facts it only starts at 5:00 p.m. and runs until midnight. Besides flea market junk and vintage, there's a whole art program, traditional food and music.