Weekly Flea Markets
If you believe flea markets are a convenience that should be made available everyday, or at least once a week, this listing of Belgium's best daily and weekly flea markets will provide you with just the right addresses: From Tongeren to Liege, stopping by Brussels and Waterloo, if there is a flea market worthy of its name (and of your time), it should be here.
Tongeren Flea Market (Tongeren)
With its fortification wall dating back to the Roman era and the statue of Ambiorix that can not escape the attention of passersby, Tongeren offers an ideal setting for the sale of antiques. For more than 30 years, Tongeren has been a lively town on Sunday mornings. From 6 a.m to 1 p.m. more than 350 exhibitors and about 40 antique shops gather to display their best merchandise to the numerous visitors, in one of the largest weekly flea market in Belgium.
Because of its size, this Sunday antiques market enjoys an international reputation, and is the place to be for a growing number of Dutch, German, French, British and American visitors, all looking for that "unique" antique or flea market piece. Therefore, do not be surprised to hear an American haggle the price of an old rococo chair or see an Italian making a scandal because a seller asks too high a price for an Art Deco vase he'd love to give his mama.
Keep in mind that prices are generally quite high at the Tongeren flea market, although bargains are always possible. Also, don't forget to take a peek into the many small antique shops located around the market, and to relax in one of the nearby cafes or tasteful restaurants before heading back home.
Where: Leopoldwal, Veemarkt, Maastrichterstraat, de Schiervelstraat, Clarissenstraat, Eburonenhal and the first level of Julianus.
When: every Sunday of the year from 6 a.m to 1 p.m.
Place du Jeu de Balle Flea Market (Brussels)
Every morning at 5 a.m. in the Marolles district (Brussels' most authentic popular neighborhood), flea market vendors gather in small cafes that surround the Place du Jeu de Balle, to drink a good cup of Joe while the city is still asleep. That's only once they've complied with this little tradition, that they start unpacking.
The official sale starts about an hour later. The Place du Jeu de Balle is a flea market in the strictest sense. It includes absolutely everything, from antiques, crockery, old paintings, vintage furniture to electronic items and work tools. If the atmosphere is always friendly, the place is much frequented on weekends. Connoisseurs will tell you that the best deals usually take place on Tuesday and Thursday because houses are usually emptied on Monday and Wednesday.
The multicultural atmosphere makes the charm of this market: travelers will meet students, bargain hunters, antique dealers, tourists and even pure strain Marolliens.
Where: Brussels, Place du Jeu de Balle.
When: Every morning from 6 am to 2 pm. Antiques and flea market on Sunday (6 am to 3 pm).
Waterloo Flea Market (Suspended)
The Waterloo flea market is a weekly flea market located near the eponymous battlefield where French emperor Napoleon Bonaparte met its fate in 1815. Even though this flea market is no Tongeren, its is close to Brussels and well worth a look-see.
Every Sunday at 6 a.m., around 100 flea market vendors and antique dealers gather on the parking of the Carrefour supermarket in Waterloo, where they meet thousands of buyers, some of which drive as far as from the Netherlands to attend this event. The Waterloo flea market offers a little bit of everything from antiques and retro items to junk and just the plain bizarre. It is usually much fun to wander and poke around since you never know what you will find. As it's the case with any other flea market, it is highly recommended to get there early if you are serious about flea market shopping, as this market is very well attended.
Many people have been complaining lately about the fact that the Waterloo flea market has been taken over by professional antique dealers, some of which have shops in les Sablons district in Brussels – near the Place du Jeu de Balle flea market. The main consequences of this flea market "gentrification" are the ever increasing prices of antiques, and the unwillingness of many merchants to haggle even for a few euros.
Buyers should though keep in mind that there's a ton of authentic articles; however, there are less reliable dealers there trying to sell some fakes. If you're looking for authentic items, you should know what you're doing or at least bring a friend who does.
Where: Chaussée de Charleroi, Parking Carrefour Mont Saint Jean, Waterloo 1410
When: Currently suspended. Due to administrative issues linked to the current location of the flea market, the Waterloo Flea Market has had to suspend its operations on May 2018. The Waterloo Flea Market will return as soon as a new location will have been found.
Facebook page
Lokeren Flea Market (Lokeren)
Lokeren is not exactly a metropolis, but its flea market has the merit to exist. Every Sunday at 6 a.m., the stalls are mounted and merchants start unpacking. At 8 a.m., buyers start flocking. The city's official website explains that the Lokeren flea market is only reserved for the sale of second-hand or used items. So don't expect to find antiques or highly valuable items, but rather small flea market stalls selling knick-knack, comics, CDs, postcards and stamps.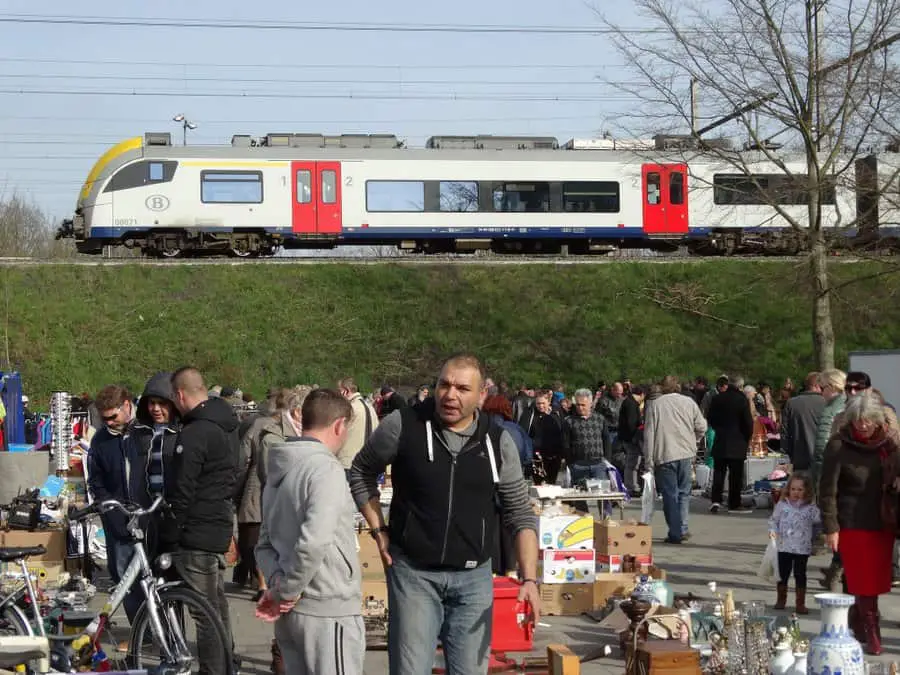 The Lokeren flea market is the perfect venue made for individuals who wish to get rid of their bulky furniture, as well as products they don't need anymore. Visitors can thereby expect to find toys or almost new kitchen utensils at very attractive prices. And the atmosphere of the flea market is so friendly, that you'll have the feeling that all people know each other!
Where: Lokeren, Stationplein.
When: Every Sunday morning from 6 a.m. to 12:01 p.m.
Saint Pholien Flea Market (Liege-Outremeuse)
The Saint Pholien flea market is located just a few steps away from the city center of Liege, and has become over time, in the opinion of connoisseurs, a true "Champs Elysee flea market" run both by Liegeois and other citizens of the Euroregion. Yet it exudes a friendly village atmosphere.
Every Friday from 5 a.m. to 1 p.m. around 200 sellers, mostly professional merchants, gather on the Boulevard de la Constitution and the square Jehan-le-Bel, to sell a variety of quality merchandises. The items sold, usually come straight from attics and their prices are often very affordable.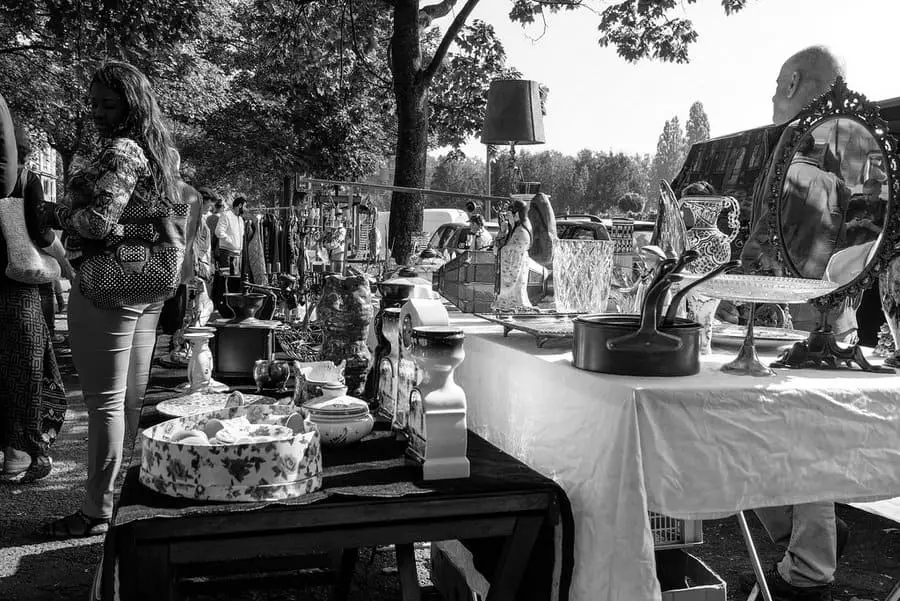 The Saint Pholien flea market is not very big and it will not take you more than 2 hours to go around. After that you'll have time to visit the city and enjoy a good meal accompanied by a local beer in one of the nearby old cafés and brasseries.
Where: Square Jehan Le Bel, Boulevard de la Constitution, Liège-Outremeuse.
When: Every Friday from 6 a.m. to 1 p.m.
Les Bastions Flea Market (Tournai)
Known as one of the best flea markets in the country, the Tournai flea market brings together every Sunday morning, a large batch of sellers from all over the country and even beyond the border.
Whereas seasoned buyers usually show up at dawn when sellers are still unpacking (pour "acheter au cul du camion" – you can get acquainted here with 10 idioms you will likely here at French speaking flea markets), enthusiasts and tourists usually show up a little bit later in the morning to stroll the market at their own pace.
The demand is such that the number of exhibitors is growing quickly out of control (around 200 sellers as of today), and stalls are now even spreading over all three car parks of the shopping center of Tournai. All in all, this is pretty good news for flea market enthusiasts like us!
One last thing: Do not confuse les Bastions flea market with the Froyennes flea market, which is located at the entrance of the city.
Where: Commercial Center des Bastions, Boulevard Walter de Marvis 22, 7500 Tournai (1 hour away from Brussels)
When: every Sunday from 5 a.m. to 1:00 p.m. 
---
Optional Flea Markets (if you're in the vicinity)
La Batte Flea Market (Liege)
Undoubtedly one of the largest market in the country, the la Batte market has been welcoming both local farmers and antiques dealers since 1986. Stretching over several kilometers along the left bank of the river Meuse, this event brings together every Sunday, flea market merchants, farmers, inhabitant from Liege and tourists looking for a relax atmosphere.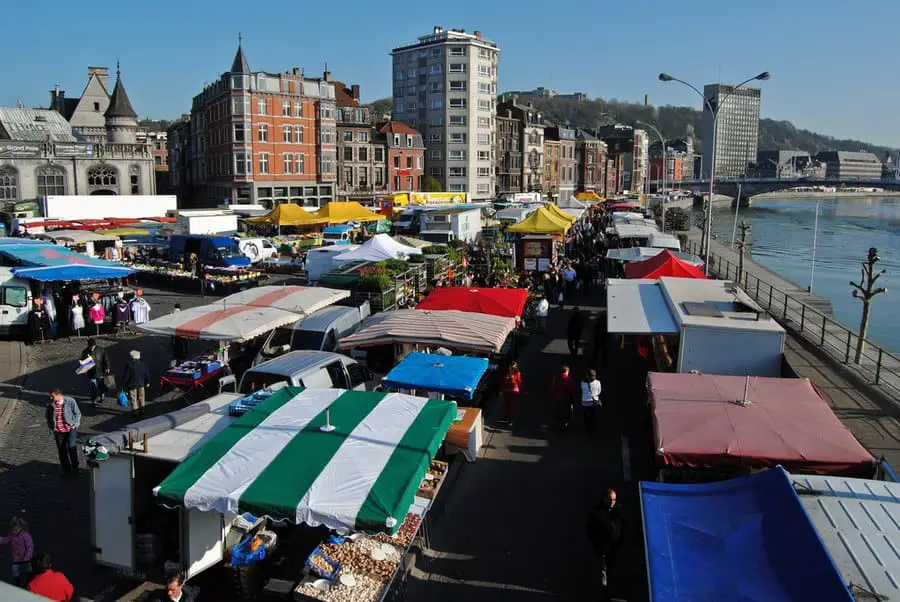 Besides antiques and fresh food, the Batte market offers all sorts of oddities such as birds, rabbits and other farmyard animals, just to name a few.
Where: Along the banks of the Meuse, 4000 Liège (1 hour drive from Brussels). 
When: every Sunday from 8 a.m. to 2:30 p.m. 
Heist-Op-Den-Berg Flea Market
Every Sunday morning, a crowd of people gathers in the center of Heist-Op-Den-Berg, to attend the city's weekly market. Even though most items sold are knick-knacks, some merchants also showcase beautiful furniture and valuable antiques. However, this flea market is slowly loosing ground to the food market.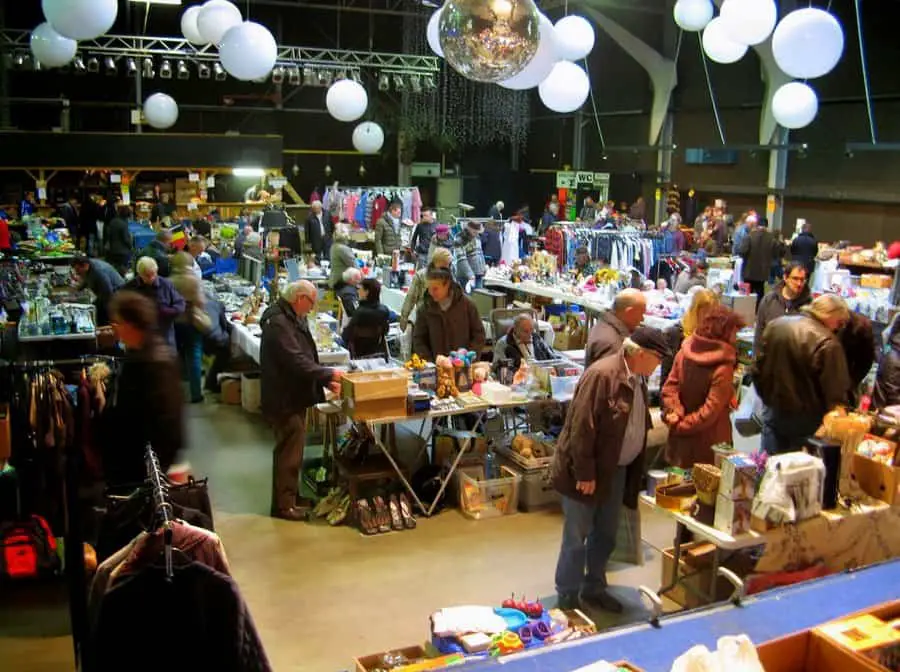 As a matter of facts, everything seems to confirm that this flea market (which has been running for the past thirty years), has slowly evolved over time to become an agricultural market where fruit, vegetables and poultry (most of which are products from organic farming) are the main goods on sale.
However, the friendly atmosphere makes up for this slow change, especially when the sun shines!
Where: Heist-op-den-Berg, Eugeen Woutersstraat and surrounding streets.
When: Every Sunday morning from 7 a.m. to 1:30 p.m.