Quaterly / Yearly Flea Markets
If your time is too precious to spend it strolling down the aisles of "petty" flea markets, and that you only swear by gigantic fairs that bring together thousands of merchants and shoppers once in a while, then this short list will give you a lowdown on the few not-to-be-missed quarterly and yearly flea markets & antique fairs in Belgium.
Ciney Expo Flea Market and Antique Fair
When it comes to fine and huge Flea Market & Antique Fair, then the town of Ciney in the Province of Namur becomes a must! Ciney hosts one of the largest flea market and antique fairs in Belgium with over 700 exhibitors from Belgium, France, Germany, Holland or even Italy and 15,000 visitors. The fair takes place twice a year over three days, usually around March and October.
⚠ COVID-19: Amidst the coronavirus pandemic, show schedules might be subject to change. Please consult promoter's social media and website before heading out. COVID-19 live updates
In the video below, the team of "Jour de Brocante" followed an antiques dealer who went antiquing at the Ciney Expo flea market:
What has made Ciney famous, is it's unique concept of « unpacking at the back of the truck » which is featured in the second half of the video above: on the first day of the fair (Friday), more than 500 trucks peacefully invade the parking of Ciney Expo. Vendors initially leave their trucks closed and at 2 p.m. sharp, the gates of the venue open to visitors, who then rush as quickly as possible to the trucks in search of rare and unusual objects. This really is the must of the fair!
If you plan attending Ciney Expo we strongly advise you to show up on the first day of the fair (Friday) as by the end of the day, most of the best stuff will be gone. On Saturday & Sunday you will mostly find "leftovers" like bulky or expensive items that didn't find any taker, or objects in a bad condition. Also, the "unpacking at the back of the truck", the fair's highlight, exclusively occurs on Friday.
Schedule of the Ciney Expo Antiques Fair
Friday (10€ entry fee): Opening of the Salon des Antiquaire (10 a.m. – 7 p.m.), unpacking in the covered area of the Ciney Expo Exhibition Center (10 a.m. – 7 p.m.), unpacking at the back of the truck (2 p.m. – 7 p.m.)
Saturday & Sunday (8€ entry fee): general access to the fair.
Where: 3, Rue du Marché couvert – 5590 Ciney. Belgium (Thanks to the excellent Belgian motorway network and the short distances between the towns, Ciney is easily reachable from Brussels, Tournai, Mons, Namur, Liège, Charleroi, Dinant, La Roche-en-Ardenne, Rochefort, Durbuy, or Bouillon)
When: Friday – Sunday: 10:00 – 19:00 (Twice a year) (Thursday – Monday in spring 2018)

Temploux Flea Market
The Temploux flea market, which is also a market for collectors, is a phenomenon in itself. The flea market takes place once a year at the center of the village of Temploux in Belgium, on the third weekend of August.
With 1,1000 exhibitors and 130,000 visitors (in 2017), this market is one of the largest in Western Europe and runs nonstop from Saturday morning to Sunday evening. The atmosphere is joyful, different stalls offer something to eat and, at midnight, you can attend a fireworks display!
On Saturday, the fair is exclusively open for professional buyers and collectors. One can find everything and anything: dolls, comics, records, Dinky Toys and gadgets of all kinds. Since few private buyers are present on the spot that day, the objects presented are not really cheap. But there's a good chance for seasoned flea market shoppers to find that rare missing piece of a collection. On Saturday evening, collectors pack their belongings to make room for the antiques market.
Where: In the center of the village of Temploux.
When: For collectors, the third weekend of August (in 2018 and 2019 the Temploux flea market will exceptionally take place on the last weekend of August).
Bruges Zandfeesten
Travelers who wish to go shopping in Bruges for something other than chocolates, should be aware that the city plays host to a massive flea market three times a year. The "Zandfeesten" is a flea market extravaganza held three times a year, on 1st Sundays in July & August and the last Sunday in September.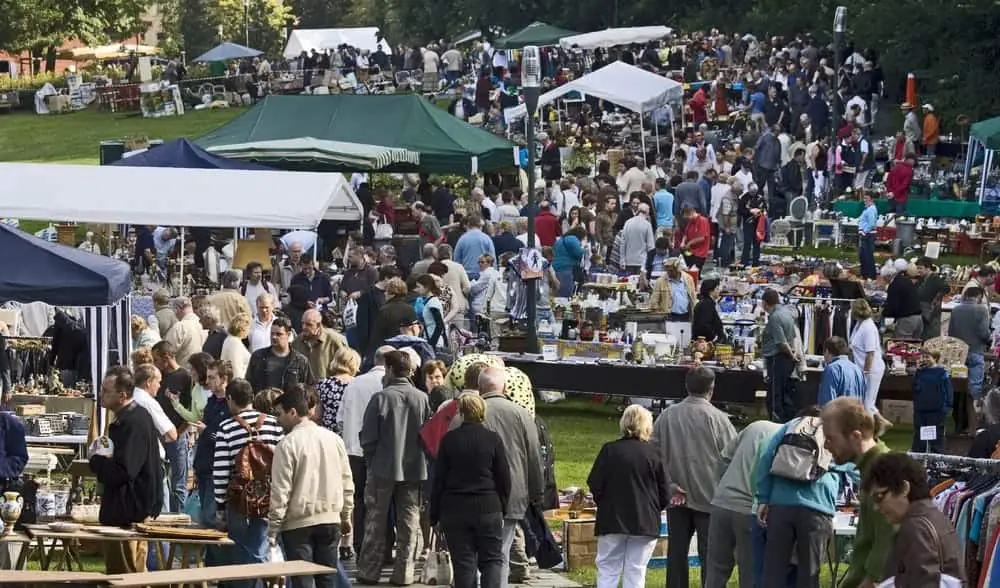 Considered one of Flanders' largest antiques and second-hand market, the Bruges Zandfeesten attracts hundreds of vendors, and thousand of bargain-hunters from far and wide. The overall venue spreads over a couple of miles, from Het Zand, to Beursplein and the adjacent Koning Albertpark.
The Dutch/Flemish name Zandfeesten stands for Sand (Zand) and Festival (Feesten) and takes its name from Het Zand square, the square in the vicinity of the central railway station. The flea market makes Bruges a shopping destination like no other, but exclusively for those three days a year.
Zandfeesten means Zand festivities in Dutch/Flemish and takes its name from 't Zand square. The flea market makes Bruges a shopping destination like no other but only for those three days a year. If you're a big fan of flea markets, it's worth considering Bruges for a city break on one of the Zandfeesten days!
Keep in mind that, if you want to grab a bargain or two, you'd better set your alarm clock early, as the Zandfeesten attracts droves of visitors. Walk the entire length of the fair and you will have clocked five kilometers without even noticing.
Where: Het Zand Brugge, 8000 Belgium
When: three times a year on the first Sunday in July & August, and the last Sunday in September.
Courtrai Flea Market (Kortrijk flea market)
On Pentecost Sunday (White Sunday), do not miss the Children Flea Market which takes place near Courtrai's traditional flea market. According to the regulation, only families are allowed to sell objects and must be accompanied by at least two children.
It is thus not uncommon to see there a grandfather who enlisted the help of his grandchildren to clear his attic, or a family who just moved to a new place or revamped their interior with new furniture and wish to get rid of a small table or old kitchen chairs…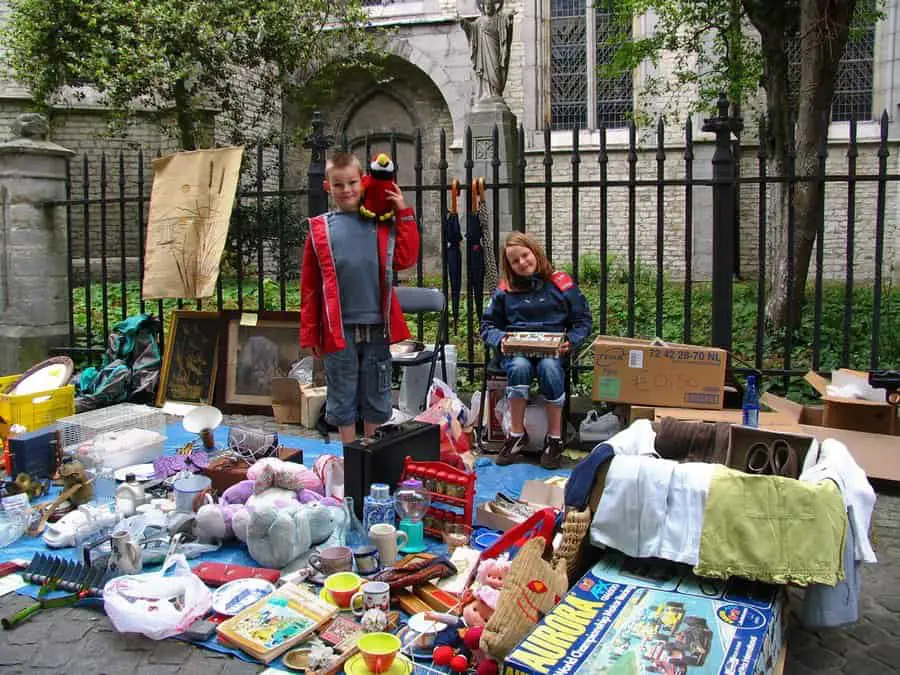 Fortunately, what may seem quaint in the eyes of some people can be a real treasure to others!
Where: In the town center of Courtrai (Kortrijk). Shopping streets are closed to traffic.
When: On each Pentecost Sunday, from 6 am to 18 pm.
Andenne Flea Market
To reach this friendly village located just 10 miles (15 km) from Namur, you'll have to drive along one of the most beautiful stretches of the river Meuse. The road itself is worth the trip… But on August 15th of each year, a visit to Andenne is a real must! That day, the annual Andenne Flea Market which has been running every year since 1995, attracts thousands of visitors from neighboring cities and even from France, the Netherlands and Germany!
This pretty large flea market features around 600 stalls spreading over 2 miles (3 km) inside the village of Andenne. Stall are mainly held by private citizens (there are a few professional merchants though) who display their goods directly on their doorstep.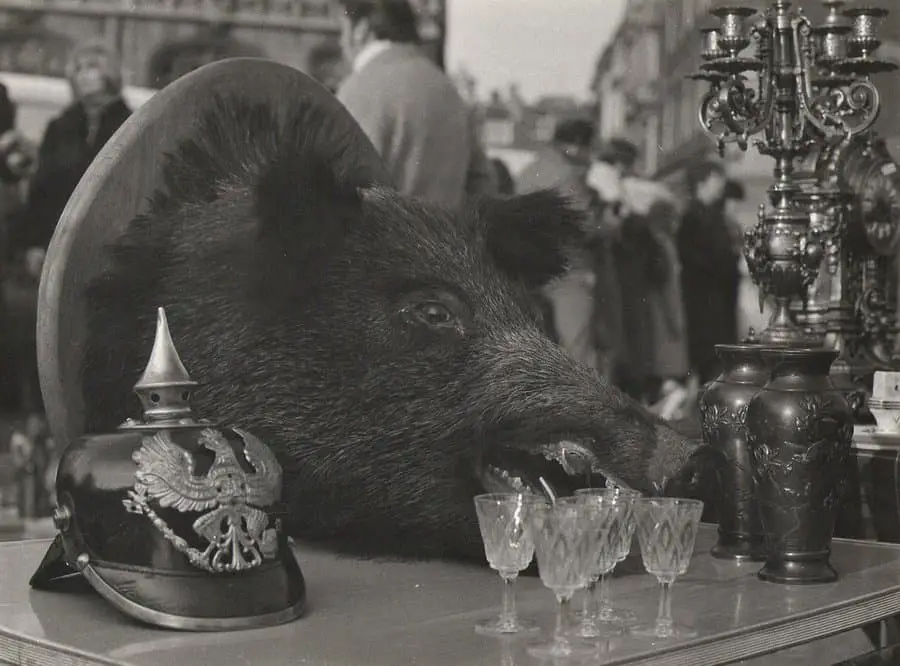 The peculiarity of Andenne? Its famous Ceramic Museum where you can find pottery, glazed tiles or even pipes!
Where: Andenne, Place des Tilleuls and surroundings
When: Every 15th of August from 6 am to 7 pm.