Intro
Some say that Amsterdam deserves its name of "Venice of the North": the maze of its canals spreading over the city, its historical buildings overlooking the city's waterway, the ridiculous amount of motor vehicles in the city (compared to the average european capital) and its cohorts of unsatiable tourists (who do not all travel here for the artistic appeal of the city…), could indeed make you mistakenly believe that you are lost somewhere in the capital city of Veneto.
However, the comparison pretty much ends here: Amsterdam's totally impredictable weather (I've never seen such a clockwork-like "rain-sun-rain-sun" sequence anywhere else), the self-assured attitude of its (crazy) bicycle riders, the – Ahem – "food" and the warm and inviting nature of the Dutch locals, make it a place like nowhere else. Truly.
Yes, as you will have guessed it, I love AmsterdamMonday Closed
Tuesday 10:00 am – 6:00 pm
Wednesday 10:00 am – 6:00 pm
Thursday 10:00 am – 6:00 pm
Friday 10:00 am – 6:00 pm
Saturday 10:00 am – 6:00 pm
. I really do. I love its architecture, its people, its artistic spirit, its self-assurance, and I even find something attractive in the Dutch mumbling (crazy, hu?). I've lived in Paris, New York, Stockholm, Berlin, London, Roma, Brussels and Vienna, and I have to admit that Amsterdam is in my top three fav cities to live in Europe (yup, NYC is like Europe to me).
This trip was my third time in the Dutch capital, but it was like no other time; maybe because I was there only for vintage & design shopping… This is the story of our three days trip.
Where We Stayed In Amsterdam: De Jordaan District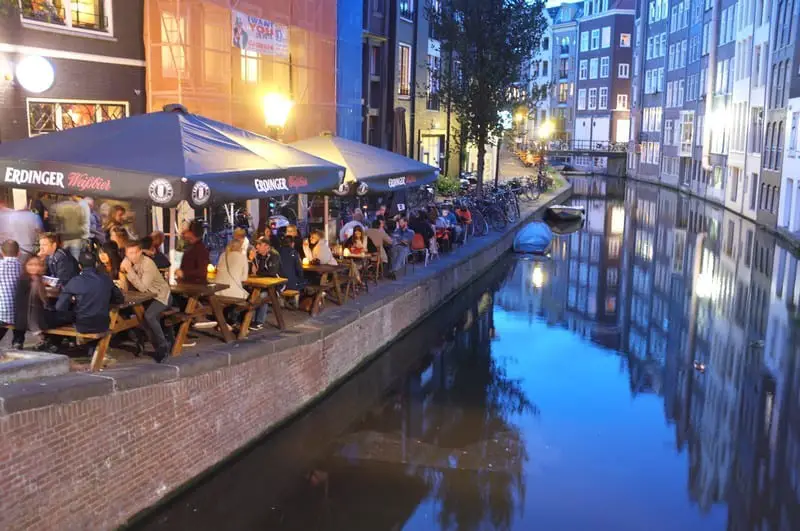 Originally a working-class neighbourhood, De Jordaan district has become one of the most expensive, upscale locations in the Netherlands. It is home to many art galleries, particularly for modern art, and is also dotted with speciality shops and restaurants. Markets are held regularly at Noordermarkt, the Westerstraat (the Lapjesmarkt textile market) and Lindengracht.
What we liked in De Jordaan: Lots of design & vintage shops in the area, great restaurants, nice houses directly overlooking the canals (upper class district nowadays), distant from the tourist craze, but only 10-15 minutes walk from Amsterdam Centraal train station. We would definitely stay in Jordaans again for our next trip to Amsterdam.