Shipshewana Auction & Flea Market - Shipshewana, INDIANA
The Shipshewana Auction & Flea Market is the Midwest's largest outdoor flea market and a true institution in the charming Northern Indiana Amish country. What started out as a home business in 1922 is now the Midwest's largest flea market with over 900 vendors on 100 acres. The market offers a variety of goods, from fresh produce to handcrafted furniture and everything in between – the perfect conditions for a treasure hunt.
Almost a hundred years old, the flea market in itself can be considered an antique treasure. Ten rings of antiques are auctioned each Wednesday morning year-round. On Tuesdays and Wednesdays from May to November, hundreds of vendors offer their goods.
The Antique Market of the Shipshewana Auction & Flea Market is composed of three outdoor Antique Markets throughout the year.  The tents go up on the Mall lawn and the Trading Place Pavilion is filled to capacity.
Over 100 vendors offer all things antique and collectible, from small pieces of jewelry to large kitchen cupboards.  Food and music enhance the atmosphere, and there is no admission fee! You might want to get up early, in order to find the best bargains and treasures.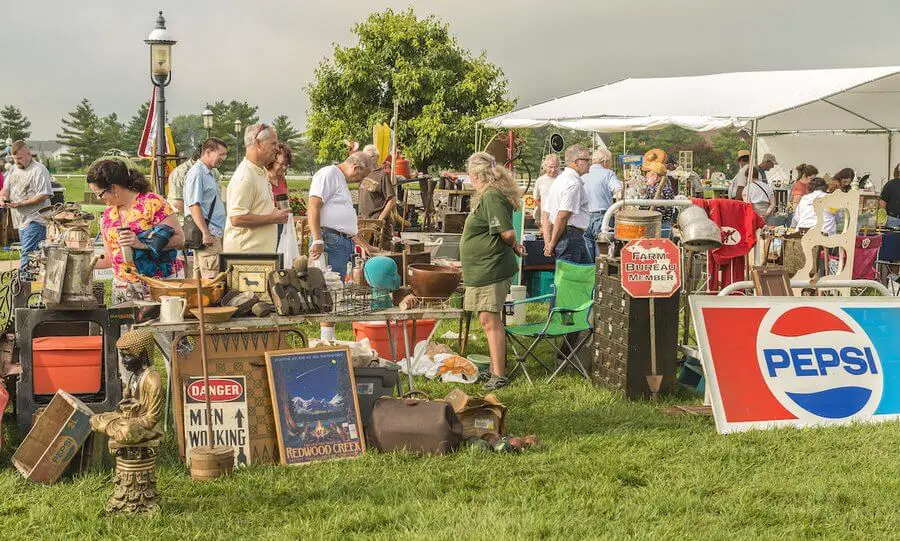 As of June 2017, there is an all-new vendor village within Shipshewana Flea Market. The "FLEA"ture gathers vendors around a different theme every week of the month. Check the calendar first before planning your trip, because not all of them are strictly focussing on vintage items or antiques. The rotating program focuses on (1) Shabby Chic, (2) Local Crafts, (3) Jewelry & Boutique Clothing, (4) Antiques & Collectibles. During the last week of August, a special event – Junk in the trunk – invites sellers to drive their cars onto the flea market grounds to sell directly from their trunks. Check the organizer's website for the latest details.
Where: 345 S Van Buren St. Shipshewana, Indiana 46565 (show on Fleamapket)
When:  Every Tuesday and Wednesday, from the beginning of May till the end of September: 08:00 – 16:00
Phone: +1 260-768-4129
Read: Shipshewana Auction and Flea Market listing on Fleamapket
Website: http://www.tradingplaceamerica.com/