127 Corridor Sale - Cumberland Plateau, TENNESSEE
Every flea market enthusiast should attend the 127 Corridor Sale at least once in a lifetime. This iconic event is one of the country's best flea markets and, without a doubt, the world's longest yard sale: It runs along the Highway 127 on a North-South axis across the United States.
Every year, individuals clean out their closets and stake out their front yards along the Hwy 127 corridor stretching over 690 miles of scenic rural highway from Addison, Michigan to Gadsden, Alabama. They band together as communities, in groups or as individuals, and over a four-day weekend, they welcome the onslaught of visitors from the North, South East, and West. It is a mutual exchange of cultures with a common goal; to look, buy, and sell.
As you drive the country roads, you will hear a collection of dialects, be privy to incredible stories related to the individuals, and the items they sell, and see a plethora of items that only your grandmother could love. You might have to look very closely to find truly antique treasures, but this is not why the 127 Corridor Sale (also known as 127 Yard Sale) is one of the best US flea markets. Most visitors come to see the unusual and socialize. The 127 Yard Sale is America at its best. A North-South road trip for everybody who is looking for an authentic taste of American vintage.
The World's Longest Yard Sale starts on the first Thursday every August and runs for 4 days, through Sunday.
The Official Headquarters are located at the Fentress County Chamber of Commerce across from the Courthouse in downtown Jamestown, Tennessee.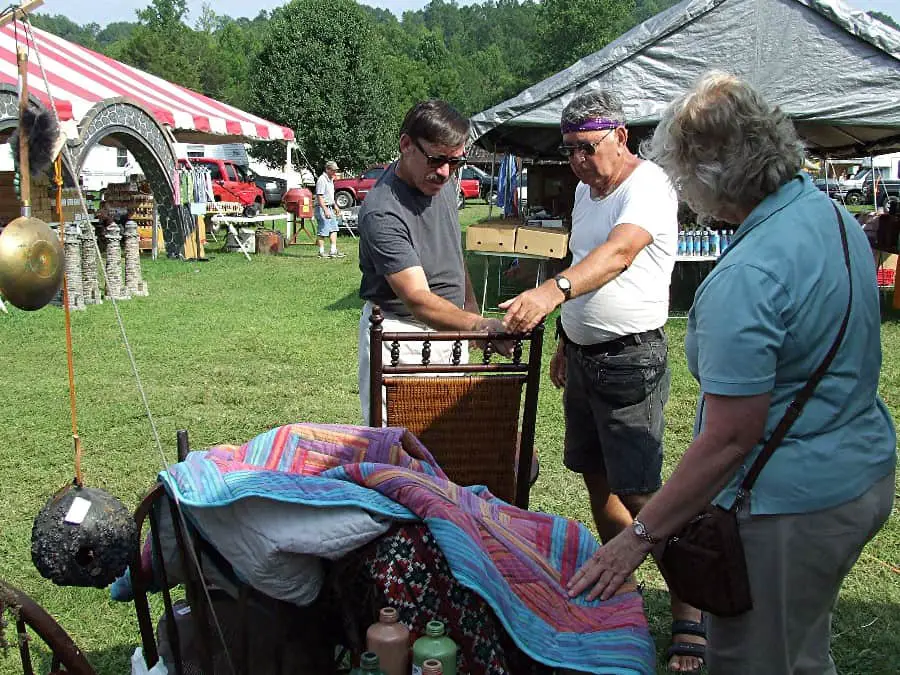 For sheer variety, nothing tops the World's Longest Yard Sale: Seasoned dealers in regular tents as well as locals unloading the contents of their attics set up shop roadside, hawking crocheted table linens, boxes of fishing lures, weathered iron bed frames, and garden statuary.
There isn't one stretch of road that's consistently the best, so let regional attractions narrow your focus: In Tennessee alone, you can stay the night in a tepee or a log cabin and make a pit stop to pick wild blueberries at Pickett State Park.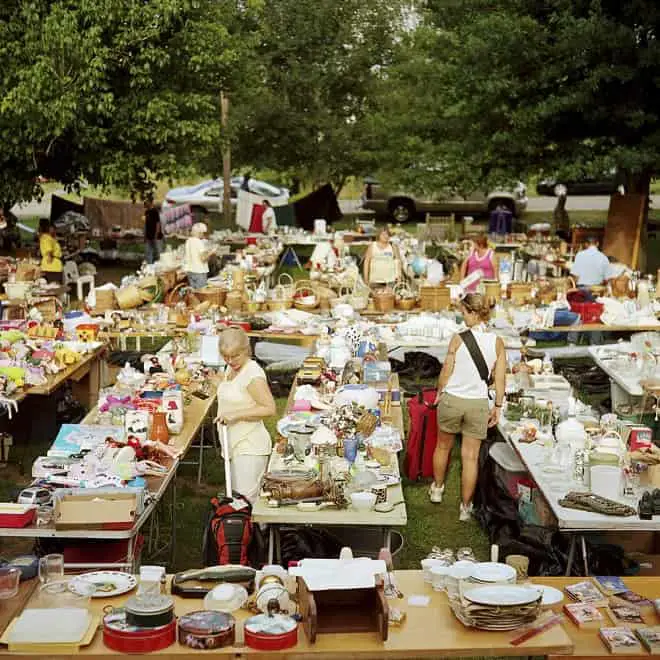 (Photos: Greg Ruffing)
To get a first taste of the 127 Corridor Sale, have a look at our article about the 127 Corridor Sale, showcasing additional pictures taken by photographer Greg Ruffing, who created a nuanced visual portrait of the 127 Corridor Sale.
Where: Michigan to Alabama. Headquarters: 114 Central Avenue West Jamestown, Tennessee 38556 (show on Fleamapket)
When: 1st Thursday of August, through Sunday (from dusk till dawn
Phone: 931-879-9948 or 1-800-327-3945
Read: 127 Corridor Sale listing on Fleamapket
Website: http://www.127sale.com/