Springfield Antique Show & Flea Market - Springfield, OHIO
The Springfield Antique Show and Flea Market has been a favorite source of collectibles and antiques for thousands of collectors and dealers for over twenty-five years. In fact, major national publications have continually recognized the Springfield Antique Show & Flea Market as one of America's best markets: Country Living, Country Home, Martha Stewart Living, and CNN all agree that this flea market is one of the best in the United States.
The Springfield flea market takes place one weekend each month on a county fairground. The only exceptions are February and July when the market is closed. If you happen to be in Ohio on market days, going to Springfield is a must.
Over the course of its quarter-century run, this busy market has won a reputation as the heartland's go-to source for all things folky and primitive, such as old metal pails, Shaker boxes, cross-stitched samplers, and calico quilts.
Farmhouse antiques, like blanket chests, milk-paint cupboards, and sturdy rocking chairs also figure prominently, as do well-preserved dishware and tabletop items. Springfield Antique Show and Flea Market is a great source for American vintage items.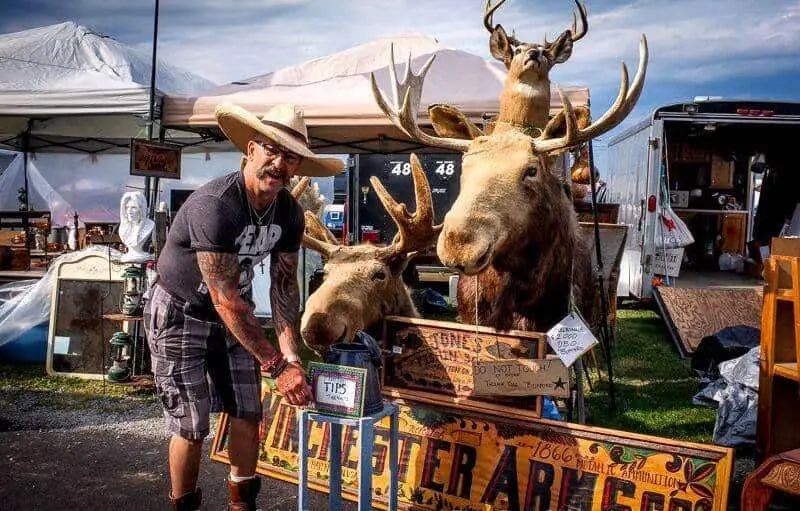 During each year's three supersize Extravaganzas—in May, June, and September—the number of vendors swells to more than 2,500, some operating out of cattle barns and poultry houses. Our advice for a successful shopping experience: Go in September to have the best shot at a bargain. Later in the year, dealers are trying to liquidate their stock for the winter. Also visit the market's online discussion forum to connect with sellers, preview goods, and even post wish lists.
(Photo: bethnbijoux.blogspot)
Where: 4401 S Charleston Pike Springfield, Ohio 45505 (show on Fleamapket)
When: Once a month (except February, July, and September): Saturdays: 08:00 – 17:00 | Sundays: 09:00 – 16:00
Phone: +1 937-325-0053
Read: Springfield Antique Show listing on Fleamapket
Website: http://www.springfieldantiqueshow.com