Rose Bowl Flea Market - Pasadena, CALIFORNIA
The Rose Bowl Flea Market is a true legend among flea market lovers in California: more than 20,000 flea market enthusiasts and over 2,500 merchants gather each month at the Rose Bowl Stadium in Pasadena (located right on the east side of LA) in one huge swap meet.
The Rose Bowl Flea Market is the largest flea market on the West Coast. Its stalls are filled with anything and everything a flea market enthusiast could ever dare to dream of: shoes, clothes, furniture, jewelry, sunglasses, crafts, keepsakes, art, fabric, bikes, costumes, music, and every imaginable type of merchandise.
There's little you won't find at the Rose Bowl Flea Market, whether it's new goods, antiques, vintage, or just old. You'll find items to furnish your home, landscape your garden, cook dinner, start an art collection, and update your wardrobe (check our list below of the kind of merchandise you can find at the Rose Bowl Flea Market). The Rose Bowl Flea Market is really full of surprises, you never know what you'll find!
Its location at the Rose Bowl stadium and its variety of goods make this LA flea market a lot of fun to check out and walk around. However, if you are looking for a bargain, you should consider other flea markets in California besides this one, for instance, the Melrose Trading Post which also made it into our top 20 rankings.
Don't miss our detailed review of the Rose Bowl Flea Market in Pasadena, including tips to make the most of your flea market shopping experience.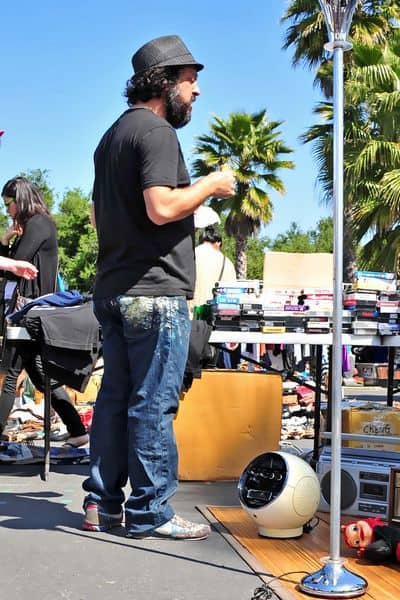 (Photos: Basic LA, Edee Vo, Etterkae, Peacocktaco)
Where: 1001 Rose Bowl Dr. Pasadena, CA 91103 (show on Fleamapket)
When: 2nd Sunday of every month from 9 a.m. to 4:30 p.m. No admission after 3 p.m. Open rain or shine
Admission: $20 preview VIP admission from 5.30 a.m. to 9 a.m. $10 regular admission from 9 a.m. to 3 p.m. Children under 12 admitted free with an adult
Read: Fleamapket listing of Rose Bowl Flea Market
Website: http://www.rgcshows.com/RoseBowl.aspx